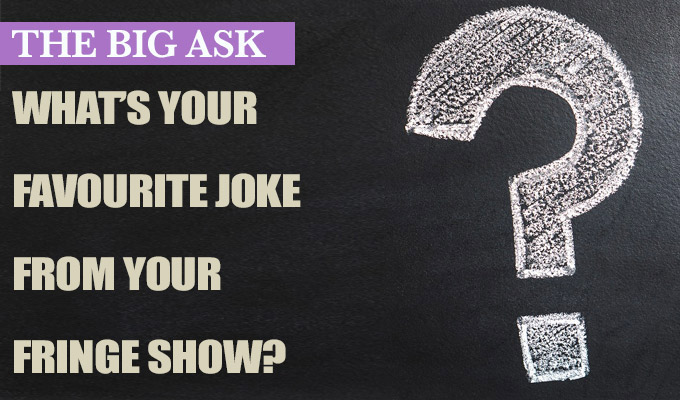 The Big Ask: What is the best joke in your show?
'I overheard a teenage girl say to her friend, "My phone got smashed and fell into a canal." I thought, that's how my uncle died.' Lloyd Langford, Lloyd Langford: Why The Big Face?, Banshee Labyrinth Cinema Room, 22:00
I have a bit about my sister having sex with her boyfriend, which is a lot of fun to do and makes audiences very uncomfortable. I don't know why, she's MY sister. Jack Barry, Jack Barry: Tango, Globe Bar, 20:30
I try to keep a vegan diet but if I have to cheat then I don't beat myself up - because that would be animal cruelty. Joe Sutherland. Toxic, Underbelly Dexter, 20:10
'There were dead bodies all around him. Heads without bodies, bodies without heads, and loads of necks.' Rob Carter, I Spy With My Little Eye Something Beginning With Why Have You Been Sleeping With My Wife: a play by Christopher Bliss, Pleasance 10 Dome, 19:00
It seems like we're heading towards a dystopian future but we're making better progress than people might think. I know that because I read that book, 1984, and things were way worse back then. Jim Campbell, Trampoline, Just the Tonic at The Mash House, The Cask Room, 17:05
My friend had to accept a TV award even though she was really ill. Emmy? No, she just had a bad cold. Scottish Falsetto Sock Puppet Theatre: Superheroes, Gilded Balloon, 22:30
A good surname is like a shotgun. Elegant, double-barrelled and passed down the family till someone starts firing blanks Tom Houghton, The Honourable Tom Houghton, Pleasance Jack Dome, 20:10
'I'm not saying the male scrotum is ugly, but it's a bit like the sun; you know it exists but best not look at it directly!' Scott Bennett, Leap Year, Just The Tonic At The Mash House , 17:55
I've got this bit about a 'man-drawer'. It's super observational. Not sure anyone's done it before. Quite mainstream but it works. It's about all the men I've killed and where I store them. Robin Morgan, Honeymoon, The Pear Tree, 16:00
I like my men like I like my tea ... builders mostly John Pendal, We Are Family, Gilded Balloon Teviot, 17:30
I'm from Salisbury, the world's poshest shithole. We've got crack dens and whore houses, but they're all grade 2 listed. Andrew White, Coming of Age, PQA Venues @ Riddle's Court, 18:00
'What's a rapper's favourite colour? Mauve Bitch. Get out the way.' Charlie Partridge, I Can Make You Feel Good. By Comparison, Just The Tonic at The Caves, 16:50
Don't let drugs ruin your life. Let them improve it... Jim Tavare, From Deadpan to Bedpan… Counting House Ballroom, Laughing Horse, 16:15
'I've got a stepdad called Stan, which is really weird because my real Dad is also called Stan. But I don't like other people whose Dads are called Stan. This is because I've got double Stan Dads.' Darren Walsh, Darren Walsh: Massive Punt, Just The Tonic: Little Kirk, 18:00
The fourth one. Garrett Millerick: Sunflower The Tron, 17:00
I'm trying to crowbar this joke in, the problem is it doesn't fit the show and you need a good back knowledge of Lord of the Rings: Fellowship of the Ring to actually get it. That said it is the best thing I have ever written: Why did Gandalf have road rage? Because a fool overtook! Matthew Highton, Insufficient Memory, Heroes at Dragonfly, 20:40
My mum met my dad in a gay bar. 28 years into their marriage. George Lewis, A Man, A Plan, A Girl With Fake Tan, Pleasance Attic, 17:45
My best friend asked if I'd if be usher at his wedding...I said I'll learn some of his songs but I'm not blacking up. Hal Branson, MBOLO, The Mash House, 18:10
I was arguing with someone until we came across a smiling fortune teller - I think we found a happy medium. Andrew Bloomer and Ellie Ross, Bread & Geller: Prime Time, Just The Tonic at the Caves, 12:10
My music teacher was so angry, she blew a fuse. But couldn't get a tune out of it. Chris Cooke, Emslie and Cooke: Light and Shade, Southsider, 16:30
Brighton we'll blame anything on gluten. Can't have a baby? Gluten mate. You've got doughvaries. Laura Lexx, Trying, Gilded Balloon, 17:15
Punning the David Bowie/Freddie Mercury classic 'Under Pressure' with 'Under Prussia' to make a laboured joke about 19th century international relations between Britain and France. Nick Hall, Nick Hall: Spencer, Underbelly Med Quad, 13:30
If a meal between breakfast and lunch is called brunch, does that mean a meal between dinner and breakfast is called dickfast? Owen Roberts, I Let A Six Year Old Write My Show, Pleasance Courtyard 16:45
Hahaha, no way man, you want my jokes you pay for them. I don't expect free fillings from my dentist. Skills are skills. Buy a ticket. Natalie Cutler, Not Yet Suffragette, Underbelly , Dairy Room , 14:45
Published: 6 Aug 2018
What do you think?