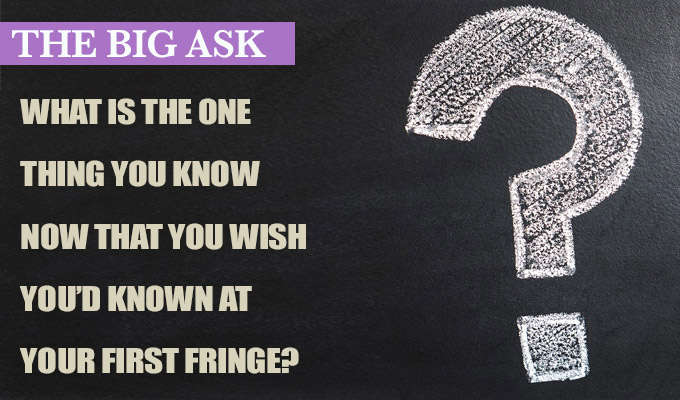 'You will cry... lean in to it'
That everyone finds it tough. It can get lonely up there, which is weird because you're in a major city, surrounded by friends and colleagues but because everyone is running around and looking busy busy busy, it can be easy to think that you're the only one finding it tough and you're not as busy as everyone else but it's not the case. That's why it's important to just focus on what you're doing. You have to treat it as a job. You're up there to work. You can have fun and get pissed at the end. Rich Wilson, Still Relevant, Sneaky Pete's, 18:15
I wish I'd known that you could hire people to flyer for you. That would have saved me some tears. Sarah Keyworth, Dark Horse, Pleasance 17:30
You will cry once. Lean into it. Oh and it's supposed to be fun. Stop trying to make it not fun. John Hastings, John Hastings: Float Like A Butterfly John Hastings Like A Bee, Pleasance Cellar , 20:30
That it 100 per cent won't be your big break. Will Dalrymple, Pity Laughs: A Tale Of Two Gays, Just Up The Stairs @ Just The Tonic, 16:05
I wish I'd known that you are not supposed to do a different show every night: on my first Fringe I tried to make something different every evening and I soon realised that it was impossible. Luca Cupani, Luca Cupani: God Digger, Underbelly: George Square, 17:20 I
That the Gilded Balloon serves hot food with vegetables. I find that when you're performing comedy, it's very easy to forget that vegetables exist, never mind that they are good for you. Ian Smith, Ian Smith: Craft, Underbelly: Buttercup, 17:15
Don't do you first hour when you only have 20 minutes and have a camera crew follow you, to go on national TV crying and flyering in the rain is not a good look. I'm too eager to start, I'd be shite in a war.
That I could have been coming for decades before Justin Moorhouse, Northern Joker, Gilded Balloon, 19:00
It's about working for your own manageable goal, not firing out a show and waiting for complete stardom. Laura Lexx, Trying, Gilded Balloon, 17:15 It
Just because you've agreed on a free fringe venue, paid your registration and the accommodation deposit doesn't mean you'll be going to Edinburgh. John Pendal, We Are Family, Gilded Balloon Teviot, 17:30
That in the end none of it matters and as serious as you think it is, most people haven't heard of the festival. They are surprised to hear you spent your summer doing this instead of at the beach. This includes people who live in Edinburgh. Brett Goldstein What Is Love Baby Don't Hurt Me, Pleasance: Beneath, 19:00
It's all a bit of fun, none of it really matters if you love it and PR is king! Che Burnley, Elvis Was Racist?, Bar Basis, 21:30
You don't have to go out, be social or even friendly if you don't want to. If you're feeling shite just be selfish, do the show, have a proper dinner then get in bed and watch Buffy. Joe Sutherland ,Toxic, Underbelly: Dexter, 20:10
I shouldn't have done that 'broken down car' joke. It totally backfired. Darren Walsh, Darren Walsh: Massive Punt, Just The Tonic: Little Kirk, 18:00
You can actually do it. Ashley Haden, We all Die C*nts, Harry's Southside, 20:45
Nothing. No one doing their first Fringe should know anything about it – the thrill is in the discovery. Kieran Hodgson, Kieran Hodgson: '75, Pleasance Beneath, 20:15
Not to spend too much time thinking about how anyone else is doing. There'll always be someone doing better than you. Christian Talbot, Desperately Seeking Approval, Finnegan's Wake, 12:00
Never go to the Mile unless you enjoy being attacked by flyers from university productions of Sarah Kane. Never flyer on the Mile unless you happen to be in a university production of Sarah Kane. Essentially what I'm saying is we should group all the university students who are in Sarah Kane plays together on the Mile. And never let them leave. Bryony Twydle, Flamingo, Underbelly Med Quad, 20:30
In your first Fringe it's more important to experiment, play and have fun on stage than it is to do a good show. David McIver, David McIver Is A Nice Little Man, Opium, 14:30
Not drinking makes it so much more bearable. Damien Warren-Smith, Garry Starr Performs Everything , Underbelly Cowgate, 20:10 How expensive it would be. Flo & Joan, Alive on Stage, Pleasance Courtyard, 16:00
Jokes are 20 per cent less funny during the Fringe. Athena Kugblenu, Follow The Leader, Underbelly, Clover, 17:30
That there aren't any kosher restaurants in Edinburgh Ashley Blaker Observant Jew, Underbelly Daisy, 15:00
Three star reviews are NOT bad reviews. Rob Carter, I Spy With My Little Eye Something Beginning With Why Have You Been Sleeping With My Wife: a play by Christopher Bliss, Pleasance 10 Dome, 19:00
You won't do well this year. Even if by some miracle you do OK, you will SUCK next year. Or the year after that. Either way, it's not immediately all going to be perfect. Just enjoy it going wrong. Richard Soames, Let's Make a Movie, Underbelly, 15:55
To bring several pairs of shoes, and to be diligent about washing clothes to ensure constant fresh socks. All the traipsing about flyering and watching stuff creates conditions down there that proves catnip for our old enemy: foot odour. Moon, Pleasance Attic, 21:30
Work with a director! I'd heard it before but didn't take it on board. I'm working with a director for the first time on this one and it is so good to have someone to filter everything through. Ben Hanlin, 50, Pleasance, King Dome, 19:00
Join a spa. Get an unlimited cinema pass. Elf Lyons, ChiffChaff, Pleasance Jack Dome, 18:50
I ran into a concrete wall playing football and got concussed. I wish I'd known that was going to happen so I could've taken steps to avoid it. Paul Williams, Santa Fe, Underbelly: Iron Belly, 16:10
Work out what your show is before you start driving up the motorway Marysia Trembecka, The Singing Psychic: Medium School Dropout, Voodoo Rooms:, 21:05
None of it really matters, so there's no point in stressing yourself out about it. Also, it really helps to have a TV and a games console in your flat to stop yourself going mad. Jack Barry, Tango, Globe Bar, 20:30
You don't need to drink every day. Arnab Chanda, Stories From Arnab, Banshee Labyrinth, 17:00
Watch a bunch of Fringe shows, of all different genres, of all different styles, amazing and terrible, your language and not in your language, so you can see all that is creatively possible. But for the love of god, if a show calls for a "mayo enema" disregard all this advice and stay away. Your mental health will thank you. Anesti Danelis, Songs For A New World Order, Laughing Horse @ The Hanover Tap, 12:00.
Published: 31 Jul 2018
What do you think?