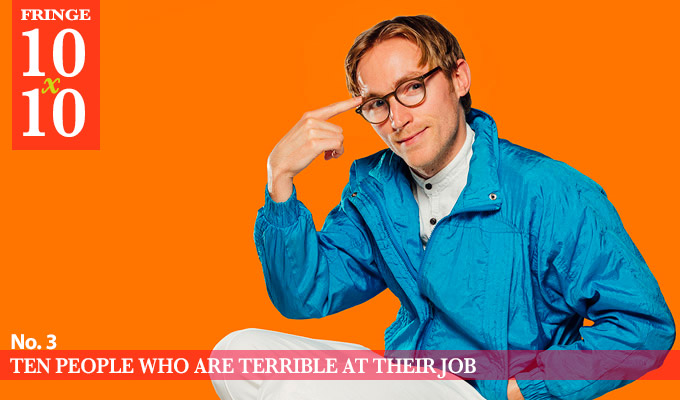 Edinburgh 10x10: Ten people who are bad at their jobs
In the latest in our ongoing series of Edinburgh Fringe previews, here are ten comedy shows featuring people who are terrible at what they set out to do.
Christopher Bliss
Rob Carter's alter-ego is a triumph of boyish enthusiasm over the most rudimentary ability: an abysmal writer of clunky prose, unable to use nuance, subtext or metaphor in his awkwardly plotted thrillers. Just the title of his third solo show should be enough to entice you in: I Spy With My Little Eye Something Beginning With Why Are You Sleeping With My Wife. Pleasance Dome, 19:00
Clara Cupcakes
In the summer of 2001, Clara Cupcakes invented the worst 8-bit video game of all time: the unplayable tale of an octopus looking for love. The levels made no sense, the characters were contrived and the final boss was unbeatable. Now a burlesque performer – as sweet-natured as her name suggests – she's dusted down the concept for a show about gaming and fate. Underbelly Bristo Square, 18:50
Sam Broadley
Sam Broadly is described as 'the world's most ambitious job applicant', deludedly sending off his CV in a bid to become the next Pope, James Bond, or Prime Minister (a vacancy which may well arise very soon). He's previously published his letters, and the responses he received, in a self-published book, and now details his efforts in a Fringe show. TheSpace @ Jurys Inn, 16:15, August 3 to 18, then TheSpace @ Surgeons Hall, 17:10, August 20 to 25.
Cameron Miekelson
The grandstanding chief commissioner of Scotland's unified Scottish Police Force is notoriously gaffe-prone, as viewers of BBC Scotland's mockumentary Scot Squad know only too well, with his bold visions inevitably thwarted by prosaic real life. Jack Docherty dons the uniform again this Fringe for a double-bill with another of his creations, McGlashan, the extreme Scottish nationalist and playwright from the Channel 4 sketch show Absolutely. Gilded Balloon at the Museum, 21:00
Barbara Brownskirt
Another deluded literary creation, Karen McLeod's alter-ego Barbara Brownskirt is an unsuccessful cagoule-clad lesbian poet, writing her verses at the 197 bus stop in Penge, South London, and battling the patriarchy one earnest open-mic night at a time. Assembly Rooms, 18:20, from August 14
Will Penswick
Ms Brownskirt has some competition in the bad verse stakes, as Will Penswick is billed as the 'world's worst performance poet' – though again this self-indulgent writer is completely unaware of how bad he is. His work explores sex, death, Christianity, global politics – and pigeons – via haikus, sonnets, 'liberated verse' and more. Laughing Horse @ The Place, 16:15, August 2 to 16

Pamela DeMenthe
And sicking with the bad writers, Jenny May Morgan's creator of erotic fiction has been described as ''50 Shades of Grey meets Alan Partridge'. Just the Tonic at The Grassmarket Centre, 20:40
The Really Terrible Orchestra
This Fringe institution is not comedy, at least not intentionally. The band, set up 23 years ago by businessman Peter Stevenson and the author Alexander McCall Smith, exists entirely for the benefit who enjoy playing music for the sheer joy of it, regardless of talent. And those who buy tickets cannot say they weren't warned… St Mary's Cathedral, 16:30, August 11 only.
Ron the Plumber
He's described as an 'OCD deranged' plumber who has adventures with traumatised French poodles, exploding toilets and 'Nazi bath taps'. So who knows what to make of all that? Ron is the creation of Steve Attridge, whose credits include The Queen's Nose, Dalziel and Pascoe and The Bill. Laughing Horse @ The Counting House, 13:50, August 2-17
Don Rodolfo
If you haven't enough of arrogant, preening, chauvinistic man-children in real life, the latest character from Ciarán Dowd of sketch trio Beasts, offers a fictional, historical version. Don Rodolfo is swashbuckling swordsman, fighting and flirting his way around 17th Century Europe, but also 'a total butthead… the idiot version of Don Juan'. Pleasance Courtyard, 22:45
Published: 18 Jul 2018
What do you think?