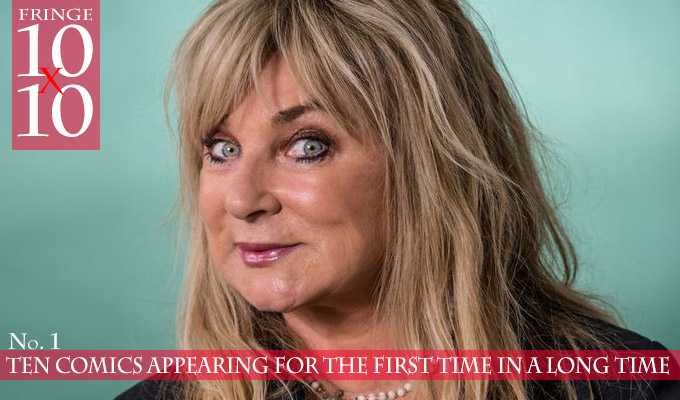 Edinburgh 10x10: Ten comics appearing for the first time in a long time
We kick off our annual series previewing just a tiny proportion of the comedy offerings at the Edinburgh Fringe with ten of the veteran comedians who are making their first festival appearances in a long time… or even ever.
Jim Tavare
What did it take to bring comedy circuit veteran Jim Tavare back to the Fringe? Only a near-fatal car crash.
The stand-up had settled in Los Angeles to pursue his acting career, which included roles as Tom, the owner of the Leaky Cauldron, in Harry Potter And The Prisoner of Azkaban, and playing an English butler in the TV series Californication.
But last year he suffered 15 broken ribs, fractures in both breastbones, a punctured lung, multiple breaks in his right leg, and a broken neck, in a terrifying head-on collision. His show, From Deadpan To Bedpan, is the story of how that moment changed his life.
Laughing Horse @ The Counting House, 16:15
Helen Lederer
After she'd made a name for herself in Naked Video – but way before Ab Fab – Helen Lederer debuted on the Fringe in 1982.
But her last full show was in 2004. Now, in I Might As Well Say It, she's promising to spill the beans on her comedy career, figuring it's way too late to worry about any consequences.
Underbelly Bristo Square, 17:05.
And she's also running five nights of her talk show, Why The Fuss, from August 21. Laughing Horse @ The Pear Tree, 14:45
Tony Slattery
Bit of a cheat, this, as the improv star did dipped his toe back in the Fringe waters last year, with a few guest slots on the stage revival of Whose Line Is It Anyway? Aside from a few benefit gig appearances it was his first Edinburgh run since he and Richard Vranch performed the show Aftertaste in 1984.
And it seems he has a renewed taste for Edinburgh, where he won the inaugural Perrier Award in 1981 with a Cambridge Footlights group that also included Stephen Fry, Emma Thompson and Hugh Laurie. For this year he is here for two weeks from August 15 with Slattery Will Get You Nowhere, a free-flowing discussion with comedy historian Robert Ross. The Stand's New Town Theatre, 13:45 As well as four performances of the ad-libbed show Crimes Against Improv. Stand 1, 18:30, August 20,22, 24 and 26
Arnold Brown
The veteran stand-up – who performed on the first night of the Comedy Store in 1979 moonlighting from his accountancy job – hasn't done a full Fringe run since 2004. And he's not doing one this year, either.
However, the 81-year-old comic is doing a one-off In Conversation With… session, tucked away in the Spoken Word section of the programme, on August 24. The Stand's New Town Theatre, 12:00
Arnab Chandra
Chandra was nominated for best newcomer in the Chortle Awards of 2007, the same year he made his last appearance at the Fringe, sharing a bill with Greg McHugh in the days before he commanded a tank.
He quit comedy soon after to concentrate on acting, and then to become a BBC radio comedy producer. So in his debut solo show he speaks about what happened since he was last here, including 'broken dreams, death, and getting alopecia'.
Banshee Labyrinth, 17:00
Raymond and Mr Timpkins Revue
It's their first time at the Fringe, full stop, even if this prop-based comedy duo, taking hit lyrics very literally, are one of the longest-serving stalwarts of the clubs.
They hit the headlines last year when an act on Britain's Got Talent was accused of stealing their act. Now see the originals… who incidentally deserve credit for using the word 'terpsichorean' – a formal word for humorous – in their programme blurb.
Pleasance Dome, 20:30
John Moloney
He's one of the most established names on the circuit, doing his first full Edinburgh in eight years... but comedy craftsman John Moloney isn't going to rush into anything as rash as doing the full hour. The star of his own Radio 4 stand-up show, he's sharing a bill with Fringe institution Fred MacAulay – neither of whom have anything to prove.
Stand 1, 20:05
Janeane Garofalo
She's known for her TV and film appearances on the likes of The Larry Sanders Show and 24. But Janeane Garofalo is also an outspoken social comedian of more than 25 years' standing. She's a semi-regular visitor to these shores – and has appeared in Britcoms Ideal and Gap Year – but Put A Pin In That is her first Fringe show in five years. Gilded Balloon, 21:15
Camilla Cleese
Some comics with famous parents like to downplay the link. Not so Camilla Cleese, who'd have to change her name if she wanted to disguise her comedy heritage. But not only is the subtitle of her show 'Produced by John Cleese', it uses a picture of the soon-to-emigrate Python legend as its brochure image.
Cleese Jr was last at the Fringe in 2014 as part of the three-hander, American…ish, with a couple of fellow US comics. This time she shares the bill with Steve Hofstetter, who seems to encounter a heckler at almost every gig if his YouTube account is to be believed.
Camilla is set to film a British romcom soon, too, having been cast as the female lead in One Night In Bath, whose cast – put together by comic and booker Geoff Whiting – includes a host of stand-ups, including Russell Kane, Henning Wehn, TanyaLee Davis and Becky Brunning.
Assembly George Square Studios, 15:50
Paul Mayhew Archer
In what's possibly a record for the longest time between Fringe appearances,Vicar Of Dibley writer Paul Mayhew-Archer is to make his first appearance at the Edinburgh Fringe in 43 years.
Now a producer and formerly a Radio 4 comedy commissioner, he last performed at the festival in 1975 as part of a revue show with Andy Hamilton, but is taking to the stage again with his new show, Incurable Optimist, to speak about living with Parkinson's disease. He previously made an award-winning documentary called Parkinson's: The Funny Side, too. Underbelly Bristo Square, 17:15
Published: 16 Jul 2018
What do you think?