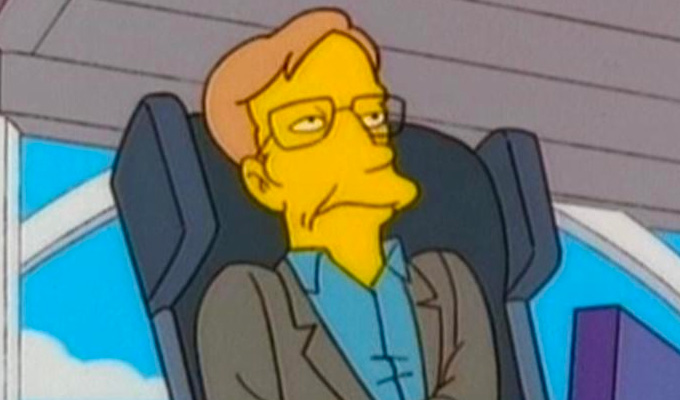 Stephen Hawking, comedian
Professor Stephen Hawking, who died today aged 76, was a frequent guest star on comedy and sci-fi programmes, cementing his place as a cultural icon as much as one of the brightest theoretical physicists ever to have lived. His IMDB page says he is known for Star Trek: The Next Generation and Big Bang Theory ahead of the documentary The Brief History Of Time.
Here is a brief history of his comedy career:
The Big Bang Theory (2012-2017)
Hawking is a hero of the geeky leads Sheldon, Leonard, Rajesh, and Howard and appeared in five episodes from 2012 to last year, plus two voice appearances. In his first appearance, he was coming to Caltech to lecture, and employed Howard as an engineer to help maintain the equipment on his wheelchair.
The show's official twitter feed posted this message this morning:
In loving memory of Stephen Hawking. It was an honor to have him on The #BigBangTheory. Thank you for inspiring us and the world. pic.twitter.com/9rWoYqIToy

— The Big Bang Theory (@bigbangtheory) March 14, 2018
Here is the moment Sheldon got to meet his hero:
Monty Python Mostly Live (2014)
For the O2 reunion shows, Eric Idle enlisted Professors Brian Cox and Hawking to add a coda to the Galaxy Song:
The Simpsons
Prof Hawking made four appearances on the show as himself… although Homer confused him with porn publisher Larry Flynt, who also uses a wheelchair.
Here, in They Saved Lisa's Brain, the young Simpson's 'robot buddy' saves her from an angry mob of townsfolk when his chair transforms into a heliconpter.
Futurama (2000 to 2011)
He provided the voice for himself – as a head in a jar – in three episodes.
Little Britain (2015)
He appeared in a Comic Relief sketch with David Walliams's character Lou patronising him. Again the chair transformed … this time into a killer robot:
Comic Relief (2017)
He took part in another sketch for Red Nose Day last year, when celebrities auditioned to become his new voice
Last Week Tonight (2014)
John Oliver interviewed the genius in Cambridge for the People Who Think Good strand of his HBO show in typically sardonic style.
Talking of the multiple universe theory, Oliver asked: 'Is there are universe out there where I'm smarter than you?'
'Yes,' said Hawking, 'and also one where you are funny.'
Hitchhiker's Guide To The Galaxy
Hawking appeared in the new Hexagonal Phase series only last week, playing a second edition of the titular knowledge repository, a hugely intelligent and powerful being.
Producer David Morley said: 'Douglas Adams' work is admired by many of the world's top scientists because of its innovative and hilarious twisting of the real universe, so I took a punt and asked the Professor if he'd like to actually play a role in the new series.
'It turned out that he was a huge fan of Hitchhikers and very quickly came back with a resounding "yes" and [fellow producer] Dirk Maggs and I were jumping up and down with joy. His part blends perfectly with the actors. The results are fantastic.' Listen to the episode here.
Published: 14 Mar 2018
What do you think?