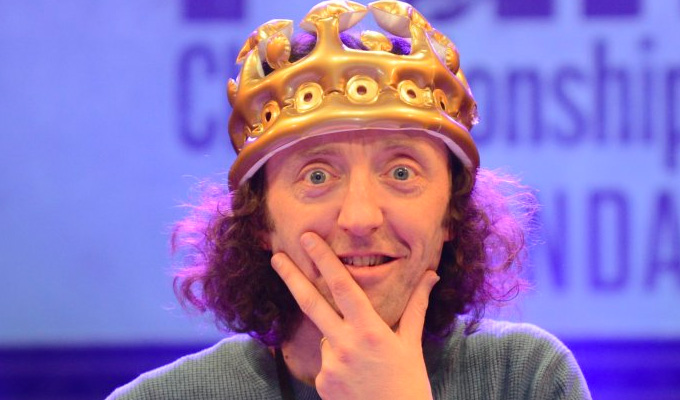 The best – and the worst - from the UK Pun Championship
Welcome to the punderdome! In what's taken off as a great marketing gimmick - with #ukpunday trending across Twitter yesterday – eight pun-dits gather at the Leicester Comedy Festival for the closest that word nerds get to sports. One-on-one in a boxing ring they exchange pun-ches in a bid to take the UK Pun Championship.
Host Jason Byrne – talking a break from judging Ireland's Got Talent – does a sterling job of getting the audience primed. 'The worse the better!' he says of the wordplay, in a format where a groan or a 'way-hay!' is as good as a laugh, an acknowledgement of the engineering behind any bit of wordplay.
He mocks the crowd, always in a friendly way, and sets up some nice running gags. Amid the scandal over walk-on girls, gets the very glamorous electrical engineer Richard is recruited to amble begrudgingly around the ring with the round numbers.
Here's how the night unfolded, with the best (and some of the worst) puns of the showdown. We know that's what you want…
Round 1: Iain 'The Puncredible Hulk' Macdonald vs El Baldiniho, 'The Pungician'
The first subject is cooking, with five puns required on each.
Scotsman Macdonald: 'My grandmother is so scared of incontinence that she sits on a chapati. She's my pish-wary nan.'
El Baldiniho: 'I'm doing a tour of the UK teaching people how to do Moroccan cooking. I've just added a few dates.'
Then on the Royal Wedding, Macdonald offered a slew of Henry VIII jokes - you have to admire the execution – while El Baldino offered the best, and most offensive, gag of the night: 'After they marry, Harry and Meghan are going to have a child. They're going to call him Seatbelt. It's what his mother would have wanted…'
But it was not enough to get him through, based on crowd cheers.
Winner: Iain Macdonald
Round 2: Samantha 'Hit & Pun' Baines vs Robert 'Pun Robert, Pun Robert, Pun, Pun, Pun' Thomas
Baines on ice-skating: 'When on the rink, I always take the shape of the number 8. Well, they do call it figure skating.'
Thomas on alcohol: 'I did an experiment on the effects of alcohol. The results were staggering.'
Winner: Robert Thomas
Round 3: Julian 'Pun DMC' Lee vs Colin 'The Pun And Only' Leggo
Lee on newspapers: 'I read in the newspaper that the man who invented the needle-threading machine is in a coma. In a cruel twist of fate, he won't pull through.'
Leggo on rain: 'The leader of the Roman Empire asked what they call frozen rain. Hail, Caesar.'
Winner: Julian Lee
Round 4: Adele 'Thor – God Of Punder' Cliff vs Tim 'Pun-Lovin Criminal' Andrews
Cliff on eggs: 'What happens when a French footballer breaks 100 eggs for a goal celebration? They get cent oeuf.'
Andrews on rap or grime music. 'You know who gets a bad rap? Anyone who bought the latest Kanye West album.'
Winner: Adele Cliff
Semi-final 1: Adele Cliff vs Robert Thomas
Cliff on football. 'When he retires from punditry, he plans to open a chemist's in Leicester. It's Apothecary Lineker.'
Thomas on musicals: 'There are many duets in musicals. But now I think we're supposed to call them female Jews.' [Probably helps if you read that one out loud]
Winner: Robert Thomas
Semi-final 2: Iain Macdonald vs Julian Lee
Lee on love: 'Billy Ocean recorded a track called the KY Jelly Song. It didn't do very well, so he re-released it… as Love Really Hurts Without You.'
Macdonald on the environment: 'When flowers go to vote, they go to the pollen station.'
Winner: Julian Lee
The final
Five rounds here:
Lee on pigs: 'I often have life-changing throughs over eggs, bacon and sausage. I call them Breakfast Epiphanies.'
Thomas on the Oscars, kinda: 'Wouldn't it be funny if the film I Know What You Did Last Summer was all about twisting again.'
Lee on Leicester: 'Hitler called it the birthplace of Gary Lineker; Pol Pot called It the home of the 2015 Premiership football champions. It's the Leicester of two evils'
Thomas also on Leicester: 'When Leicester won the league, my mum bought a candle to celebrate. Now it just languishes in the middle of the table.'
Thomas on Brexit: 'It's like a catheter for Britain. We're no longer in continent.'
Lee on exercise: 'I wanted to get fit and a friend said, "kettlebells". Now I just boil my whisky.'
And the UK pun champion of 2018: Robert 'Pun Robert, Pun Robert, Pun, Pun, Pun' Thomas
Here are some video highlights:
Published: 13 Feb 2018
What do you think?