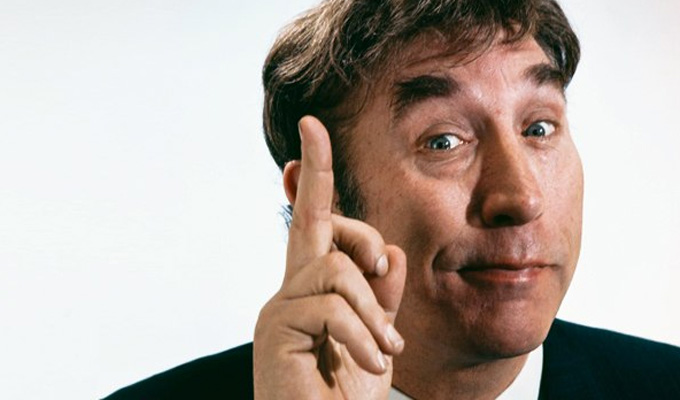 You'd never get away with it today...
It seems that every day a new showbusiness career lies in tatters as the world finally catches up to the men who abuse their power to harass and grope women.
But for decades bad behaviour has gone unpunished… here are six comedians beloved in their day – and some even now – despite widespread reports of pretty salacious behaviour that surely would not be tolerated today:
1. Charlie Chaplin
Charlie Chaplin's reputation was hardly unsullied while he was alive, but he remains hailed as one of the best silent movie clowns of all time. Bafta even name their American comedy award after him.
He is said to have slept with 2,000 women, and liked them young. He met his first wife, Mildred Harris at a party in 1918 when she was 16 and he 29. They married when she became pregnant, but he then abandoned her and embarked on a string of affairs, typical of his cruel attitude towards women.
He starting dating his Gold Rush co-star Lita Grey when she was just 15 and he 34, having known her since she was six. Since Chaplin thought condoms were 'aesthetically hideous', Grey got pregnant. Then he offered her $20,000 to marry someone else. Fearing statutory rape charges he agreed to marry her in Mexico, Though on the journey back he urged his wife - who he called 'a 'little whore' – to throw herself from the train.
In summer of 1941, Chaplin, then 52, began an affair with 22-year-old actress Joan Barry, who was put on contract with his film company. She had two abortions, and reportedly had her salary cut to pay for them.
That relationship led to two high-profile court cases: a paternity suit and a 1944 trial for breaking the Mann Act, an anti-trafficking law, after Chaplin bought tickets for Joan Barry and her mother to travel from LA to New York, so technically crossing state lines for sex.
The jury were said to be star-struck. One juror claimed Chaplain could not have been guilty as he was an artist and therefore above sexual thoughts. Another even brought pictures of her 14-year-old daughter along in the hope Chaplin might be interested. He was cleared, after his lawyers agued Joan would having willingly had sex with Charlie at any time
Chaplin married his fourth and final wife Oona O'Neill in 1943, when she was 18 and he was 54.
Beloved for playing the naive idiot savant, but many women who worked with him have spoken of his seedy side far from the public image.
Singer Tina Charles, who had a No.1 hit in 1976 with I Love To Love, says the comic molested her in his dressing room when she was just 16. She claimed he asked her to sit on his knee then slid both hands through her sleeveless top and started fondling her breasts.
Earlier this month, Fenella Fielding, said Wisdom was 'not a very pleasant man… always making a pass – hand up your skirt first thing in the morning. Not exactly a lovely way to start a day's filming.
The late Lynda Bellingham said she felt belittled on his show A Little Bit of Wisdom, with a scene where the comic dropped a pencil down the front of her dress and I looked for it. 'So for ten minutes I stood there while he basically touched me up and you couldn't say anything because he was the master of comedy,' she recalled. But she shrugged it off as typical of the role of women at the time.
The master of the innuendo was infamous for his wandering hands. Gay at a time when it was illegal to be so, he was always uncomfortable with his sexuality. Nevertheless he was not shy about propositioning men backstage, earning a reputation as a lewd sexual predator.
In his diaries, Gyles Brandreth wrote on the day Howerd died in 1992: 'I was genuinely fond of him – despite the fact that the last time we met he exposed himself to me. He pretended to have a groin strain, thrust a jar of ointment into my hand, pulled down his trousers and threw himself back on the sofa.' The comedian then proceeded to tell Brandreth to 'rub it in' as if his penis was 'a muscle'. It's a story repeated by others who came into contact with the comedian.
The comedian's on-screen antics, forever ogling or being chased by scantily clad girls, are no longer seen as suitable for TV. But in private Hill – who died on the same day as Howerd – had an uncomfortable relationship with women and was unable to form a normal relationship with them.
Just last month punk singer Hazel O'Connor accused Hill of harassing her when she was a 21-year-old actress. The comedian is said to have offered her a job in return for sexual favours, and she recalled: 'I was disgusted and was getting ready to leave when he tried to snog me. I pushed him away and got out of there
Possibly more sad than bad, Hill wanted women to be more naive than he was, and for them to show him a level of respect. He would invite working-class women back back to his bare bachelor flat and offer them cheap lingerie. He told Bob Monkhouse he liked them to perform oral sex or masturbation, telling his fellow comic: 'I love factory girls… I get a thrill when they're kneeling there, between my knees and they're looking up at me. And I want them to call me Mr Hill, not Benny… it's respectful.'
Girls recall being summoned to Hill's bedroom for casting. A 2014 GQ profile revealed Page Three girl Cheryl Gilham had accepted an invitation to 'please Uncle Benny, while Stefanie Marrian, who was 16 when she first visited Hill, remembered that 'I'd never seen a man naked before and the sight of Benny was no laughing matter. He didn't want to make love, but enjoyed me masturbating him on his purple bed. It was like a holy ritual and I was his virginal creature.' She adds that she always kept her knickers on … while Hill wore rubber gloves.
4. Freddy Starr
Starr's reputation is now in tatters after losing a 2015 libel case against Karin Ward, who recalled being 'horribly, horribly humiliated' when she was groped by the comedian when she was 15. Ms Ward, who was in the audience of the Jimmy Savile-fronted TV show Clunk Click when she encountered Starr 'who had a very bad attack of wandering hands'
Even his defence, Starr admitted he used to slap girls' bottoms in the 1970s but added: 'It was nothing sexual. It did not mean anything. It was just to say they had a lovely bum.'
Despite that behaviour he was a major star of the era, appearing on the Royal Variety Performance, the impressions series Who Do You Do? and TV panel show Jokers Wild before going on to star in his own series.
However, stories about his behaviour have now reportedly left Starr a broken man, not least because of the estimated £1million of losing his libel battle.
5. Rod Hull
One of those perverts who hid in plain sight, stories are legion of the children's entertainer using his puppet to molest fans.
Surprisingly, one of the people to blow the whistle was darts ace Eric Bristow, In his autobiography, The Crafty Cockney said: 'He used the puppet to feel up women and stick his hand between people's legs. It was out of order'. The darts player even threatened to knock Hull out when he was a guest on Bullseye.
And in a 2007 interview with Chortle, the late veteran comedy producer Michael Hurll called Hull 'the nastiest man you ever met'. He said: 'I told him once, "Look Rod, you've got your hand in that emu, up girls' skirts and squeezing their tits; doing things you would get locked up for.' And he would just go "Oooh naughty emu"… he was a dirty bastard. Just a horrible, horrible man.'
Most people who worked with Drake thought him a horrible man, too, and although there are few first-hand reports of inappropriate behaviour he did have a creepy obsession with 17-year-old dancers. His first wife Heather Barnes was 17 when they married, when he was 27. His second wife Elaine Bird was 18 when he was 51. At the age of 70 he found love again, with another 17-year-old.
He once said: ''I do seem to stick at 17. They are much nicer at that age. But that doesn't make me a dirty old man. I don't see anything dirty about sex. Nobody seduces anybody. It's about two people having fun.'
Pass the sick bag.
Published: 20 Nov 2017
What do you think?