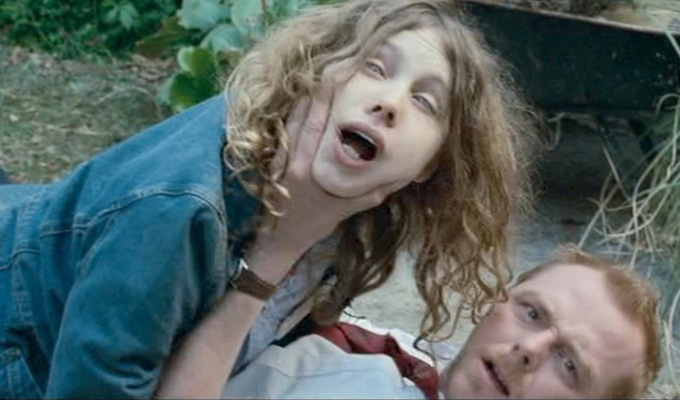 What was the name of this zombie in Shaun Of The Dead?
Test your comedy knowledge with a special Halloween themed edition of our weekly trivia quiz - compiled, as always by broadcaster and comedy historian Hayden Parker. Good luck!
1. Which British comedy film featured the line 'Frying tonight!'?
2. In Shaun of the Dead, what is the name of the zombie supermarket check-out girl that Shaun and Ed meet in their garden, pictured?
3. Who played Herman Munster in the 1960's TV show The Munsters?
4. Which character was played by Marty Feldman in the film Young Frankenstein?
5. Adam and Barbara Maitland are characters in which 1980s movie?
6. What was the name of the 1990s dark comedy series created by Paul Smith and starring Dawn French in various roles?
7. Which comedy series featured a ghostly character called Uncle Deadly?
8. In the Parks and Recreation episode Halloween Surprise, which character has a heart (fart) attack?
9. Sardines, Nana's Party and Diddle Diddle Dumpling were all episodes of which dark comedy?
10. Timothy Claypole was the lead character in which children's TV show?
• How did you do? The answers are here
Published: 31 Oct 2017
What do you think?