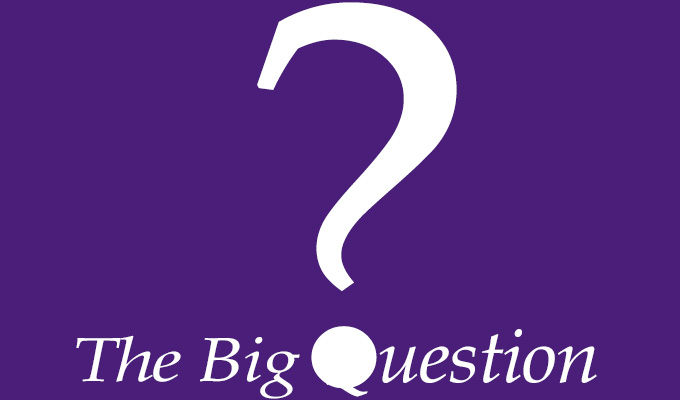 What are your plans for after the Fringe?
Improvisers don't make plans.
ComedySportz UK, Laughing Horse @ The Free Sisters 15:45
I'm going straight to Manchester Pride to find love.
Stephen Bailey: Can't Think Straight, The Free Sisters, 17:15
There's an actual chance that I could do three months jail time in 2018, so I'll be sharpening toothbrushes and learning how to regurgitate cigarettes.
Ben Fogg: How I Won Best Newcomer 2017, Pleasance Courtyard, 16:45
Myself, Fred McAuley and Barry Murphy are off to play some of Scotland's best golf courses together. This is not something I would ever admit to if I was hoping to be noticed by awards panels.
Dominic Holland: Eclipsed, Voodoo Rooms, 16:40
To continue holding buckets after talking.
Jay Cowle: Hello Humans, Cabaret Voltaire, 15:30
Eating a lot of cheese and pastries and drinking wine at a wedding in the south of France then walking it all off for a month in Spain, doing the 800+km El Camino.
Marcus Ryan: ¿Hablas Inglés?. Laughing Horse @ Free Sisters, 17:00
I'm going to fill in my tax return. I get a real sense of satisfaction from getting it done so far away from the deadline. I am so much fun.
Ian Smith: Snowflake, Underbelly Med Quad, 17:15
I'm actually going on my first family holiday in nearly 15 years with my mum, my dad, my sister and her husband. As I'm the single one, my parents have very kindly offered to share a room with me. Dad has sleep apnoea so occasionally stops breathing and my mother is a sleep screamer ( It's like sleep talking but angrier), so I think its all gonna be absolute lols and the perfect rest after a month in Edinburgh.
Jenny Bede: Eggtime, Pleasance Dome, 20:10
To sleep for a week. Everyone tells you the Fringe is tiring, no one ever tells you why, you think: 'Oh yeah, work one hour a day, it'll be a laugh.' No, people are up till 4am. Doing nothing mind you, and it's stressful. You need a week or two to recover. Two weeks to forget any awkward silences you may have endured.
Kae Kurd: Kurd Your Enthusiasm, Pleasance Courtyard, 17:30
To sit on the naughty step (Arthur's Seat) and really think about what I've done.
Zahra Barri: Talk Like An Egyptian, Bar 50, 21:45
I am spending one month in a cabin in Denmark. It might be overkill but I fear I will definitely need it. Then I am going on tour of the UK, which I am incredibly excited about.Sofie Hagen: Dead Baby Frog, Bedlam Theatre, 14:00
Continue doing Fringe 2017 admin, right up until the point where we need to start doing 2018 Fringe admin...
Hivemind Presents: Playlight Robbery, Laughing Horse @ The Free Sisters, 11:30
I've NEVER been out of Australia before in my life. I've got a run of gigs in London and at the End Of The Road Festival afterwards. If I have time I'd like to go to Iceland and snorkel in the rift between the tectonic plates. Then I've got two weeks of shows in Malaysia on the way home and I hope I see a monkey.
Laura Davis: Cake In The Rain, Underbelly Med Quad, 20:10
I'm off to Leeds to appear in pantomime, which I'm very excited about. That may have sounded sarcastic to some readers, but I genuinely love pantomime. I'm in Jack and the Beanstalk at the Carriageworks playing 'Dame Trott', a milk maid. Whether or not the piece gets the Sam Mendes treatment and becomes a gritty look at the dairy industry remains to be seen…
Myra DuBois: DuBois Entendre, The Counting House, 22:30
Researching bridges high enough to ensure death yet low enough to limit thinking time.
Richard Gadd: Monkey See Monkey Do, Summerhall, 23:00
I'm writing an animated sitcom called Duck Prison, so I'm going to get that made, and I'm going to be directing a few short films, but for the most part back to writing scripts.
Stoph Demetriou: The Dunning-Kruger Effect, The Free Sisters, 23:10
Make a boyfriend out of pound coins and 50ps.
Jenny Collier: Fantastic Beasts and Where to Find Jen, Espionage, 17:00.
To claw my way out of my overdraft.
Rob Oldham: Brink, Cellar Monkey, 22:00
Published: 27 Aug 2017
What do you think?