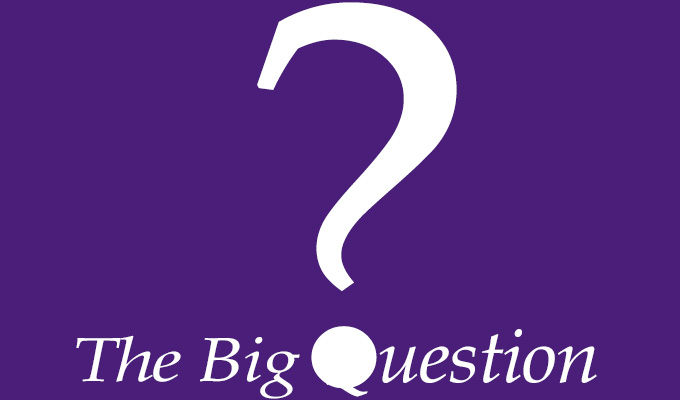 This has been the 70th year of the Fringe. What will the 100th look like in 2047?
Way more dead robot shows.
John Hastings Audacity, Pleasance Courtyard, 21:15
Mark Watson is doing a Negative-Twenty-Hour-Show. Where he stays awake so long he travels back in time. Arthur Smith is conducting his sub-aqua swimming tour of the Royal Mile. Spank now offer 5 minutes of stage time if you shed your skin and Simon Munnery is using a wormhole to do 167 shows a day.
Tom Neenan: Attenborough, Underbelly Buttercup, 15:55
Edinburgh will be empty, the streets will be flyerless and posterless as we enter the 10th year of the VR fringe where people stay at home and perform to other people who've stayed at home thus causing a massive property crash in Edinburgh which serves them right for charging us a years mortgage for a month's stay.
Kidocracy, Stand 3, 12:00
I think the 100th Fringe will look very smart. It will be the 40s again, so lots of double breasted suits, suspenders and fancy hats.
Otto & Astrid: Eurosmash! (Die Roten Punkte), Underbelly Cowgate, 22:10
By the time the 2047 Fringe rolls around there will be more shows on in Edinburgh during August than there are people in Europe (which, incidentally, Scotland will be part of). The astounding glut of live performances will result in shows which have audiences of more than three people being deemed 'Sold Out', and the vast quantity of over-ordered flyers and posters will be burnt on August 28th every year in a mass bonfire reminiscent of ivory burnings. But don't be scared; an a capella police force will be on hand to ensure that everything runs smoothly and Nicholas Parsons' Happy Hour will celebrate its centenary Festival. You have been warned.
Great British Mysteries?, Pleasance Courtyard, 15:30
Like this year, but there'll be flying cars and everyone will be wearing space suits because of the damage to the atmosphere and lack of oxygen. There'll also be section in the brochure for alien comedy and performances by extra terrestrial comedians. Everything else will pretty much be the same, except most venues will be operating Bob Slayer's pay what you want model model.
Michael Stranney: Welcome To Ballybeg, Pleasance Courtyard, 18:00
Every show will start with as many letter 'A's' as the acts thinks they can get away with.
Rik Carranza: I'm A Fan, Laughing Horse @ Counting House,21:00
The number of comedians performing will only just be getting back to the levels of the 2027 Fringe after a government sanctioned cull 'eliminated' 7,000 in the September of that year. The continuing trend of paid shows moving to the free Fringe has gone to its logical conclusion and now all shows are free, although a lot of the big names are starting to complain about the new model of WPYTWTS (We pay you to watch this shite). A pint of beer in the Pleasance Courtyard is now 55 Scottish dollars.
Olaf Falafel presents The Marmosets Of My Mind, The City Cafe, 16:15
Edinburgh will now be one of the only non radioactive zones left on the planet, acts will have to pay £100,000 for their comedy license and every show will start with the Chinese national anthem.
Elliot Steel: Near Life Experience, Gilded Balloon, 20:15
The best reviewed performers of the festival will be forced to breed in an attempt by the Edinburgh Fringe society to create a super elite group of international young performance artists who can do acrobatics, tell observational material and fight crime. Reviewers with multiple grammatical errors in their reviews will be forced to fight to the death in a specially designed combat arena on the Meadows. Judged by a collective of comedians who were unjustly reviewed by Broadway Baby at the start of their careers. There will be a huge bronze statue on the Royal Mile commemorating all the troupes that were lost in the great Improv Battle of 2044 - where every single improviser in Edinburgh died when a rap-battle got too out of hand, causing C Venues to flood.
Elf Lyons: Swan, Underbelly Med Quad, 21:30
Oh, very much the same I should imagine. The Fringe reminds me of Sisyphus, rolling his little boulder up that hill for all eternity. It feels like that sometimes, doesn't it?
Myra DuBois, DuBois Entendre, The Counting House, 22:30
Boris: As I have previously stated, by the year 2047 Edinburgh will be an underwater city. An uncertain fate would await any performer, as they will work for the amusement of our new aquamen overlords. If you'd like to read more about our future you can buy my book, 'The Wetinburgh Fringe Festival'. Available under most park benches and inside recycling bins.
Boris & Sergey's: One Man Extravaganza, Assembly George Square, 21:25
All Edinburgh shows will be ingested as a spray instead of being performed. Gender will not longer exist. Craig David will make his third comeback.
Rose Matafeo: Sassy Best Friend, Pleasance Courtyard, 21:45
Every person in the country will be obliged by law to perform a show, and in a truly shocking turn of events, we'll see the first ever person of colour on the Edinburgh Awards panel.
Tez Ilyas: Teztify, Pleasance Courtyard, 20:30
I think the Royal Mile will be full of students covered in white paint and pretending to die.
Charlie Baker: The Hit Polisher, Assembly George Square, 20:00
Published: 26 Aug 2017
What do you think?