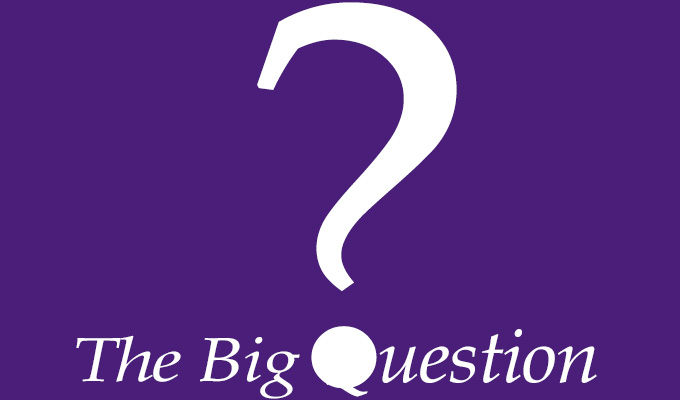 What do you plan to do on your day off?
Many Fringe comics have a day off early this week. What to do, what to do…
I always go to Falkirk for the day. Fuck knows why, it's just become a tradition.
Geoff Norcott: Right Leaning but Well Meaning, Underbelly Wee Coo, 18:40
Write sorry notes to all the people who's shows I said I would see on my day off and eat lots.
Samantha Baines: 1 Woman, a High-Flyer and a Flat Bottom, Pleasance Courtyard, 15:30
Bathe. One long, orgasmic bath
The Prophetic Visions of Bethany Lewis. Underbelly Cowgate, 22:50
Go and drink a lot of rum at Notting Hill Carnival - my day off is 28th and I'm gooone.
Maddy Anholt: Herselves, Underbelly Med Quad, 13:30
Go and see Eminem play in Glasgow.
Rachel Jackson: Bunny Boiler, Pleasance Courtyard, 22:30
Play footy on the Meadows, there's nothing better than finding out how unfit you are half way through the fringe to add to the stress levels.
Elliot Steel: Near Life Experience, Gilded Balloon, 20:15
We do the same thing almost every year. We go to the cinema to watch a film where we sit in an exhausted silence and thoroughly enjoy ourselves without having to clap or smile or cheer or anything. Blissful, stony, appreciative silence.
Murder, She Didn't Write, Pleasance Beyond, 17:00
I always like to pay a visit to the Scottish National Portrait Gallery, they have a stained glass window there that is full of important bearded men from history. It's an ambition of mine to one day be immortalised in a stained glass in recognition of my contribution to the world of comedy.
Olaf Falafel presents The Marmosets Of My Mind, The City Cafe, 16:15
Lie in bed with period pains...as is tradition.
Amy Howerska is a Goddess *unless tired or hungry, Laughing Horse @The Counting House, 21:45
I'm not sure about this year. Last year I went to the beach and got ridiculously sun burnt. It was so bad that it ruined my shows the next day because I was in so much pain. I showed the audience, thinking they'd find it funny, but they were all just too sad to laugh after that. As long as I don't that again this year I'll feel like I've done well. Then I'll probably takes some drugs or something, as that's what my show is about.
Jack Barry: High Treason, Just the Tonic at The Mash House, 19:40
Go to the seaside if the weather is nice and swim in the sea. Even if it's freezing. Or I might go for Afternoon Tea at The Balmoral.
Tom Allen: Absolutely, Pleasance Courtyard, 20:00
Play golf! My wife bought me a round at St Andrews for my birthday - the new one – and I'm hoping on my day off it'll be a sunny, or at least dry, day so I can go knock out a few holes.
Urzila Carlson: First Edition, Assembly George Square Studios, 19:45
Cold hard learning.'But you're both good at everything, what more could you possibly learn?'" Thank you, we know - yet there's always more to discover. Like, did you know that Twitter recently changed their profile images from squares to circles? We have to stay on top of this kind of thing! So we'll go to the Edinburgh Central Library, set-up with MacBooks and lattes and delve into knowledge. You might have the impression the second half of the run might be better, but please do still buy tickets for the first…
Next Best Thing: How to be Good at Everything, Pleasance Courtyard, 16:45
It'll be the eighth anniversary of when me and my wife met, so we'll be treating each other to good food, good drink, some cabaret show and I'll be trying really, really hard not to run away and do a cheeky 10-minute spot somewhere.
Ben Van Der Velde: Sidekick, Espionage, 20:45
I would love to say I'm going to go to Arthur's Seat and look at the different delights that Edinburgh has to offer and maybe spend a bit of time meditating. The reality is I'll probably go to the gym in the morning and then go back home and go on a Netflix binge.
Kae Kurd: Kurd Your Enthusiasm, Pleasance Courtyard, 17:30
Very likely turn up to my venue because I've forgotten. If I manage to remember then I know that Phill Jupitus has a whiskey bar in mind and some sort of crag he wants to show me. So, I'll probably be drunk up a crag.
Laura Davis: Cake in the Rain, Underbelly Med Quad, 20:10
Sergey: Oh let me see, I distribute alms to the poor, I heal the sick and empower the needy.
Boris: Really? I thought you made a suit out of money and shouted at children to 'get a job'.
Boris & Sergey's: One Man Extravaganza, Assembly George Square Theatre,21:25
Do as many gigs as possible.
Winter Foenander: Aside Effect, The Free Sisters, 14:00
Talk about all the things I planned to do on my day off.
Dave Bibby: Nobody Puts Bibby in the Corner, Underbelly Cowgate, 15:40
Published: 13 Aug 2017
What do you think?