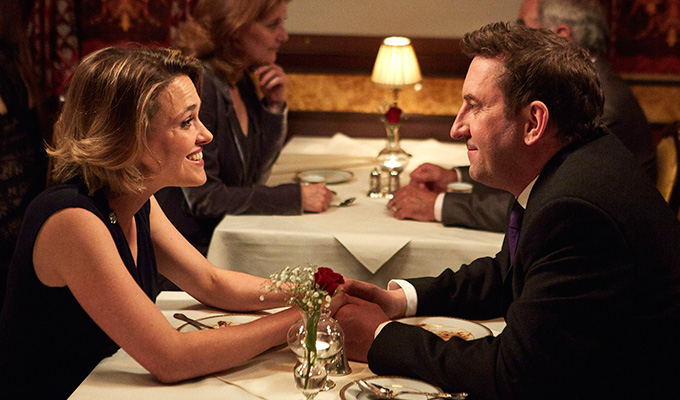 How Everybody Loves Raymond inspired Not Going Out
Lee Mack has revealed that he's taken inspiration for the new series of Not Going Out from an unexpected source: Everybody Loves Raymond.
The comedian piloted a British remake of the hit US sitcom in 2013, to be called The Smiths, but it never got any further. However, he did take a tip from the show's creator, Phil Rosenthal.
'His rules were that someone it the writers' room had to say, "Yeah, that happened to me." So I decided that was going to be the rule this year - that there was always some nugget of truth. It doesn't always have to be in our lives; we can know someone it happened to. As long as we know that it's based in truth.'
That was one of the reasons for advancing the forthcoming eighth series of Not Going Out seven years ahead of the last one, with his character Lee now settled down with Lucy (Sally Bretton) and three young children.
'I thought I'd like to write about my real life because I'm married with three children,' he says:  'And the options available to us were to slowly to progress it - we had a baby at the end of the last episode – and then build it  up over six or seven years. But then reality bit, which was, "who the fuck am I to think we're still going to be on in seven years?" So let's hit the ground running and that way we've already got the three kids.'
But Mack admits that drawing on real-life experiences might have consequences for his marriage.
Asked what his wife Tara might think of him mining their relationship for laughs, the comic said: 'She hasn't seen it, that's what worries me. It's not been on telly yet. Obviously, she's a full-time mum to three kids and pays no attention at all to my entertainment life, so she may say, "What the fuck have you done!?"
'I am genuinely a bit concerned that she might watch it and go "Woah, woah...what's going on here? You can't talk about that can you? We do that in bed." She might genuinely be horrified when she sees the Orient Express story [the basis for episode one]. I've been trying to go on the Orient Express for 20 years but my wife won't let us until the kids are older. But we didn't have kids at first; I don't know what her excuse was for the first ten years.'
Another storyline has Lee thinking Lucy fancies the dentist, and going to spy on the surgery – which did happen to co-writer Danny Peak. However Mack insisted it was his idea not Peak's. 'So if we can just put that in print now, that bullshit he told me to say,' he joked.
Although the long-running BBC One show has an attention to reality, Mack is less fussed about other details. For one, he hasn't figured out what the fast-forward in time means to the show's setting.
'I haven't quite worked out what year it is yet in the show,' he confessed. 'If it's now 2017 it means it used to be 2010  Or it's now 2024. Those kind of details we don't worry about.
'So we don't ever mention the year.  But given that it's a sitcom that's been on for ten years and I've never even had a surname in it, I think we can get away with it. It's too late now to give myself a surname, so now I just avoid it.
He also admitted that he changed Lucy's surname, just for the sake of gag. 
'She used to have a different name but I changed her surname just so I could do the joke "Sweet Fanny Adams",' he said. 'Genuinely, in series four. 
'Sometimes you can get bogged down in realism, can't you?'
The real-life inspiration also extends to Not Going Out's location, which has now moved from a central London apartment to suburban Walton-on-Thames.
'I realise people in telly take things literally,' Mack said. 'If you say something's set in Walton-on-Thames they film all the location stuff in Walton-on-Thames and that's ten minutes from my house. That's the only reason I set it in Walton-on-Thames.'
But surely there must be some points of difference between the sitcom and Mack's real domestic life?
'My house does just have three walls,' he quipped, referring to the TV set. 'But I don't crack jokes every 15 seconds at home. I'm thoroughly miserable and my wife hates me.'
• Not Going Out returns to BBC One at 9pm on Friday January 13. Here's the trailer:
Published: 2 Jan 2017
What do you think?