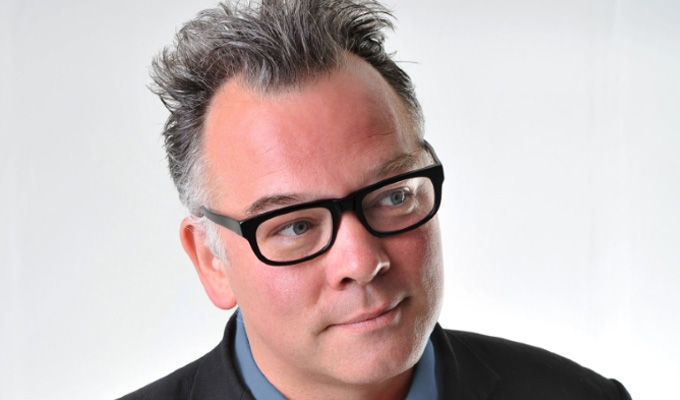 Comedy is alchemy...
The DVD of the fourth and final series of Stewart Lee's Comedy Vehicle was released yesterday (Buy here). Here, the comedian exclusively reveals the genesis of the first three episodes – with notes on the remaining episodes to follow tomorrow:
Episode 1: Wealth
This episode came together pretty quickly, and I had a lot of fun doing the Baftas bit on tour. There was a ten-minute plank about owning a home and S&M which went missing for time and narrative issues and will be the basis of a big block in the new tour show, Content Provider.
I saw seagulls peck a duckling to death at Camden Lock while men laughed; I assume the unnamed hated Oxbridge comedian in Lee Mack's autobiography is me; Dominic Cavendish at The Daily Telegraph left one of my shows at half time, openly lied about it, and gave it a no star review; I actually won a Bafta once but had to ignore that to make my faux-resentment of the awards work; James Corden comes to my gigs in little pubs and sits secretly in the dark, which I don't mind, but the stage version of me is consumed by resentment of his noble patronage; the council have promised CCTV to tackle the prostitute punters on the street where I live. I wonder where the girls will go then?
I was a school with the original line-up of Napalm Death, though I wasn't friendly with all of them, and I did go mountain walking with Rat, Simon, Daryl and Robbo.
My initial idea for the film item was a Michael Bentine's Potty Time style thing of tiny metalers moving around a landscape. Then I asked Tim Kirby, director, what he would do if asked to direct an orienteering-themed extreme metal promo video. He came up with a superb storyboard. We shot the extract in real time, with patient lookalikes, as if for a three-minute clip, then sped it up to match the Napalm Death track.
Episode 2: Islamophobia
Right-wing columnists moan that we liberals don't do enough anti-Islamic jokes, and so does James Naughtie on Radio 4. This episode was an attempt to do just that, on my own terms, whilst also making fun of the idea that I was obliged to do so by The Daily Mail.
In the summer of 2014, having visited a site in East London as part of the Chelsea Garden Festival Fringe, I was on the 149 bus with the kids and a saw a veiled Muslim woman sit on a copy of the Jehovah's Witnesses magazine Watchtower.
I used an old bit from the Carpet Remnant World tour as a frame to hang new ideas about religion on, from which only the running around bit, and the basic idea of the Roy Chubby Brown riff, actually survived into the programme.
Ridiculous right-wing reactions to a Muslim winning Bake Off in 2015 bled into the material.
In reality a Sikh man got on the 149 bus and made the Muslim woman move up, and then he or she sat on the Watchtower, I forget which, but when I told this story it never seemed quite funny enough. One night I changed it to a Quaker and the whole closing bit started to come together, I think because no-one in the world could realistically have any kind of grudge against Quakers.
The film item was inspired by John Carpenter's The Fog. Our old friend the Irish comedian, writer and activist Tara Flynn is woefully underused.
Episode 3: Patriiotism
This show started to take shape in January 2015 as a long routine about UKIP and patriotic symbols. The previous November the Labour MP Emily Thornberry had ignited a row about flying the England flag, and loads of spineless creeps who knew better were forced to pretend it is never used as a fascist symbol. Indeed, right now Theresa May is again using the idea that the 'liberal elite' are 'unpatriotic' as a shit-stirring device.
But, after Cameron absorbed UKIP supporter's anxieties in the spring 2015 election, the party suddenly seemed irrelevant and uninteresting, and it seemed weird to even be talking about them. Key elements of the bit were salvaged and made into a show about Jeremy Corbyn, which didn't work quite as well. Sadly, for me and the world, within months of the show being recorded, UKIP again played a major part in British politics in the run up to the Brexit crisis, as if they had never been away.
I did win a hamster in a drawing competition in She magazine in 1979. I drew it as if it were an astronaut in a space-suit. The magazine sent me a voucher. I called the hamster Ray Bradbury, after the science fiction writer I was reading at the time. This never got a laugh until I changed it to Karlheinz Stockhausen. I don't know why. Comedy is alchemy. And our dachshund did break its back, jumping up at the hamster.
I did not have a dog named after Matthew Broderick, but I did see Matthew Broderick through a doorway at the Four Seasons Hotel in LA in 1999, sitting alone, looking sad, waiting to be interviewed about Inspector Gadget. I was trying to fund a film I wrote that never got made.
Live, the cat defecation routine had a musicality to it, and an unpredictability, that regularly created waves of hysteria in rooms of 500, 1,000, or 2,000 people. In the smaller space where the series was recorded it seemed far more provocative.
I knew I wanted the film item to be a montage of news but couldn't get my head round it. Tim Kirkby suggested Zak Snyder's 2004 remake of Dawn Of The Dead as a reference, Jon Culshaw did some brilliant voices, our researcher pulled out some fantastic clearable footage, and the whole thing came together.
Click here for episodes 4 to 6.
Published: 11 Oct 2016
What do you think?