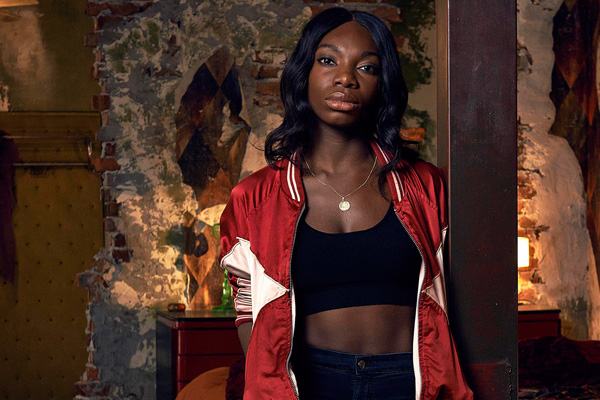 'I'm not brilliant at a lot of things'
Michaela Coel – who shot to prominence in her own E4 comedy series Chewing Gum –is about to star in the new sci-fi-comedy drama The Aliens for the same channel. Here she tells us a bit about it:
Can you explain the the show?
The concept is, if aliens were here, what would we do about it? This show is set in the present day, and aliens have been living on Earth for 40 years. They're working with us and trying to integrate. But humans have decided that they can't live amongst us, so they build a wall and put the aliens on the other side of the wall. They can come in, if they're tagged, to do menial work, as cheap labour.
Part of the reason we can't live with them is that their hair is a drug – if we smoke it, we get high. Michael Socha plays Lewis, who discovers that he's the first ever half-human, half-alien. He gets dragged into an underworld of alien illegality, whilst also falling in love with a girl whose intentions are questionable.
You play that girl, who's called Lilyhot. Great name!
I know! When I got the job I was saying "Shouldn't we just call her Lily?" It's a bit of egotistical name. And what were her parents thinking? Who the hell calls their child Lilyhot? Why has she got this name?
The show is very dramatic but also very funny. As a writer, you must appreciate what a difficult trick that is to pull off.
Yeah! Jim [Howick], who plays Dominic, is maybe the most hilarious man I've ever seen in my life. Fintan [writer Fintan Ryan] is really surprising, because he comes out with jokes where you think 'That shouldn't be funny right now!' and yet it's hilarious. I've not married drama and comedy the way he's done it, and it's really bloody brilliant. But also, I know Jim worked really hard in making sure that Fintan's jokes landed properly. Some of them were really complicated.
You've had your own show, Chewing Gum, which you wrote, starred in and directed. But now you're one of the leads in a show of this huge scale, out in Bulgaria. Does that carry a lot of pressure?
Massive. The first day I went on set, I wasn't even shooting, I just wanted to go on set and get a feel for it. And I just started to wonder if I could do this. I'd never worked in a studio before.
As much as I wanted it, I got there and thought, 'Whoa! This is a bigger deal than I thought.' Luckily I knew Jonathan van Tulleken, who directed the first half of the series, because he'd directed me in Top Boy. And also we shot the first two weeks in London, so that was a warm-up into it.
But when you didn't write the lines that you're saying, you can get into the habit of second-guessing yourself, and whether you're correctly interpreting what the writer meant.
Did it feel easier filming The Aliens compared to Chewing Gum, because you're not in charge of every aspect of the production?
Yes and no. When you write a show, you don't even really need to rehearse, you know exactly who you are, and who everyone else is. That's a big help. And on Chewing Gum I did so many things – I was associate producer, I wrote the music, I sang the music, I wrote the show, I acted in the show – it almost makes you stop thinking, you haven't got time to think, you just have to keep going. And it works, because you weren't thinking.
But when you're acting, and it's just one thing, how you talk and move, you start to get a bit obsessed. That's where you begin to go wrong. But at the same time it's lovely, because it's like a playground. You don't have to worry about whether everyone's costumes look OK. You can just mess around. At lunchtime, you can just eat lunch. You're not doing the edit or whatever. So on that side, it was a lot more fun and a lot easier.
How much has Chewing Gum changed things for you? Do you get recognised much?
Yeah, I do. Everyone's been really lovely. But you sort of forget about it, and then when it happens it's really weird. I went to Marks & Spencer yesterday to buy some tights, and had some chips in the café there. And then a couple of people started asking me if I was on the telly, and they seemed really weirded out that I was in M&S eating chips. But it's all been really lovely. Nothing overwhelming, but every now and again someone recognises you, and it's fine.
I read that you've never watched a show that you've been in?
That was absolutely true. I've not seen Top Boy, Law and Order, London Spy. But obviously I've seen Chewing Gum, because I had to. And I think that helped me overcome my anxiety about it, because now I've watched The Aliens.
It started because I'd been to the screening of Top Boy episode 1, which I wasn't in, and at the end of it they showed what was coming up in Episode 2 and I saw myself, and because of all my bullshit and anxiety, I literally saw The Elephant Man. So after that I never watched myself. But when you do your own show, it's time to stop giving a fuck about yourself, Michaela! So now I don't care.
You're a poet, singer-songwriter, screenwriter, playwright, actress, producer…
Should I just say I do everything? I'm a doctor! I'm too many things. I need to calm the hell down. I'd like to just focus on a few things, so that I can become really good at them.
What do you want to focus on? Do you have a plan in your head?
I don't have a plan. I'm writing season 2 of Chewing Gum, but also acting in other stuff. I like both of them. I like producing, I like writing songs, but I think the main things for me are writing and acting, and I can't pick between the two of them. When you write, it's quite isolating, and when you act you're with a cast and it's fun.
But writing has more of a power to communicate what you would want in a show. There's too many pros on both sides for me to choose between them.
Make the rest of us feel better. What are you bad at?
I am bad at brushing my teeth. I'm bad at looking after myself. I'm bad at having a good diet. I'm obviously never going to be anything academic like a doctor. And I genuinely think I give an average wash over everything. I need to master one of these things at some point. I'm not bad at a lot but I'm not brilliant at a lot, I must say.
Published: 24 Feb 2016
What do you think?