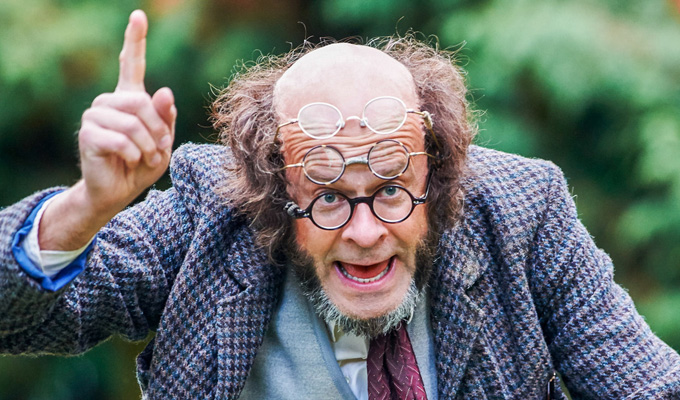 'It's weird not being in control'
'It's not a huge stretch,' Harry Hill admits of his role as Professor Branestawm, as he films the second BBC One family film about Norman Hunter's classic kids' creation.
The comedian has always devised his own work, so acting in a show scripted by someone else – The Fast Show's Charlie Higson – and as a character created by someone else is, he admits 'a weird one for me'.
'I don't do this sort of thing on the whole… I'm not sure I could do it for weeks on end; I think it would drive me a bit mad.'
But it has its plusses: 'Anything else I do I'm normally leaning over the director, interfering with the props, checking everything. Here I just turn up, do it and go. I quite like it. It's nice to hand it over.'
'I haven't pursued an acting career as such, but I was such a fan of the books as a kid that when they asked me I didn't want to see anybody else do it.'
He admits too, that it's 'not a million miles' from his comic alter-ego… or even himself, given he has been prone to mad inventions in his youth.
'I spend a lot of time in my own world,' he says. 'If you're a writer or if you're trying to come up with comedy ideas all the time you're constantly thinking in that internal world in the same way that Professor Branestawm does.'
Not that Hill could entirely take a back seat. 'Last year when they suggested this to me, they had this script and I went to meet Charlie Higson – it was the first time I'd ever met him – and so I gave him a whole load of notes and ideas and he seemed very, very grumpy about it and he ignored them all. So this year when he emailed me "please do send any suggestions", I didn't.'
Higson admits that he didn't take Hill's suggestions on board. 'He was quite resistant on the first one being a period piece,' he reveals. 'As he was worried it would become quite a stuffy BBC piece when you're obsessing about buttons and making sure everything in the right era.
'But I said, "Look, we're just going to do it in a sort of generalised "olden days" and have fun with it".
'Anything post-digital has lost all the magic. No one makes mechanical things any more, that sort of DIY golden age of tinkering is all pre-digital. So I thought it at least had to be before computers made the world quite dull. There's a certain magic that's gone out the world; there's a certain magic that's gone out of film-making.'
'When we got it up and running and he saw that we'd created our own fantasy word he seemed quite happy and said "I'm sorry I tried to make you do it differently". But I could see his point.
In the same spirit Higson says 'we've tried to do as much of it for real as possible,' rather than resorting to computer trickery. The highlight of that is probably the monovelo,a human-powered vehicle in which the driver sits in the centre of a giant wheel, and forms a part of a bizarre chase in the new episode.
Hill himself is no stranger to such gizmos, being something of a mad inventor himself as a child.
His creations included a potters' wheel – which he managed to gear wrongly so it went way too fast – home-made fireworks, and even DIY wine with a pal.
'I was about 13 or 14,' he said. 'We made it from blackberries and potatoes and rice and our parents encouraged it as they thought we were refined young gentlemen with a taste for wine.
'But it turned out that it was not ethanol we made, but methanol – which makes you go blind. We used to see this stuff to kids at school. One boy was expelled for having it.' Though somehow he and the other kingpin escaped justice.
It's the spirit of invention he hopes Professor Branstawn taps into. 'The great thing about this is it's the innocent fun we all grew up on and we're reintroducing it, or recycling it, for a new generation,' he said.
And it could even lead him to more acting. 'I always said I'd like to be on Holby City,' he said. 'Not forever but I'd like to be a visiting consultant for three or four weeks. I could be one of those doctors that always kill their patients; a Dr Death.'
The plot of Professor Branestawm Returns has Hill's character competing against rival inventors played by the likes of Matt Berry and Steve Pemberton.
'Matt's character is called Professor Awfulshirt, Higson says. 'He is closely based on that poor American scientist who got into trouble for wearing that awful shirt . But I think a lot of scientists do wear awful shirts. He shows up with an invisibiliser, and keeps invisibilising everything - including himself.'
And Pemberton had great fun camping up the villainy of his character, Professor Algebrain, while falling short of his usual dark territory
'I've tried to make it a little bit sinister,' he said. 'My mum said, "Oh, you'll do that thing with your eyes that you always do" It doesn't go too League Of Gentlemen… but there are elements of that.
'Marauding around with these big speeches and ridicuolous accent – I love anything that's outrageous that you know you're going to get a fabulous costume to prance around in,' he said.
'Equally I love challenging myself doing things like Happy Valley, Whitechapel and Benidorm which are more low-key performances. Any actor will tell you if you can keep that variety in the work that you do you'll be happy.'
Higson also returns to a front-of-camera role as the mayor – a part he got by accident.
'Last year, we'd cast Brain Blessed to play the mayor but he had to pull out at the last minute as he had an eye infection.
'So I read the part in the read-through and everyone said, "Why don't you do it Charlie?" I secretly pretended, "Oh no, I don't want to do that" but the chance to put on a huge beard and basically impersonate Brian Blessed was too good to turn down so I'm doing a couple days filming.'
However he was glad to largely be away from the set.
'Since the Fast Show I've pretty much produced everything I've done, he said. 'So it was a huge relief not to have to do that on this. It's great to have a safe pair of hands and know I could just give them the script and they would get on with it.
'It's an absolute grind, filming. It wears you down. It's minute-by-minute stress as you're losing the light; the actors don't remember their lines; it's raining and you're outside pretending it's a a sunny day… we're running out of time, what can we cut? It's stressful getting through the day so it's fantastic to give them the scripts and they go and make it, and I just watch it when it's done.
He revealed that he had to add quite a lot to Hunter's's original stories – famously illustrated by Heath Robinson – in order to make it work for TV.
'The stories are great, but they are all short stories so there's not much in-depth charter of complicated storytelling,' he said. 'So to make that work over an hour you've got to bring in a lot of other stuff. The core of it is from the books, and the style and the mad inventions, but I've had to bring in quite a lot.
'I don't want to put in a lot of clever-clever stuff than only adults get; neither do I want it to make it too childish - lids like watching stuff that's a bit sophisticated. The spirit is very good-natured and slightly anarchic. The great thing about the Professor Branstawn character is that kids can relate to him as he's like a child in an adult world; he's got no sense of responsibility, no sense of consequences when things blow up and get destroyed he thinks it's interesting rather than "Oh dear, what have I done?"
'There's something about Harry that connects with kids, too. What I like about him is that he's very much in his own little world, which he controls, and he doesn't communicate much outside of that. Which is very good for Professor Branestawn is as he's totally wrapped up in his mad thoughts. I though Harry could do all that and it still be quite endearing rather than thinking "this is someone who should be sectioned.'
He adds that big family entertainment shows like Branestawn can only be made for Christmas as 'it's the only time of year that the family are going to sit down together and watch TV.' And if it was a series [rather than a one-off] you'd never get anything like the same budget.'
Higson is also proud to be working on a show that leans heavily on physical humour.
'Most of the stuff I've written, the Fast Show and so on, has been quite verbal,' he says. 'And in this country that's always been the sort of comedy that gets most respected; clever wordy comedy, whether it's Blackadder or Monty Python – although they are visual as well. Slapstick and physical comedy gets looked down on, so it's great to be able to do as much physical comedy as possible.
'And it makes me laugh, too.'
• Harry Hill in Professor Branestawm Returns will air on BBC One on Christmas Eve at 5.20pm.
Published: 5 Dec 2015
What do you think?