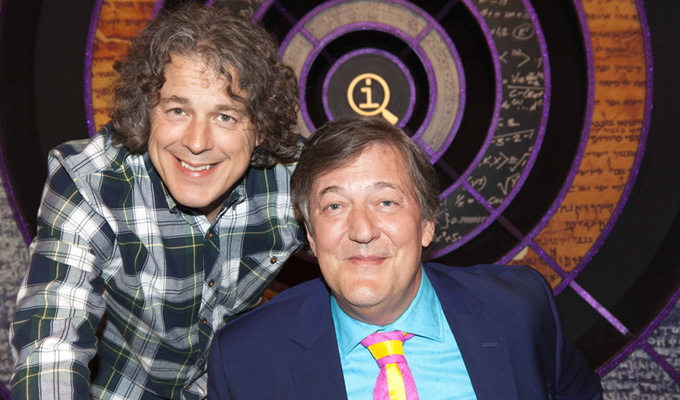 34 facts to leave you speechless
The 'elves' who research QI have just published a new collection of 1,234 weird and wonderful facts. Here are 34 snippets of information from the book, some of which might also be familiar to listeners to their Chortle-Award-winning No Such Thing As A Fish podcast…
• The founder of the Daily Mail was convinced that Belgians were poisoning his ice cream.
• Albert Einstein's eyeballs are in a safety deposit box in New York.
• In 1900, Sir Arthur Conan Doyle caught fire at a cricket match. The ball hit a box of matches in his pocket.
• Baths kill more people than terrorists.
• Box jellyfish have 64 anuses.
• No US President has ever died in May.
• The world's most complete fossil of a Tyrannosaurus rex has its teeth wrapped around the most complete fossil of a triceratops.
• All the American war dead on European soil were buried facing away from Germany, apart from George S Patton, who is facing his troops.
• Humans have shorter attention spans than goldfish.
• The US military is America's largest purchaser of explosives; number two is Disney World.
• Airplane! was released in Germany as The Unbelievable Journey In A Crazy Aeroplane!
• When Fawlty Towers was broadcast in Spain, Manuel became an Italian called Paolo.
• McDonald's used to sell bubblegum-flavoured broccoli.
• In the 5th Century AD, the Catholic Church excommunicated all mime artists.
• Three times as many people follow Russell Brand on Twitter than all 650 MPs combined.
• The Wikipedia page for 'pedant' has been edited more than 500 times.
• Robin Williams improvised so much of Aladdin it was ineligible for the Oscar for Best Original Screenplay.
• London's first telephone directory didn't have any numbers in it.
• If a mother polar bear fails to double her weight during pregnancy, the foetus is reabsorbed into her body.
• By the end of her life, Queen Victoria's bust measured seven inches more than her height.
• In the Senegalese version of Firefox, a crash is a hookii, which means 'a cow falling over but not dying'.
• Birds practise their songs quietly in private before they perform them in public.
• Until the 1990s, Britain's nuclear weapons were secured with bike locks.
• Lachschlaganfall is the condition where a person laughs so much they fall unconscious.
• The dialling code for space is the same as the one for Texas.
• Children on long car journeys are more likely to grow up rich and successful if they take the middle seat.
• Uranus was originally called George.
• Grumpy Cat earns more than Gwyneth Paltrow.
• A recent scientific study concluded there are too many scientific surveys.
• Martin Luther King Jr got a C+ for public speaking.
• Prince Charles's valet irons his shoelaces.
• Almost half of American adults believe that dinosaurs and humans coexisted.
• The word 'nuppence' means 'no money'.
• Jugglers in medieval Germany were not allowed to inherit property.
For 1,200 more facts, buy 1,234 QI Facts To Leave You Speechless, published by Faber & Faber. Click here to order for £3.39.
Published: 1 Dec 2015
Recent Features
What do you think?