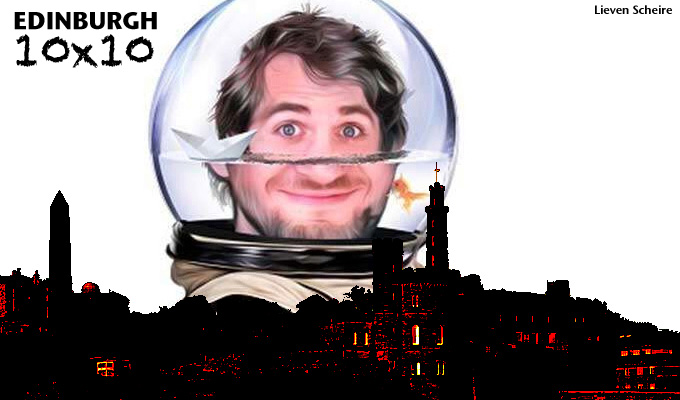 6. Back off Brussels!
Lieven Scheire is described as 'the love child of Stephen Fry and Dara O Briain' – from which you can take it that he talks science and learning. He's also billed as 'Belgium's funniest physicist' – which is an altogether less enviable boast. Although performing in the Gilded Balloon's Wee Room, which is just as 'cosy' as it sounds, he's a big deal in Belgium where some episodes of his TV show Scheire En De Schepping (Scheire And The Creation) reached an an enviable 50 per cent market share, meaning he can fill 1,000-seaters when he plays live. And last year he headlined the first comedy festival at CERN, home of the large hadron collider. Gilded Balloon, 15:00
Ismo Leikola is officially the world's funniest comedian. Or at least the winner of a competition to claim that highly subjective title run last year by America's Laugh Factory clubs last year. Still the oddball Finn offers an endearing collection of offbeat lines.Gilded Balloon, 16:00
Henning's Wehn's back with a revised run of last year's show Eins, Zwei, DIY, running to an extended two hours - but the second most well-known Teutonic export to the UK's comedy circuit also has a show, Return of the 50 Foot German Comedian. Sin, 16:45
4. Iceland and Poland: The Euromen
It's the sort of odd paring the Fringe fosters. Magnus is an Icelandic balladeer, and Andrzejek is Polish performance artist. Together as they celebrate the traditions, culture, and spirit of Europe in their unique style of physical theatre, music, and tantric massage. More than that we do not know… Laughing Horse @ Espionage, 12:30
Last year's Chortle Best Newcomer, and creator of the entertaining backstage podcast Comedians Telling Stuff, the cheerily self-deprecating Dane presents her Edinburgh debut. Liquid Room Annexe, 19:10
6. France: French Fried Comedy
French Fried Comedy is a weekly English-language club held in Paris since 2012 (Tuesdays at Panama in the 11th if you're visiting…) Now, like many a club, they are hosting a daily Fringe showcase of some of their favourite acts. The difference being, they're French.Sportsters, 15:00
Giada Garofalo has a reputation for dark material and overthinking things. And for her second solo Fringe show she started to watch porn for the first time while considering necrophilia and cannibalism in fairytales, which suggests that image is well-justified. Laughing Horse @ The Free Sisters, 14:45
8. Sweden: Evelyn Mok/Tobias Persson
A choice of two Scandicomics in this category. Evelyn Mok's hard-edged comedy earned her the new act of the year title back in Sweden in 2010, a place in the Chortle Student Comedy Award Final in 2013 and a place as part of the Pleasance Comedy Reserve line-up last year. Idiot is her solo debut. Laughing Horse @ The Counting House, 17:00 Meanwhile Tobias Persson offers social and political insight in his show, titled Tobias Persson And The Drivel Rights Movement, which is all about how human struggle is reduced to soundbites and world events to hashtags. The Stand 5&6, 12:20
9. Hungary: Mimi Goes East
This is a physical theatre-based performance inspired by Soviet era Hungary in which a child is confiscated from his home and sent to live in an orphanage, while his parents are sent to a labour camp for sympathising with unfashionable communists. OK, so this one-woman show from Hanna Varszegi doesn't sound a barrel of laughs, but it IS in the comedy section. And you try finding another comedy show from Hungary… Laughing Horse @ Moriarty's, 23:45
10. Greece: George Zach
Still just about in the EU – and hopefully will be by the end of the Fringe too – Greece is represented by George Zach, now based in the North East of England. He's still a newbie but has an energetic and affable approach. And be generous when he seeks donations at the end of his free show – it could make an impact on the national debt. Cowgatehead, 14:40
Published: 27 Jul 2015
What do you think?