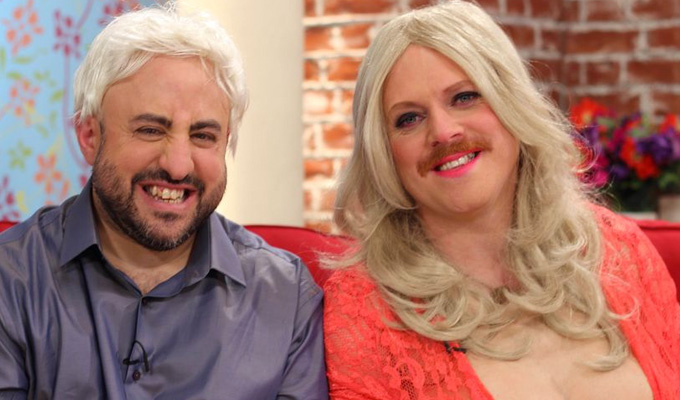 We give you Lemons!
The Keith Lemon Sketch Show is out on DVD today – and we have five copies to give away.
During the six-episode series, Leigh Francis's alter ego adopted 49 exaggerated characters, including a forest-dwelling Ed Sheeran, the permatanned David Dickinson who's prepared to flog Any Old Shit, and the Big Fat Gypsy Kardashians.
Also on the DVD are 50 minutes of exclusive, never-before-seen-extras, including an unseen scene with the real Arnold Schwarzenegger – see below.
The series, which attracted up to 1.5million viewers to ITV2 when it aired in February and March this year, included plenty of celebrity cameo appearances, including Phillip Schofield, Emma Bunton, Jonathan Ross and Carrie Fisher.
Keeping character, Lemon said: 'Really chuffed that me sketch show is now available on DVD, be nice if it was out on laser disc too! Although I know a lot of people don't have a laser disc player. I don't either but I like the idea of having a big DVD so if they shift loads I could have one framed on me wall, and live the dream like Rick Astley! I bet he's gut nuff big discs on't wall.'
To stand a chance of winning a copy, courtesy of FremantleMedia International, just answer the below question by 11.59pm on June 22, after which we will randomly select the winners from all correct answers received. Usual terms and conditions apply.
What is the name of Keith Lemon's panel show
Published: 15 Jun 2015
What do you think?