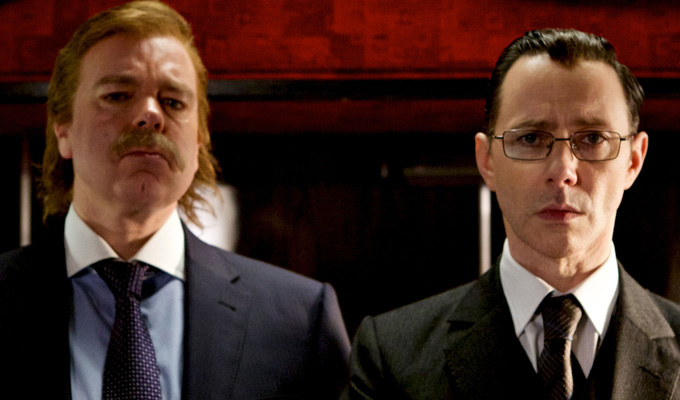 'People are disappointed if we don't deliver something horrible'
Collecting the Chortle Award for best TV show last night, Inside No 9 co-creator Reece Shearsmith expressed surprise at winning a public vote: 'Our things are not constructed to be liked by anyone,' he joked.
It may sound like false modesty, as the anthology series of unconnected films has been widely acclaimed, but the overnight audience for the first series was a modest million or so.
Inside No 9 certainly defies the wisdom that hit shows must have characters the viewers can come to love over time. 'We wanted to do something that was a reaction against the box set culture,' says Shearsmith's co-cretaor Steve Pemberton at a press conference to launch the second series.
'The single play is something that feels like it's slightly dying out, so we were very keen to go back to that anthology thing that we grew up watching: So Play For Today, Tales Of The Unexpected, Beasts by Nigel Kneale was what inspired us to go in lots of different directions over a series.
'In the end, we thought that if they are good stories, you'll forgive them for whatever they are,' adds Shearsmith. 'The thing that binds them is our sensibility, our interest in television that makes you sit up and say "I can't not watch until the end of this now"; to think "I actually don't know where it's going."
'That's quite rate on telly I think. So we just enjoy making people lean into a programme. And a clean slate every way a great format for Steve and I to play different characters as well.'
They say they are blessed to have the support of the BBC to 'write what we want to write' without too much interference. 'It feels like we can sit down and take on longer narratives and if an episode's not the funniest,that doesn't frighten us at all,' says Pemberton.
'And the brilliant thing is that we have the support of the BBC – we are protected [by executive producer Jon Plowman] and allowed to make the programme we want to make, we don't feel we have to compromise.'
The stories are known for reflecting the duo's darker sensibilities – they did create League Of Gentlemen and Psychoville, after all – as well as coming with a sting in the tale.
But Pemberton cautions: 'We didn't want to over-push the twist endings because that becomes reductive. And then if we decide not to do one, it is disappointing. So I think the word is surprising.
'In one episode, you've got elements of mystery, a love story, you really scary and funny moments and I don't think people, when they're watching, will be able to guess where on earth it's heading.
'For us as writers that's one of the joys of being able to tell a story in half an hour, to make you care about the characters make you interested in the story and then start again next week.'
'We live in terror of anyone accusing us of doing the same thing twice,' Shearsmith adds. 'So we tried to think of new things.
The other five episodes in this series – all nominally set in a building No 9 – are:
• La Couchette, set in a railway sleeper carriage and guest starring Jack Whitehall as a backpacker
• The Trial of Elizabeth Gadd, 'The Crucible with gags' in which the duo play 17th Century witchfinders in a town called Littlehappens.
• The 12 Days of Christine; a eerie tale of a woman struck by confusing, sometimes scary, visions and jumps in her timeline
• Cold Comfort, set in booth No 9 of a volunteer call centre
• Nana's Party, in which a practical joke goes horribly wrong
• Seance Time, set in a Victorian house.
Pemberton says that while they enjoyed the different settings, 'it's great that some of them can be completely domestic because that's when you feel at your safest… So some of the episodes are in houses, and in flats because we can all relate to that and we all wonder what goes on behind that door.
'I lived next door to a No 9 and they always looked terrified when they saw me because they were thinking: "Do they know? Do they know the secrets?" So we don't strain to make them all completely different
'Having said that it's fun to do Booth No 9 or train compartment No 9 –- but we don't want to stray too far from the domestic setting.'
The pair say it is a self-imposed challenge to try to confine the action to one space
'Not leaving one location becomes its own puzzle,' Shearsmith says. 'You can cut and return but you restrict yourself with some of the tricks of exposition. Oftentimes you can leave a scene and return, but most of these new ones are real time. And we don't really leave the situation so are robbed of some of the tricks of how to tell a story.
'But that becomes its own challenge, and there's something enthralling about saying, "This is the room we're going to be in for half an hour". That's become quite fascinating in this world of minute-and-a-half clips sent to you on your iPhone. We've gone the other way with these stories that demand your attention and keep you in one place. It works. We're not breaking the mould - it's a very old mould – we're just dusting it off.
'It sharpens your writing not to leave the location,' Pemberton agrees. 'It's a great writing exercise. It's very theatrical in a way.'
Some of the settings proved a challenge in filming, too, especially La Couchette, which was shot on a set built on car springs, with an assistant director bouncing it to recreate the illusion of movement.
It seemed effective – as Whitehall, who plays a backpacker, got genuinely travel sick. 'He threw up on the first day,' producer Adam Tandy reveals. 'Embarrassing!'
The episodes was shot taking one wall off at a time, then shooting each scene from a different angle. 'We basically took the set apart five times and put it back again five times,'
There were filming challenges in the call-centre episodes too. 'It's all filmed on CCTV cameras so we did long takes, up to five or six minutes long, which don't cut,' Shearsmith said. 'So each take had to be perfect and it's just about answering these phone calls and we don't see who's on the other end of the line. It's very challenging, you can't make an error, but I think it's a really special episode as it's something you don't normally see. It'll either be brilliantly tense or incredibly boring. We think it's great!'
Shearsmith and Pemberton also took a turn in the director's chair for a couple of episodes in the new series.
But 'it was really hard to do everything,' Shearsmith concedes . 'It felt Orson Wellsian, meglomaniacal, to me. I felt like we should just be doing one thing or the other. We'd be in it and no one would call cut. It wouldn't occur to us that we had to take that responsibility.
'It was a great experience, and I loved directing the actors - being an actor I thought we spoke differently to them than Hitchcock might have done to his actors; I thought we were slightly sympatico to how we might have done things.
'But you've got to be careful with actors - you can give direction and it gets worse.'
Pemberton enjoyed the experience more: 'I'd like to do a lot more of it, he says. 'But have a bit more time behind the camera rather than looking at yourself and appraising your own performance.'
But they say they are primarily writers, which means they didn't create most of these episodes with themselves in mind for certain roles.
'We wanted to put the emphasis on the writing rather than showcasing our talents as actors because I think that soon becomes wearing for the audience – however good you think you are; however many different characters you think you can play,' said Pemberton.
'Increasingly with this series we didn't think of ourselves in the parts,' Shearsmith adds. 'So it wasn't until the wire when we decided who would play who. We can essentially do each part I think. It's born from wanting to write the best story without thinking we have to be hampered by trying to shoehorn ourselves into it.
'As we've got older we can't play the young people any more so we have to play the dads. And some choices we've made, we've kinda gone against what you might expect Steve and I to play. There's one episode where it may have felt right to have done it the other way around but we've gone a different way with it, which is great. Even in casting, subliminally, it feels a little bit "not Route One".'
The pair certainly have a reputation for a dark breed of comedy, but asked whether they would ever countenance a happy ending? 'Yes, because that would be the biggest surprise of all!' Pemberton says. 'But last year we had the Last Gasp, and that had quite a happy ending - and people hated that one!'
And Shearsmith agrees: 'People are disappointed if we don't deliver something horrible.'
• Inside No 9 returns to BBC Two on March 26.
Published: 17 Mar 2015
What do you think?