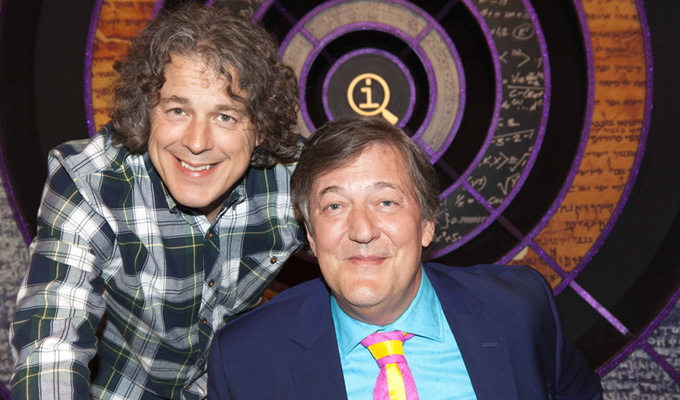 20 odd comedy facts
The latest QI book –  1,441 Facts To Knock You Sideways – is published tomorrow, packed full of off-the-wall information. Here were present 20 of the snippets related (even if loosely) to the world of comedy contained therein…
• The first man to pass the compulsory driving test in Britain in 1935 was Mr Beene.
• Matt LeBlanc was down to his last $11 when he got the part of Joey in Friends.
• Ross from Friends celebrated his 29th birthday in three consecutive seasons.
• In some parts of Germany it is illegal to show The Life Of Brian on Good Friday.
• The cross-eyed silent film comedian Ben Turpin had his eyes insured against uncrossing.
• In French episodes of The Simpsons, Homer's catchphrase 'D'oh' is dubbed as 'T'oh'.
• As a nuclear safety inspector, Homer Simpson earns $20,000 more than the average American.
• Matt Groening's mother was called Marge Wiggum.
• A leading comedian in Iran was banned from acting for eight years because he looked too much like the president.
• Whoopi Goldberg used to be a bricklayer.
• 'Dr Seuss' should be pronounced 'Dr Zoice'
• Russell Brand's My Booky Wook was banned from Guantanamo Bay.
• The Chilean word achaplinarse means to run about in the style of Charlie Chaplin
• The second episode of the Muppets was called Sex And Violence.
• Before he started eating cookies, the Cookie Monster's name was Sid.
• Bill Murray was once pulled over by the Swedish police for driving a golf cart under the influence of alcohol.
• The clown Joseph Grimaldi was seen by one in eight people in Victorian London
• Sir Bruce Forsyth is four months older than sliced bread.
• The Radio Times is 12 days older than Nicholas Parsons.
• The last words of John Le Mesurier were 'It's all been rather lovely'.
QI's 1,441 Facts To Knock You Sideways is published tomorrow, priced £10.99. Click here to buy from Foyles for £8.02. The new L Series of QI starts on BBC Two at 10pm this Friday.
Published: 1 Oct 2014
What do you think?