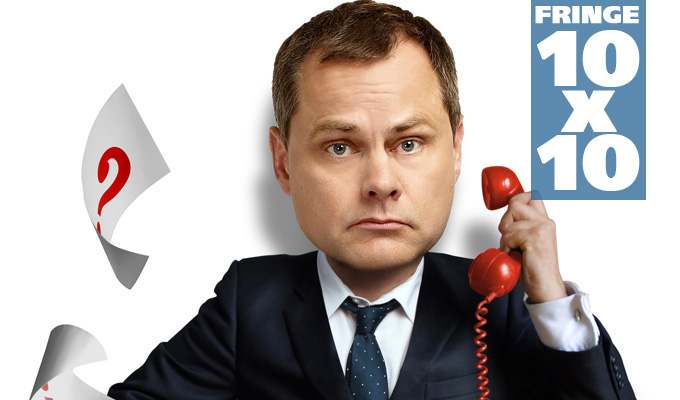 10. Ten formats
1. Prompter
This comes from Troy Conrad, creator of the now well-established Fringe format (and Sky Atlantic show) Set List. Like its predecessor, Prompter puts stand-ups' improvisational skills to the fore, as the premise here is that the comedians are giving a strange TED Talk-style presentation – but the teleprompter is kaput. Each time it goes blank, they must keep talking until the script reappears. Gilded Balloon, 15:45.
Already trialled at the Soho Theatre in London and the Latitude festival, this panel-show format sees grumpyman Dee joined by similarly ill-qualified 'experts' to solve – or mock – the problems thrown up by the audience. Assembly George Square, 18:30, August 18 to 24 only
3. Laughdance
'Kinda like the Horne Section for dance' is how Laughdance creator Stu Richards describes this show – in which stand-ups perform their sets, but with a full dance crew, Joon Dance, at their disposal. Thus stories will be illustrated with interpretive dance, or one-liners boosted with some salsa pizzazz. Comics lined up to appear include Luisa Omielan, Bec Hill and David Morgan. Cowgatehead, 23:15
4. Joke Thieves
A return for this format of two halves. In the first, comics perform their normal sets, and in the second they switch around and try to perform each other's routine as best as their festival-addled memories will allow. Here is our review of a version of the show in London last year, which explains more. Just The Tonic at The Caves, 22:20
5. Comedians' Cinema Club
A bunch of comics recruited for that day's show by Eric Lampaert perform some of the most famous movies in history, with no rehearsals and no budget. Jaws, Gremlins 2 and The Dark Night with Sara Pascoe as Batman are among the mockbusters already lined up.Just The Tonic at The Tron, 15:40
6.The Night I Died
People are obsessed with hearing about comedians' nightmare gigs… a market writer and comic Viv Groskop exploits with this chat show, inviting stand-ups to relive their worst on-stage moments. Heroes @ Bob & Miss Behave's Bookshop, 13:20 See also Comedy Death, the exact-some 'comics talking about their worst gigs' idea, hosted by Javier Jarquin. Cowgatehead, 14:30
7. Worst Show On The Fringe
Bold or foolish, this showcase features only acts that have received one-star reviews. Russell Howard, Tim Minchin and Miranda Hart all got slated, producer Nigel Lovell argues, so this is the chance for acts to prove their critics wrong. Of course, the number of truly appalling acts that have got one-star eviscerations is neatly glossed over. George Next Door 14:30. And it's not the only showcase with the same idea. Sh*t Of The Fringe also features those acts who've been critically mauled. Laughing Horse @ The Counting House, 12:00
8. Mark Watson's Comedywealth Games
The Fringe wouldn't be the Fringe without a Mark Watson special project, and this one sees comedians compete in 'non-Olympian' events such as fruit throwing and admin pentathalon. Watson – who is also performing his own daily show, Flaws – commentates excitedly, and raids his address book to gather up the… well, let's call them athletes. Pleasance Courtyard. 23:00, August 7-16 only
9. Shh! An Improvised Silent Movie
You can't move for improv troupes at the Fringe, many of them trying variations on the old themes. But this one seems genuinely different, as the six-strong I Bugiardini troupe from Italy ad-lib a silent piece with ragtime piano music to help set the scene. Below is their crowd funding video, which helped them raise more than €5,000 to come to Edinburgh. Gryphon@WestEnd 17:45

10. Fast Fringe
And, of course, a gratuitous mention for Chortle's own, super-concentrated daily showcase, in which 12 comedians and variety acts – plus a compere drawn from the likes of Ray Peacock, Ed Gamble and Justin Moorhouse – breathlessly blast through short sets to plug their own show. It's a different line-up daily and, we think, an excellent smorgasbord of festival offering. Pleasance Dome, 18:40
And a couple of honourable mentions that didn't make the 10: This Is Your Trial; the improv show when comics are lawyers prosecuting and defending guest defendants (Assembly George Square Theatre, 23:20); Abi Roberts Musical CID in which she grills guests about their music collections (Gildede Balloon, 12:30); and and if you like your stand-up brutal there's Foul Play: The F*cking Nasty Show (Pleasance Dome 23:00)
Published: 25 Jul 2014
What do you think?