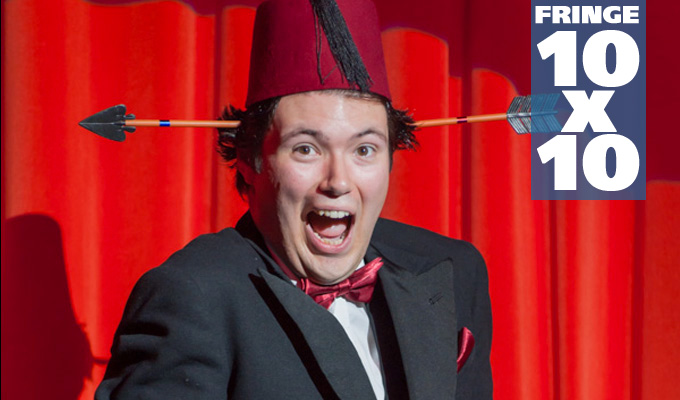 8. Tom, Tom, Tom, Tom, Tom, Tom, Tom, Tom, Tom and Tom
We realise that the numbers game means this list will create a sub-class of comics called Tom who aren't in this arbitrary Top Ten Toms of the Fringe... but punters should be aware that other Toms are available, many of them very funny.
We owe this quirky Welshman an apology... his show Down And Out In Powys And London should definitely have featured in our earlier run-down of top puns in show titles. But if you come because of the wordplay, stay because this much-tipped debutant (So You Think You're Funny? winner and BBC New Comedy Award finalist) has a distinctively offbeat style. Underbelly Bristo Square, 18:45
It's hard to believe that this well-travelled American comedy veteran has not performed his own Edinburgh show before. But now, after 30 years in the business, he's doing just that with what promises to be 'dark and absurdly optimistic cynicism'. Gilded Balloon Teviot, 21:15
He is the man behind cheesy hospital DJ Ivan Brackenbury and disconcertingly accurate psychic parody Ian D Montfort, but now Tom Binns is trying to step out from behind the characters and present stand-up (largely) as himself. Pleasance Courtyard, 18:40
4. Tom Neenan
Previously best known as one half of the Gentlemen Of Leisure alongside Nish Kumar, Tom Neenan branches out into solo territory with this tongue-in-cheek spine-tingler, The Haunting At Lopham House. Pleasance Courtyard, 16:15
Yes, back from the dead, Tommy Cooper is appearing in not one, but two shows at the Fringe this year, the 30th anniversary of his death after collapsing on stage, live on TV. West End actor Daniel Taylor dons the iconic fez in The Tommy Cooper Show (Spotlites @ The Merchants' Hall, 22:50); while Cooper's own estate has backed Just Like That! which plays the Gilded Balloon (13:15, August 18-21 and 25 only) before heading for a run at London's Museum Of Comedy
6.Tom Rosenthal
The Plebs and Friday Night Dinner star might be too busy to have committed to a full festival run this year, but he's booked in some work-in-progress stand-up shows (Pleasance Courtyard 00:05, August 15 and 16) while also trying out a new internet-based panel show Meme, Myself And I – which 'differs enough from others to make it legally viable, but not enough to make you uncomfortable'.Pleasance Dome, 23:20, August 14, 18, 20, 22 and 23
Urbane monologist Tom Allen returns to Edinburgh for his sixth show, after taking a couple of years away from the Fringe. Expect more camp-tinged storytelling from the star of Radio 4's Dickensian parody, Bleak Expectations. The Stand V, 16:15
8. Tom Shillue
Another storytelling Tom, Mr Shillue previously released an new album every month for a year. This, the American comic's Fringe debut, takes elements from those 12 hours and distils them into one. He comes to the Fringe with the claim 'recommended by Daniel Kitson', which carries a good chunk of weight around these parts. (Although Chortle's review of one of those 12 CDs was more cautious about his 'mountain out of a molehill' style). The Assembly Rooms, 21:00
Savvy Fringe-goers should need no introduction to the charismatic Canadian – and now Edinburgh resident – Tom Stade, whose built a solid reputation for robust, well-crafted stand-up delivered with panache. The Assembly Rooms, 20:55
With routines laced with endearingly ironic touches, Londoner Toal has been quietly winning plaudits around the circuit. He first performed a solo show in 2010 that went almost undetected, but after a couple of shared-bill appearances, Prequel could be the show that puts 'T-Squared' on the map. Cabaret Voltaire, 14:35
Published: 23 Jul 2014
What do you think?