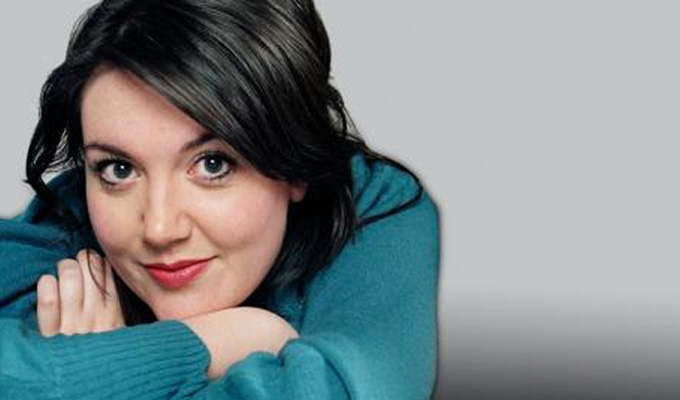 Katy Wix's comic monologues
Comedy writer and actor Katy Wix, of Not Going Out and Channel 4's Anna & Katy Show fame, has just released The Oberon Book of Comic Monologues for Women, a series of 40 audition speeches. The publisher says the collection of three-minute character pieces fills 'a significant gap in the market' –and here we reproduce, with permission, a couple of the monologues, Ab and Taste, after an introduction from Wix herself...
INTRODUCTION
I have written 40 original comedic speeches intended for performance, which you will hopefully enjoy reading, even if you're not a performer yourself. The monologues are designed for actresses of all ages, accents, backgrounds, heights and star-signs.
During my time at drama school, I remember struggling to find a modern, funny audition speech that I really engaged with and that hadn't been heard numerous times before so I began writing my own monologues for myself and the other students, which is how this anthology came into fruition.
Dramatic monologues are a very effective way of capturing the ebb and flow of thoughts and feelings that pass through a character. The directness of the monologue can create a brief moment of intimacy with an audience, which can have much impact, creating the perfect blend of theatrical and personal.
This book provides performers with a range of different female voices, which I hope you will find entertaining and fresh. When searching for an audition speech myself, I often encountered the same, familiar female archetypal roles and so, with this book, I was keen to provide a more satisfying feast of female parts from the very silly to the darker or melancholic. But mostly, I hope this collection helps you to find your inner clown….
AB
I like sex. I'm good at sex. I don't think I'm a sex addict though. There is a website if you're in any doubt. They have a series of questions and if you answer yes to four or more then you have a problem. Well, it turned out that I wasn't a sex addict…but I was an alcoholic. But then I was drunk at the time – so I may have answered the questions incorrectly.
'Was I having sex compulsively?' it asked. No, I'd say it's more of a hobby than a compulsion. 'Have I ever tried unsuccessfully to control the amount of sexual contact I have?' With this body? It's not easy!
I'll tell you this though: I did once have sex to Alan Bennett. That's to by the way not with. I'm sure he wouldn't have minded. In fact, I think he would have been delighted. Felix, my ex – the impoverished writer, couldn't get to sleep unless he was listening to the sound of Alan Bennett's voice. He said it reassured him, helped him to feel sleepy and relaxed. So, there we were in bed together when he leaned over and kissed me, so naturally I went to turn Alan off but Felix stopped me.
'Don't you think that Alan Bennett sounds erotic?' He said. 'I do'.
'Well, I've never really thought about it' I said, 'but I guess my instinctive answer would have to be, no. No I don't'. He pouted.
'Well, how about we leave it on, anyway?'
'OK, fine', I said.
Well, it did nothing for me, but I still had a good time and certainly learnt a lot about the Mitford Sisters. It's always good to try these things. When it comes to the boudoir – I'm never adverse to experimentation. It's healthy and everyone knows I've been a creature of whim since birth!
It didn't last long after that. He did two things wrong:
1. He admitted to still being in love with someone else.
2. He answered his phone whilst he was still inside me.
Just a few weeks later, a friend of mine told me that she had spotted AB (Alan Bennett) in the vegetable section of her local organic fruit and veg shop, Planet of the Grapes. She said it took all the strength she had not to rush up to him to tell him that two people had made love to the sound of his voice.
We're no longer in touch, the ex and I, but I do think about him from time to time, and I wonder if he's listening alone or with company.
Just this morning, well, I heard Alan Titchmarsh on the radio and for the first few seconds I thought it was AB! I even considered getting back in touch with my ex to point out how alike their voices were. But I didn't.
I think Pamela was my favourite…of all the Mitford sisters, you know, but I wouldn't want to commit.
TASTE
She watches TV.
What? You think Madonna is fit? Is that what you just said? You think Madonna is fit? No, you just said it. I heard you. You said, 'Madonna is well fit'. That's what you just said. Yes, you did. I heard you say it loud and clear. If there was anyone else here then I would have witnesses. If we could go back in time now and then I had a Dictaphone concealed in my pocket or something then I would press play and then there would be the sound of your voice going 'I think Madonna is fit'.
Whatever man. Just let me watch this in peace…
Pause.
So you think Madonna is fitter than me then? Is that what you're saying? Is that what you mean? You got something to say? You wanna say it to my face? Are you saying I'm ugly?
She returns to watching TV.
Why don't you go and dip your wick in Madonna then, yeah? Go and dip your wick in Madonna if you think she's so fit. She's obviously like the fittest person you've ever seen, so why don't you go and dip your wick in her! 'Cause you're not dipping your wick in me tonight, I'm telling you now!
Pause.
What If I asked if I could go part-time? That way I could spend three hours a day down the gym like Madonna does and then maybe I would look like that. I'm sorry that I can't spend three hours a day down the gym. At least I go to the gym. I don't see you going. It's bad for you anyway doing that much exercise. I know a woman who did a 10k run, yeah and her pelvic floor fell out.
(To herself.) Madonna.
It's stuck in my head now. I wish you hadn't told me. It's like that thing when people say 'don't think of an elephant'. I got you and Madonna stuck in my head, now. It looks wrong. It looks really wrong. She's old enough to be your mum.
I know how to make this even. I'm gonna tell you who I fancy, ok?
Pause.
NO ONE! BECAUSE I AM A GOOD GIRLFRIEND!
You didn't even know what an avocado was until you met me. You said it yourself – that I bettered you. That you were lucky to have me and that being with me was like being in a film, a good film, a film that you would watch in the cinema but then also get it on Blu-ray so that you could watch it over and over again.
You got some weird taste you have.
Madonna wouldn't go out with you.
Madonna would pick me over you. Yeah she would because she's bisexual. She would definitely go for me. No question. If Madonna came in here now and I said, 'Madonna, my boyfriend wants to dip his wick in you, OR you can have a go on my tits, what do you think she'd say?' She'd be like, 'I choose the tits'. She would choose the tits option. You know it, and I know it. And then we would have some avocado and laugh at you!
• The Oberon Book of Comic Monologues for Women by Katy Wix is out now in paperback, priced £9.99. Click here to buy from Foyles for £8.49.
Published: 17 Jun 2014
What do you think?