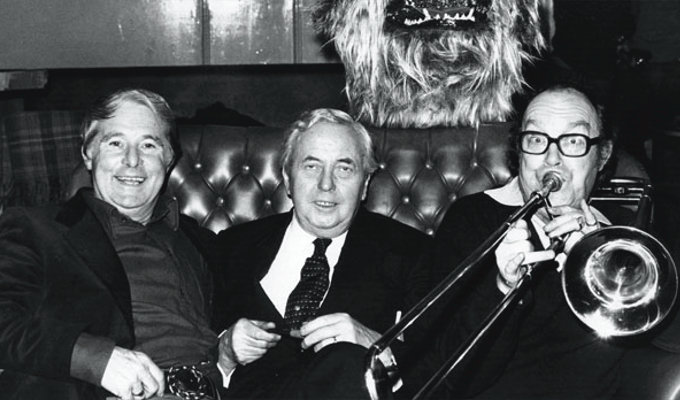 Premier-grade guests
Barack Obama's deliberately awkward encounter with Zach Galifianakis on his Between Two Ferns web series has attracted more than 11 million views in 24 hours, as the leader of the free world traded pointed comments with a bedraggled comedian to promote his Affordable Care Act. But he's not the first head of state to try boosting his popularity with a scripted comedy appearance, as Jay Richardson reveals...
1. Richard Nixon on Laugh-In
The first US president to appear on a high-profile comedy show was, rather surprisingly, Tricky Dicky, popping up on Rowan & Martin's Laugh-In on September 16, 1968, two months before he took office. On screen for a mere five seconds, Nixon rather mangled the end of the show's catchphrase 'Sock it to me!', which usually accompanied shots of British actress Judy Carne being assaulted in some fashion. A favour to the show's head writer, Paul W. Keyes, who'd penned gags for his speeches, the cameo allegedly required several takes to stop Nixon sounding disgruntled. The producer, George Schlatter, later apologised for the part it played in Nixon's election success.
2. Margaret Thatcher on Yes Minister
Thatcher was a known fan of Yes Minister and Yes, Prime Minister, and on January 20, 1984, she performed a sketch with Paul Eddington and Nigel Hawthorne as Jim Hacker and Sir Humphrey at an awards ceremony hosted by Mary Whitehouse's National Viewers & Listeners Association. The script for this awkward encounter has been variously attributed to Thatcher herself, her press secretary Bernard Ingham, foreign policy advisor Charles Powell and filmmaker Michael Cockerell. Neither Eddington, Hawthorne or Yes Minister co-creator Jonathan Lynn were supporters of the Iron Lady however, with the writer pointedly thanking her 'for taking her rightful place in the field of situation comedy.
3. Fredrik Reinfeldt on Swedishness
Sweden's current Prime Minister appeared briefly in the mockumentary Swedishness, made for the 2013 Eurovision Song Contest in Malmo, being shamed for not washing up his coffee cup.
4. Benjamin Netanyahu on Eretz Nehederet
The Israeli Prime Minister took to his country's equivalent of Saturday Night Live on April 16 last year to joke about his third term in office, proposed peace with Palestine and the mini-scandal of his family's insatiable appetite for gourmet ice cream. The show, which has consistently poked fun at Netanyahu, sat him next to comedian Mariano Edelman in the same suit and tie.
5. Tony Blair on Comic Relief
A rather frightening display of the former Prime Minister's acting skills and capacity to say 'am I bovvered?', this 2007 Comic Relief sketch with Catherine Tate as gobby schoolgirl Lauren suggests Blair could have had a third career as a thespian if he wasn't so committed to bringing peace to the Middle East.
6. Fidel Castro in Easy To Wed
One of perhaps three Hollywood films from the 1940s in which the teenage El Presidente appeared as an extra, the romantic comedy Easy To Wed features an unbearded Castro as a 'poolside spectator' sipping a cocktail. Working at MGM while a student at UCLA, he also appeared as an 'uncredited extra' in Holiday in Mexico and is said to be in You Were Never Lovelier, starring Fred Astaire and Rita Hayworth.
7. Bob Hawke on The Comedy Company
In August 1989, Hawke, one of Australia's longest serving Prime Ministers, showed up on the sketch sketch show that popularised the insult 'bogan'. Bestowing Australian citizenship on Con, the Greek grocer who was one of its regular characters, he responded to the question of when he was going to fix the country with the shopkeeper's catchphrase 'a coupla days'. Here's Hawke sharing some more humour about immigrants:
8.Harold Wilson on Eric and Ernie's 1978 Christmas Show
With Ernie humbly scraping to him as 'Your Majesty', former Prime Minister Sir Harold Wilson turned the usual tables on Eric by mispronouncing his name ('Mor-e-cam-by'). A slighted Eric disappeared to the back of the flat, returning with a 'Maggie Rules OK banner', prophetic as Thatcher would become premier the following year.
Despite the coup of getting Wilson, it was not of the duo's more celebrated guest spots, and still isn't on YouTube. Gary Morecambe, writing in his biography of his father, reflected that: 'If you watch that routine now, you can see Eric and Ernie working their balls off to keep it moving. Harold Wilson was very funny when he made speeches or talked to the press, but as a performer his timing was imperfect to say the least. You can see Eric playing around in the background using every tiny bit of experience from 40 years to make that sketch happen. They just about got away with it, and after the show EM said to me, "It was great. Very unusual, but it worked." Only just.'
In lieu of a clip, here's Eric and Ernie with another Labour politician, Glenda Jackson, from their 1971 Christmas special:
9. Mikhail Gorbachev on The Daily Show
Ok, not scripted per se. But with correspondent Jason Jones teasing Russians at the Sochi Olympics by stereotyping them as Borises, Natashas and Ivan Dragos from Rocky IV, the former Soviet Union president was predictably irked by the brash Canadian's line of questioning. 'Who asked for this meeting?' Gorbachev demands. 'If you bring cameras in here again, I will put you against the wall.' Jones, sensing nostalgia for the Cold War, channels Ronald Reagan to reply: 'Mr. Gorbachev, can you put back that wall?', to which Gorbachev employs some good old-fashioned Russian diplomacy:
10. Gerald Ford on Saturday Night Live
The only sitting American president to utter the line 'Live from New York, it's Saturday Night!', the accident-prone Gerald Ford was routinely lampooned by Chevy Chase on the show but eventually made a brief cameo in an episode hosted by his press secretary Ron Nessen on April 17, 1976. SNL writer and future senator Al Franken reckons Ford was genuinely stung by their mockery. But it was Chase who ultimately suffered more. He developed an addiction to painkillers after performing so many pratfalls as the president.
Published: 13 Mar 2014
What do you think?