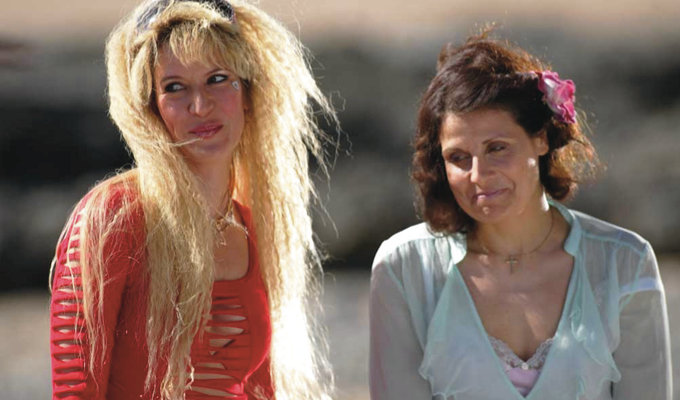 Born on BBC Three
The BBC's youth channel has faced brickbats for its tabloid-titled documentaries and some of its less salubrious, flashy output. But as the axe hangs over the 11-year--old channel, it's never been more important to remember its crucial role as a nursery slope to help new, distinctive comedies to find their feet. Here, then, are our top ten shows to have made their TV debut on the channel.
1. Pulling
A funny show with believably awful characters, Pulling was not well served by BBC Three when it was pulled after two series, to the chagrin of co-creators Sharon Horgan and Dennis Kelly. Not that either suffered too badly, Horgan is busy with more American projects than you could shake a stick at and Kelly went off to write the Matilda musical with Tim Minchin. Still, Pulling is a great show about selfish suburbanites and deserves not to be forgotten.
2. Nighty Night
This jet-black 2004 sitcom is Julia Davis's twisted masterpiece, in which she plays Jill –  essentially a psychopath whose obsession with her doctor neighbour Don, played by Angus Deayton, causes her to inflict all manner of traumas on her cancer-suffering husband (Kevin Eldon) and Don's wheelchair-using wife Cathy (Rebecca Front). Don't forget that Ruth Jones was in it, too, as Jill's assistant
3. Little Britain
Little Britain's origins might have been on radio, but it was BBC Three that adapted it for the screen. And it became such a mainstream phenomenon, with its quotable catchphrases, that it can be hard to remember it started on the fringes. A sketch show with exaggerated characters was deeply unfashionable – and probably would be again today – but it was given space to grow in popularity, on BBC Three, then Two, the One, becoming, for a year or two, *the* defining show of British comedy and the sort of soaraway hit commissioners dream of. Would it have been the same if parachuted straight into a primetime slot?
4. Gavin & Stacey
Another show that made the transition from BBC Three to BBC One over its three series, James Corden and Ruth Jones's amiable romantic comedy has become something of a modern, audience-pleasing classic, as its formidable Christmas ratings proved. No wonder The Guardian described it as 'BBC Thee's biggest breakout comedy hit since Little Britain.' And it remains a uniquely British show, since several attempts at a US remake have tanked.
5. The Mighty Boosh
Another show that, after Edinburgh Fringe acclaim, started its broadcast life on radio (unusually, on BBC London, when it was produced by Danny Wallace). However The Mighty Boosh wouldnot be the cult it is today were it not for finding a home on BBC Three. It's hard to see what other broadcaster would have touched Noel Fielding and Julian Barratt's surreal carnival in 2001, especially since BBC Two had gone all lifestyley by then.
6. Uncle
BBC Three's latest hit stars stand-up Nick Helm as a sleazy, depressed, immature man who forms a bond with his weirdly geeky 12-year-old nephew Errol (excellently played by Elliot Speller-Gillott). The show's got edge, not to mention a lot of heart, and has rightly just been picked up for a second series – though we'll have to wait to next year to see it.
7. Ideal
Long-running and with a large cast led by Johnny Vegas, Ideal was almost comedy's twisted take on the soap opera, with small-time drug dealer Moz actually being the sanest one among his coterie of Salford oddballs. It was axed in 2011 after seven series, still in its prime with ever-growing audience numbers and consistently intriguing scripts from creator Graham Duff. Shame.
A vaguely topical stand-up show, with a lot of inspiration drawn from what's shared on social media might not be the most inspired format, but Russell Howard's likeable enthusiasm has seen this show through eight series. Crucially it has also given invaluable TV breaks to scores of up-and-coming comics, not all of whom would fit the formats of panel shows or shiny-floor stand-up extravaganzas.
9. Him & Her
Charm-filled leads Russell Tovey and Sarah Solemani take the edge off Stefan Golaszewski's often earthy – but always witty – script. In many ways the antithesis of the loud, brash shows that define BBC Three, Him & Her came to a classy end just before Christmas, after four critically-acclaimed series.
10. Mongrels
A flawed but valiant attempt to produced a British equivalent of larger-than-life animation shows such as Family Guy and American Dad, both imports having long been stalwarts of the channel. A foul-mouthed depiction of animal life on the tough streets of South London, Mongrels was a mixed bag, but again its bold approach is something a mainstream channel might have baulked at, or at least tried to water down.
Published: 5 Mar 2014
What do you think?