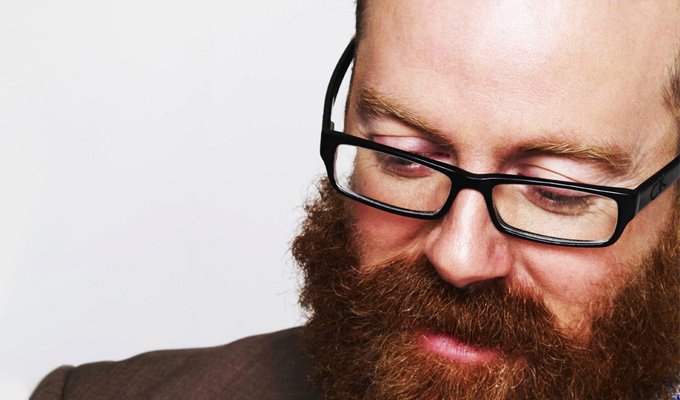 One Direction remind me of hospital superbugs...
In the first of three extracts from Frankie Boyle's new book Scotland's Jesus, the 'only officially non-racist comedian' shares his dark thoughts on celebrities – including One Direction, Beyoncé... and, of course, Katie Price.
I wonder if the whole celebrity world isn't just a group of people displacing their need for parental attention. They're remarkably like children: the tears; the sibling-like rivalries; their bodies changing in front of us. That makes us the parents, and really bad ones at that: living vicariously through them; judging their life choices; fancying some of them.
There are nearly seven billion people on planet earth. Which makes it all the more baffling that we know Danny Dyer's name. If anyone deserves to be famous shouldn't it be the woman who walks a fifteen-mile round trip to collect fresh drinking water for her family? I'd love for her to become a celebrity. Her dieting video would be a no-brainer. It would be great to see her in the green room on The Jonathan Ross Show, bantering with Louie Spence and David Walliams, exchanging anecdotes about deadly diseases they've had and what it's like to be raped. Eventually, fame would change her and we'd see her falling out of China White, balancing a jeroboam of vintage Perrier-Jouët champagne on her head. Although the papers will of course 'conveniently' fail to report that although she was in Soho, she'd kept it real and walked from Plymouth.
Researchers have found that being famous shortens your lifespan. I suppose that's the only consolation we have when Piers Morgan's TV show gets another series. Katy Perry is sick of fame. At least, that's what she tweeted to her 4.3 million followers. She says fame is a 'disgusting by-product' of what she does. I thought the disgusting by-product of what she does was her music.
TOWIE's Kirk Norcross says fame left him feeling depressed and suffering from paranoia and panic attacks. Another way of phrasing that might be depression left him fantasising that he was famous.
For the genuinely famous, it's true there are dangers. Hugh Jackman was attacked by a stalker, who was arrested for throwing an electric razor filled with her pubic hair at him while screaming, 'I love you!' Well, if she did love him she's got a funny way of showing it. No, genuinely. It was a very funny way of showing it.
The Joss Stone samurai-sword trial was certainly a security wake-up call for me. From now on I'm only dressing up as a white female soul singer in my mid-twenties with the curtains drawn. The men accused of plotting to kill her also wanted to kill Craig David, R. Kelly and Chris Brown. To be fair, they've got a point. It's absolutely crazy that these men wanted to kill Joss Stone because of her connections with the royal family and not because of her music. I suspect they'll try and win the sympathy of the jury by claiming they planned to use that sword to cut off her tongue. The judge decided to jail them, despite calls from the public gallery to release them after giving them One Direction's home addresses.
A divorced dad of two threatened to kidnap Tamara Ecclestone unless he was paid £900,000. He'd have been more likely to have got the money if he'd threatened to not kidnap her. There's no point in kidnappers taking Tamara hostage as they'd never be able to meet her demands.
She also received anonymous threats from someone who said they'd reveal details about her personal life. She's horrified that someone could do that to her without paying her for them. I just hope she's been getting my threats about what I'll do if she doesn't stop revealing details of her private life.
She was photographed lying naked, spread-eagled on a million pounds in cash. I saw something very similar this weekend in Glasgow. Although, in fairness, the guy wasn't totally naked. His pants and trousers were around his ankles, and the cash he was sprawled across added up to less than three quid in change. And the photographer wasn't from a tabloid but worked for the coroner's office.
Tamara is getting a £1 million crystal bath. Her life would make a good docusoap. She lights some scented candles, runs a lemongrass and jasmine bubble bath, and puts on some relaxing whale music. But who's this at the door? Why, it's Ian Huntley with his dog Sadie. Let's leave everybody together for fifteen minutes and see what they get up to.
Taylor Swift received death threats on Twitter after it was revealed she was dating Harry Styles. Hearing that young girls are so obsessed with Harry they want to murder whoever dates him makes me so sad. So sad he isn't dating Jessie J. I heard Taylor couldn't match Harry's previous partners in the bedroom, as she often tucked him in way too tight.
Harry was also linked with the considerably older Caroline Flack. Apparently, he's really good in bed – he can get straight off to sleep without needing a story. There can be many benefits to dating a woman twice your age. Never underestimate the benefits of removable teeth. Terrific for edging pastry.
The papers described Harry as 'Randy Styles'. He's eighteen. You show me a non-randy eighteen-year-old boy and I will show you someone lying to their girlfriend's dad.
One Direction remind me of hospital superbugs. You know there's quite a few, but no one can name more than two of them. Like any great boy band you can tell who is which by their personality traits: the quiet one, the quiet one, the quiet one, the quiet one and the gerontophile. They made history as the first UK pop group to début at number one on the US Billboard album chart. So if you have that on 'This is a dead planet' bingo, cross it out and then shout 'House!' as you lay your head on the line and the freight train barrels towards you.
One Direction played Madison Square Garden (a venue that's hosted Led Zeppelin, The Who and The Rolling Stones). It's surely the musical equivalent of racing pigs in a synagogue. Their luck, fame and lack of talent don't upset me, provided I can convince myself I'm actually just lying in a darkened room somewhere experiencing a Total Recall-style implant installed by my nemesis.
One Direction's predecessors JLS split up. I immediately set up a helpline – it gives out suggestions of how we can get rid of other shit bands. JLS explained they wanted to go out on a high. But I guess they just got fed up waiting, so decided to split anyway. They've said they'll only be seen together now for charity events. In which case I'm sure I can rustle up fifty quid for them to appear on Comic Relief as a human centipede.
JLS broke the mould for boy bands with a radical, fresh approach that saw just three of them wear hats. Marvin said, 'We don't want to be that band that people get fed up of.' It's a pity they didn't feel that way five years ago. People mocked them and said they would never achieve anything in music but they went on to prove all the doubters correct. Britain's music industry won't be the same without them. It'll be slightly better.
Let's not forget that in 2010 their music brought a teenager out of a coma. Though sadly she couldn't reach the CD player off-switch so went for the one on her life support instead. JLS say they're going to work on solo projects. Why don't boy bands ever come up with something more interesting to do after they split? For once, at the press conference I'd like one of them to announce that he's going to spend a lot more of his time doing ad hoc medical experiments on himself, before slipping his T-shirt off to reveal his back is covered in ears.
Talking about a medical experiment, Jordan spoke at the University of Oxford, summarising her life and career in less than eight minutes. Which may sound short, but actually it's rather impressive as I know I could summarise her life and career in one word. But it would be a word so filled with sorrow and pain it would be like the noise a mermaid makes when it's been harpooned through the heart by a Japanese whaler. She joked that she 'wouldn't want to play Trivial Pursuit with any of you'. I'd love to see it happen. It'd be like watching the supercomputer Big Blue play chess against a fridge freezer.
I'm not sure if you caught Jordan's last show, Signed by Katie Price. It's already been sold abroad and Al-Qaeda want it as their next promotional video. The show was her biggest on-screen flop since the stitching on her left tit gave way while she was recording an exercise video. The episode I saw was a cross between a Robocop insert and the images that would flood your mind if a vampire bit you in the forehead.
Katie Price got married again, this time to a male stripper. He's also a builder, which will be handy in a couple of years when her tits need scaffolding. New hubby Kieran looked delighted, his only moment of doubt coming when Katie caught her own bouquet. At least she's finally found a partner who can stand up to her. If there's one sort of man that won't let a woman tell them what to do it's a stripper. She even chose the wedding cake that he jumped out of. She wants to give her kids a bit of stability by having a new father for the next six months.
I know he wanted to make an honest woman of her but considering the amount of rubber, silicon and plastic in her body a more honest woman could be created by drawing a smiley face on to a filing cabinet. They say he didn't stay down on one knee for long, as he was unnerved by the voice emanating from her knickers, growling 'feed me souls' like a haunted mirror in a Hammer film. Hopefully, their combined IQ might be just large enough to outsmart the yeast infection in danger of taking control of her cerebral cortex.
The ceremony took place in the Bahamas, Katie's favourite holiday destination; she often pops over for a week or two to let her tan fade. There were only six guests this time, presumably as it'll be less hassle sending the presents back. Katie said the decision to marry Kieran was a no-brainer. I think I'd already worked that one out for myself.
She wanted the wedding to be classy, which wasn't easy when she'd invited herself. She could have hired the Ritz for her reception but as soon as she stepped in it would have felt like a Chicken Cottage.
Katie says staff at the resort where she married asked her if she was a porn star. Nope. Just a keen amateur. Honestly, the vulgar assumptions people make just because you've been fitted with a giant pair of plastic tits. She slammed the atmosphere at the Sandals resort as being like a Club 18-30 holiday. To be fair, it couldn't have been. Or she'd have been asked to leave when they saw the date of birth on her passport. She also complained that their sun-loungers were plastic. I can see how that would have been upsetting – for her new husband to look at her and not know where the lounger stopped and she began. Every time Katie has sex she must think men can't get enough of her body as they run their hands all over her. What she fails to understand is that it's just a reflex action and they're simply looking for the nozzle to deflate her.
Katie Price wannabe Jodie Marsh is still appearing everywhere. I'm not sure what she's promoting, but from the look of her it's homosexuality. She looks like a hilarious mix-up in a toy factory in which Barbie's head has been chewed by a dog before being accidentally placed on Action Man's body. It looks like in less than two months she has gone from a size ten, to a complete mental breakdown. She's been spending five hours a day working out in the gym and three hours a day standing in a garden being creosoted.
Jodie Marsh launched a slimming pill called Semtex, causing outrage among families of IRA victims. Her shameless lack of tact has really blown up in her face this time. The pill helps you lose weight by making you get down on your knees every five minutes to check under your car.
Jodie was voted the 32nd best bum in the United Kingdom. Which sounds disappointing until you realise that her tits came 145,877 and her face didn't even meet the entry standard. Jodie says she loves her body and would run naked through a crowded street if you asked her to. I'm asking. But I'm adding one stipulation: the street must be in Tehran.
What is it with these celebrities' obsession with plastic surgery? There's something at once very morbid and childlike in knowing that Death is coming, but thinking that he won't recognise you in your little plastic mask.
Amy Childs has had her second boob job to enhance her breasts from a 32C to a 32DD. Getting a tit wank from Amy Childs must be like sticking your knob between the tyres of a stationary HGV. Meanwhile, Gwyneth Paltrow has been having injections of bee venom and reckons she no longer notices the pain of an old injury... thanks to the pain of hundreds of bee stings.
Her pal Madonna's carcass looks like something you'd boil up to make soup. I'll bet her bathwater tastes delicious. She appears to have had some dodgy Botox. They've had to update her waxwork in Madame Tussauds by giving it a right- hook, left-cross combination. I'm not saying Madge has lost her looks but I confess some sperm I ejaculated watching the video for 'Like a Virgin' in the 80s has just found its way back under my front door and crawled back down my urethra.
Victoria Beckham's been having sheep-placenta gel massaged into her face. If £500million in the bank isn't enough to enable her to crack a smile I doubt smearing afterbirth on her face is going to. Easy to mock, but I've done similar myself. A last-minute fancy-dress invite found me with only lamb chops in the fridge, so I had to go as Noddy Holder.
Beyoncé had a baby by elective caesarean, of course. Many celebrities are so desperate to avoid a visible scar that surgeons now make the incision beneath the armpit, then massage the baby round... I'm told it's a bit like trying to get a cat out of a duvet cover. Beyoncé cleverly kept a low profile by checking in under the name Ingrid Jackson. So when anyone asked, 'Who's just paid $1 million to rent the entire floor of the hospital?' the answer was, 'Oh, just that plain old Ingrid Jackson that Jay-Z keeps visiting.'
You don't need to spend that much to get a bit of space in a maternity ward. Do what I did, and check your partner in as Maxine Carr. Beyoncé said of motherhood, 'I actually feel like my child introduced me to myself.' Luckily for her she's a multi-millionaire celebrity. If she were a single mum living in a council flat she could have her kid taken off her for less than that.
Beyoncé and Jay-Z are spending $1 million a year renting out a nursery for their daughter at a basketball stadium. When I was a kid my parents spent some money on a nursery for me to sit in while they were busy. We called it 'the car'.
Beyoncé is going to be the new face of Pepsi. And by face, they mean arse. Someone needs to remind Pepsi that they can pay £30 million for a superstar to advertise their product but the advert might as well say, 'What? They don't have Coke? OK then, if there's no Lilt then I suppose I'll have a Pepsi.'
From Scotland's Jesus, published by HarperCollins. Click here to buy the book.
More tomorrow...
Published: 10 Dec 2013
Recent Features
What do you think?