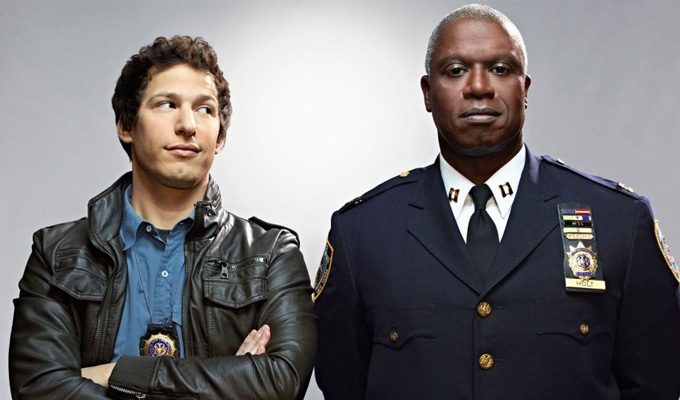 'What makes comedy great is that there is room for everybody'
Writer/producers Dan Goor and Michael Schur and star Andy Samberg talk about E4's forthcoming police comedy Brooklyn Nine-Nine
Q: What was it about the cop genre that made you want to focus on it for a sitcom?
Michael Schur: When Dan and I first started thinking of ideas for shows, we started talking about the idea of doing a cop comedy, and we pretty quickly realised that there hadn't been a half-hour cop comedy in a while, and that, in this day and age where there's 10 million shows about every genre, every setting, every location that is possibly imaginable by the human brain, that made it seem like an exciting challenge.
Andy Samberg: Well, I definitely was going to get to wear a cool leather jacket, which was appealing, and honestly, I've always enjoyed cop comedies as well as cop dramas as well as cop films and TV. I like the procedural aspect of it, and I also really like the workplace aspect of it. When it comes to workplace comedies there is really no one else I would want to work with than these dudes.
Dan Goor: We also really like the world because we thought it was a cool way to have interesting characters, both in the police department and in terms of the people that they interact with. It's an interesting subsection of humanity that cops get to deal with..
Q: How is working on Booklyn Nine-Nine better and different than working on Saturday Night Live? Is there any advice that someone at SNL gave you that you're using now for your new character?
Samberg: It's better in that, for me anyway, it's much less stressful because the hardest part of SNL, for me, was having to create something new every week. And with Brooklyn Nine-Nine I have scripts handed to me every week that are already great and a bunch of jokes that are already written, which is the hardest part of comedy in my opinion. So in that regard it's been a lot less stressful for me.
Certainly, the hardest part changing has been waking up early versus staying up incredibly late with SNL, which is much more my element, but I'm adjusting nicely. I will say that I took a cue from Amy Poehler in terms of feeling confident about making this decision. Not just because she segued successfully out of SNL into a show, but because she literally did it with the same guys. [Schur co-created Poehler's Parks & Recreation, which Goor was a writer and producer on]
Q: What's your opinion about the future of comedy? Do you think some situational comedy is going to win over high-brow intellectual comedy writing?
Schur: I think that there are often lines of demarcation drawn by different people about comedy and what types of comedy there are and whether this type of comedy is better than that type of comedy.
But I feel, personally, it's a really big country and a big world and there are like 7,000 stations making original programming right now, and that comedy is the most subjective art form in the world. There is no other art form where one group of people can look at something and say that's the most brilliant thing I've ever seen in my life and another group of people can look at it and say, that is the stupidest thing I've ever seen in my life.
What makes comedy great is that there is room for everybody. No matter what you like in the world right now, no matter what flavour you like your comedy, there are 100 shows that are making that kind of comedy. So I think the future of comedy is that there is going to be a lot of it, and as a comedy writer I wholeheartedly approve of that future.
What's fun about it is you get to make whatever you think is good, assuming that enough people watch it to keep it on the air, and you just get to put it out there and see who likes it.
Q: How do you feel about your success starting from SNL, going into the movies, and now you're a lead character in a terrific sitcom?
Samberg: It feels more and more impossible every time I do something new. When I was eight years old, I decided I wanted to do SNL and that was pretty much all I thought about until I was actually on it. So everything from the point I got to audition, really, has been icing. I'm incredibly grateful for it all and to be able to have done movies and to have done SNL and now this.
It's so far beyond what I imagined happening for me. I thought that I would probably try to do stand-up for a while, unsuccessfully, and then get a different job and be sad. Yeah, it feels incredible. I feel incredibly lucky.
Q: Is there any room for any spontaneity or any ad-libbing?
Samberg: Absolutely, we try and do as many takes as it takes to get as-scripted exactly how we want it, and then we'll do multiple takes where were we just go for broke and try different stuff. There is always a writer on set and a director-producer on set and that week's director on set and the whole cast on set, many of whom are trained comedians and writers as well.
So even if we're going off of a scene that's written, if we feel it's not totally clicking, we'll brainstorm and come up with alternatives and give ourselves as many choices in the editing room as possible.
Goor: I just want to say, Andy frequently has the best joke in an episode. He will come up with it on set. He's an incredibly funny performer and writer, and so, thank goodness, there is a lot of spontaneity.
Q: How often does the fact commanding officer Captain Holt is gay come up? Is that something you touch on frequently?
Goor: Yeah, it is. I mean, it's a part of his character. We think of it as a character trait that's like a guy who's from Orlando or something. It's a fact of his life and it has certainly influenced what kind of person he is and the shape that his career has taken, but it doesn't overwhelm him. It doesn't define him. It's not the entirety of who he is.
I think it's usually mentioned once an episode or something and we have plans in the future to get more into his personal life and possibly meet his partner/husband, but that won't happen in the first batch of episodes. We really wanted to focus on the precinct and the work family before we got into the personal lives of the characters.
Schur: Our intention is to treat it much the way that we would treat him having a heterosexual marriage. That being said, it obviously informs his backstory and his perspective.
Published: 7 Dec 2013
What do you think?