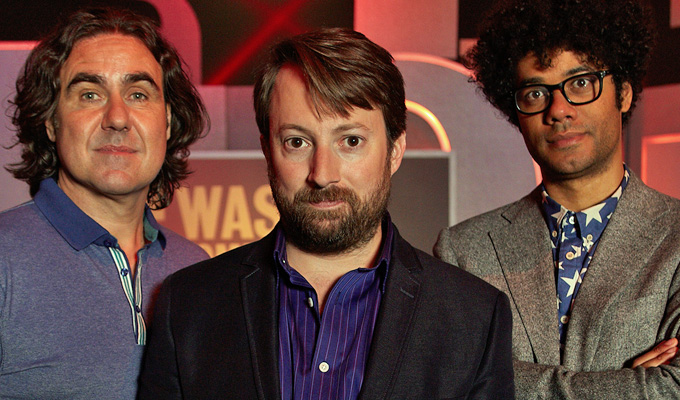 'I wish the internet didn't exist'
David Mitchell hosts the new Channel 4 panel show Was It Something I Said?, with team captains Richard Ayoade and Micky Flanagan – and featuring an interactive element where viewers can join in on Twitter. In this syndicated interview, he talks about the programme, how he hates the internet, and the value of panel shows.
Tell us about Was It Something I Said?
It's a comedy panel show about quotations. A quiz where people have to work out who said certain things or what certain people have said. So it's about celebrities, historical figures, currents affairs and history. We've tried to make it jolly and irreverent and funny but also a bit informative and interesting. An amusing way of watching some comedians trying to solve a quiz about famous people and vaguely impart some interesting information about them at the same time.
And there is a Twitter element to it. How do you feel about Twitter?
Broadly speaking I'm against the internet. I don't like it; I wish it wasn't there. Nevertheless things change, the ice caps melt some changes are irreversible and the internet is definitely here to stay. Of all the aspects of the internet I've always found Twitter to be jollier, friendlier and more human than most. So, I quite like Twitter but I'm not of the internet generation.
When I was a teenager and a student the internet didn't really exist and I was fine with that and I feel when it comes to Twitter I'm very happy to sometimes chat, it's a very useful way of telling people who are interested in stuff I do what I'm doing, but I don't want to bare my soul.
People who grew up with the internet are much more open about their whole lives on Twitter or Facebook but I think we are in the early days of a learning process of how best to use it as an individual and I'm definitely erring on the side of caution and holding back as much of my privacy as I can.
I do think Twitter is quite useful when you're not sure whether a news story is terrifying or not. Have a look at Twitter and see what the mood is. It is like taking the pulse of a whole civilisation. At the same time it can be fun, informative and inspiring yet it can be bullying and weird and reminds you crowds aren't always wise.
Nevertheless I am 100 per cent behind the interactivity of WISIS, you can play along to every question to every show, a world first apparently. What more harmless way of using the internet than allowing people to take part in a quotations based TV quiz...
Did you enjoy hosting the show?
I'd done a Big Fat Quiz of the Year with Richard Ayoade but had never done anything with Micky Flanagan and I like that over the course of the series the three of us got on well, interacted together and there was a nice chemistry between us.
We had lots of great guests and tremendous people like Charles Dance, John Craven and Brian Blessed reading out the quotations so it was great fun to do. It was a little bit more nerve-racking than doing a series like Would I Lie To You for the fourth time, thinking I don't know the ropes yet, haven't figured out how it all works but still lots of fun and ultimately probably more satisfying. And particularly being the host is a very different role, chipping in some of the time but while managing the quiz and working out what to say to link the rounds. The great thing about being in the host's chair is that you can make yourself look so knowledgeable.
But it can be tricky. Usually the panellists are people who are bright and want to talk and you need them to keep talking so you can't slap them down hard because they might go quiet and then you're stuck. So it is my policy generally to let them talk and drift...you never know in that kind of comic situation where a chat is going and some of the best material comes when things are allowed to run and breathe. We wanted it off-the-cuff and as organic and natural as possible so I tried not to be too schoolmasterly about things. Fortunately I have no natural authority so very easy for me to do that.
How do you combine acting, writing and hosting?
I do like the range of work. They're jobs I find satisfying in different ways. Going on a show as a panellist is the easiest fun in my job, you don't have to think about it in advance. Whether hosting or writing or acting it takes a lot more preparation so in a sense it's a lot more like work. But when you've written something that is performed and it gets laughs that is the most amazingly satisfying 'I love it when a plan comes together' sort of feeling.
I feel very lucky that my life involves all these different elements. I've recently been filming the comedy drama Ambassadors which is a very different process, long filming days, having to think about how a character would behave in situations I've never been in myself.
I enjoy acting but I wouldn't want to only do that, I'd also want to go along to a studio in the evening and make rude jokes. I would get bored doing any one thing exclusively. And of course the other thing is I don't have to get too much work in any of them as I can build up a living across all four..."
Do you have a favourite moment from recording the show?
There are loads. I like the bits where we all get a bit silly and irreverent. I remember there was a quote from Catherine Zeta Jones about playing golf with her husband Michael Douglas. We essentially all started to imagine the scene of the two of them playing golf and that was very enjoyable and turned into a really fun bit of TV. It is moments like that, which for me, justify the existence of panel shows because no one would ever have written those words, it purely came out of that combination of people which proves panel shows can produce funny TV in a way you could never write into a sitcom or a sketch show and thereby justifies its place on screen. I think it is a great form of entertainment and we shouldn't lose sight of that.
Are there any quotes you are particularly fond of?
One of my favourite quotes is attributed to Voltaire but people say it wasn't actually him...either way it is a very wise thing: 'I disapprove of what you say, but I will defend to the death your right to say it'.
I think that's a very important idea especially for the internet. The idea too often at the moment is that people think those who say horrible things should be silenced rather than answered. I think we'd be a more healthy society if people used their freedom of speech to, as it were, reply to and rebuke people who say things they hate rather than use the law to silence them.
• Was It Something I Said? is set to start on Channel 4 early next month.
Published: 24 Sep 2013
Recent Features
What do you think?