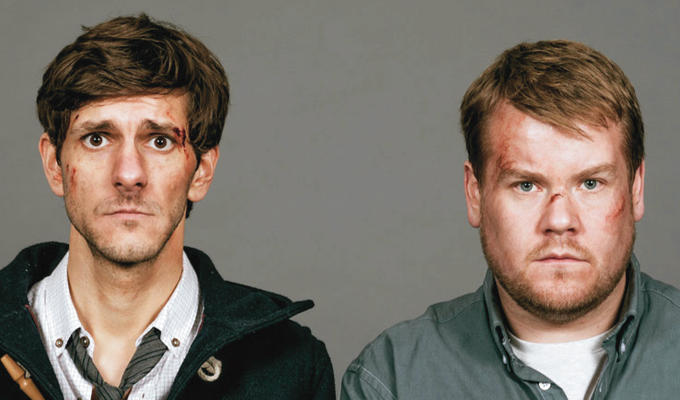 We ditched funny scenes... because they felt too much like jokes
It's the half-hour comedy that has the sensibilities of a Hollywood blockbuster. In the grammatically annoying new series The Wrong Mans, James Corden and Mathew Baynton play two lowly local council employees who become embroiled in a dangerous underworld plot after stumbling across a discarded phone at the scene of a car crash, dramatically depicted in the first minute of the series.
The pair first met on the set of Telstar: The Joe Meek Story, but came up with the idea for this comedy-thriller when working together on Gavin & Stacey, where Baynton played Deano. At a preview screening at Bafta's London headquarters this week, the pair and director Jim Field Smith explained to interviewer Andrew Collins the genesis of the show, and its ambitions.
'It was at that time when everyone was starting to watch those American box sets – 24 and so on,' Corden said. 'TV with higher production values and where the stakes seemed to be a lot higher. We wondered why no one's trying to do that in a a half-hour comedy. We'd also been to see Burn After Reading, the Coen Brothers film, and both really liked it and thought it was very funny and thought, "We should have a go at doing this" This idea of the car crash and the phone... it feels like we've lived with it for so long.'
Indeed they shot a pilot in Christmas 2010, elements of which remain in the first episode, which will go out later this autumn.
'We had this great opening, and we wrote this script on spec,' Corden says. 'We didn't pitch it as an idea to anyone, we just wrote 35 pages. We thought, "let's just try to write it on as big a canvas as we can."
'We put in very specific details, like the fact that the car spins three times, because we wanted anyone who was reading it, a commissioner or anyone, to not be left in doubt as to what it would need to be made.'
'We wonder if people write comedy small because that's much easier to pitch,' Baynton adds. 'It's so much easier to get a commission in you say there are only five characters and they never leave the flat. We thought maybe that's a reason not to, but we thought, why not try to write something big and ambitious and see if it would work?'
The show was directed by Jim Field Smith, a former member of the Perrier-nominated sketch group Dutch Elm Conservatoire turned Hollywood director, with credits including the 2008 romcom She's Out of My League and the forthcoming Virgins America, an American adaptation of The Inbetweeners Movie.
Corden says Field Smith's live background appealed to them. 'We very much wanted Jim to direct it because he'd come from the world of feature film and before than had had a life in sketch comedy so to fuse those worlds, there was no one else really,' he said.
'What Jim said as a director is "You cannot let up. You can't have a really groovy car crash a minute in and then the show just be about a group of people who work in an office. It has to be the minimum you offer every episode.'
He said Field Smith encouraged them to write every detail of every big scene in their script, saying: 'We cannot shoot it unless you put it on the page' – leaving it to him to figure out if they could shoot in within the budget. 'He would push us to make it faster, and bigger and edgier,' Corden adds.
The show had a big budget with the 'very standard BBC Two comedy budget' supplemented with investment from US co-producers Hulu, which will be releasing all six episodes via its on-demand service in the States.
Even so, budgets were tight for the film-like atmosphere they wanted – but Baynton says they were surprised at what they could include. 'Some of the stuff that you assume is expensive, isn't,' he said. 'What is expensive is time. We wrote one sequence that was a massive foot chase and that was impossibly expensive because it just takes days of filming for a very short amount of film time, whereas when you write that a helicopter flies in, you think "oh my god, we'll never get to do that" – but that's what we did get to do.'
But Field Smith reveals that there were restrictions. 'With that car stunt we had one go at it,' he said. 'If that car doesn't flip the way it's rigged to flip, then we're reverting to Plan B, which is a car skidding out of shot and a hubcap rolling back, which was exactly what we wanted to avoid.'
All those involved were keen to make sure that that the series had a dramatic heart – the thriller element had to feel real for the gags about these two ordinary blokes stumbling into it to work.
'It had to work as a drama if you took all the jokes out,' Banyham says. 'Because those jokes undercut or release tension – but they are not spoof jokes. It has to feel real, it has to feel like the characters are making choices that you understand rather than doing funny things because they are funny guys.
'We had some funny set piece ideas and then we'd go "Ooh, they feel like jokes". We wanted the only people in the comedy to be Sam and Phil, and everyone else to be in a drama, and we wanted to shoot it like a drama.
Corden adds: 'In terms of the bad guys, they had to feel very scary. We needed the stakes to feel very high and to feel like they were really in danger.'
Field Smith agrees. 'We tried not to make choices that are comedic choices. With so many actors coming and going some of them would show up and not necessarily know what the mood is. There were a couple of moments where I'd have to go "No. Wrong show. We're not making Naked Gun."
The series co-stars Sarah Solemani and Tom Basden, and has attracted a stellar list of cameos, including Dougray Scott, Rebecca Front, Benedict Wong, Victoria Wood, Nick Moran and David Harewood.
'David Harewood!' Corden exclaims as the list is read out. 'His scene was shot a long time before Homeland.
'I had worked with David on this show Fat Friends and we just said, "Will you just come and do us a favour. it's just a couple of lines?" And he went, "Yeah, I'm not doing anything. Sure." And now it looks like the biggest bit of stunt casting anyone has ever done. People are going to think we're just showing off. But it was three years ago.
He added that the strength of the supporting characters was what attracted the A-listers.
'Rather than be in ten scenes, actors would rather have moments where they have the chance to shine,' he says. 'So we thought let's try to do that with every single part. Let's make it a thing that an actor would go,"Ooh, I'd really hate it if someone else did this."'
Jim Field Smith agrees: 'I think this is a fault of a lot of TV, that a lot of minor characters are under-written.
'Jeremy Dyson our script editor was drilling it into us, and to Tom Basden, who co-wrote two of the episodes, to fill out all those minor roles. And I think that is very visible in all the things he's done. He used to say to us, "There are no minor character." As a result, the scripts were very fleshed out. It wasn't just a James Corden and Matt Baynton vehicle and some roles we have to fit around them. It's an ensemble piece in a way.'
While BBC Two is screening the episodes in traditional weekly instalments, Hulu is releasing all the episodes online in the States at the same time.
Not that Baynton minds: 'That's sort of how it was written. It was written with a love of that - we keep tripping on this phrase "binge viewing" – but we want people to get to the end of the episode and go, "Oh, I've got to watch the next one". It's a deliberate trip we play in show, of course.
'Hulu have had a lot of success with British shows such as The Thick Of It and they didn't want to Americanise it at all.
'They are spending as much money launching the show as Netflix did launching House Of Cards. It's probably their banner show for the fall.'
Corden reacts to that news with shock: 'They are going to lose so much money!
'I'm thrilled... but I just wonder if they've really thought it through. There are going to be posters all across America and people are going to go "God, who are these two?"
As well as the hands-off approach of Hulu, Field Smith was full of praise for the BBC.
'It's great to be able to make a show for the BBC who are so trusting in their programme-makers,' he said. 'Really once you're up and running and they believe in the show you're very much left alone to do it. It's not something you encounter when you work in a more commercial environment or even, in my experience, in the movie environment. It's a world of notes and compromises and pressure and we really didn't have that. We didn't have that from Hulu either.
'That goes so much more towards making the show than money does in a lot of ways. That's why people keep coming back to make shows for the BBC.'
• The Wrong Mans will air on BBC Two this autumn. Here is the car crash that kicks off the action:

Published: 4 Sep 2013
What do you think?