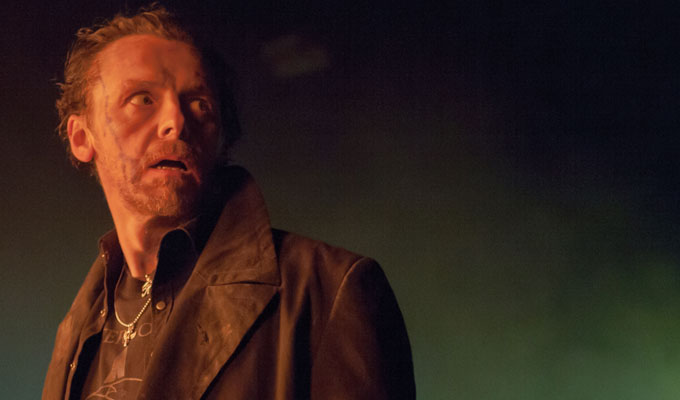 The World's End
Through Spaced and Shaun Of The Dead, Simon Pegg made his name by playing the millennial slacker, an adult trapped in a teenager's mindset. But you've got to grow up sometime – which is precisely the premise of The World's End.
Here Pegg plays Gary King, an ageing Goth, clinging on to a hedonistic life of drink and drugs, while the rest of his old school gang have grown up and got jobs, wives and responsibilities. His ethos is defined by the Soup Dragons Rolling Stones cover of his youth 'I'm free to do what I want, any old time...' and he was never happy than one June day in 1990 when the lads attempted – but failed – to complete the 12-pub crawl around their typical English town of Newton Haven, downing pints, getting into fights, and pulling girls.
Desperate to recapture that high, Gary gets the reluctant gang together. Among them, you'll be unsurprised to learn, is Pegg's usual partner-in-pastiche, Nick Frost, delivering a fantastic performance as Andrew, a high-powered, now teetotal, lawyer who has never forgiven his best friend for the way that night ended.
The 'Five Musketeers' are completed by Martin Freeman's Oliver, a straight-laced but obviously affable estate agent whose Bluetooth device never leaves his ear (do people still do that?); the superb Paddy Considine providing an endearing subplot as the romantically bereft Steven and Eddie Marsan as an emotionally fragile man who always seems to be the victim.
Swept up by King's persistence, charisma and vague notions of 'closure', they return to the scene of their childhood to complete the Golden Mile pub crawl, right to the final destination; The World's End. But they find things aren't what they were, not just because twenty-odd years have passed, and their relationship with each other have all-but eroded. As revealed in the film's trailer – and subsequently feels like quite a while coming in the movie – the population has largely been replaced by sinister Stepford Wives-style replicants. Plenty of self-aware nods to other films in this genre, as well as their own previous work, ensue but nothing to alienate, for want of a better word, a general audience.
Naturally enough, only our intrepid quintet stand in the way of global subservience, which is where the brilliantly choreographed pub fight sequences come in. Turns out Frost, in particular, is pretty handy with his fists.
The World's End tries to wrap three styles up in one movie: sometimes it's a rather downbeat comedy-drama – Pegg's character is initially rather a tragic, seedy figure against his usual type – at others it's a wisecracking romp, and elsewhere an all-action blockbuster, where the comedy takes a back seat to the full-throttle special effects and adrenaline-pumping chases. Director Edgar Wright manages to pull off the shifts between the genres, even if they are held together by the gang's rather flimsy motivation to continue their pub-crawl even once they have realised they are in mortal danger.
Although the film is a little uneven, there are some very funny scenes here – normally down to either that old staple, the comedy drunk, or a beautifully timed putdown from Frost – while the final showdown at the World's End is both hilarious and surprising stirring, showing it can pack an emotional punchline as well as a jocular one. Though that might just be the drink talking.
With a fabulous Madchester-era soundtrack and a strong, believable portrait of male bonding at its core, The World's End turns out to be a hugely entertaining caper. It doesn't live up to the memorable brilliance of Shaun Of The Dead, but it's great fun if you're happy to go along for the ride.
• Review by Steve Bennett. The World's End is in cinemas from July 19.
Published: 8 Jul 2013
What do you think?