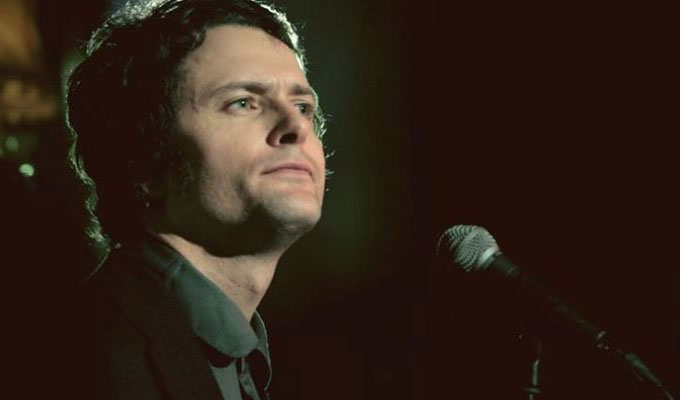 Film review: The Comedian
If you're making a film about an alienated 32-year-old cut adrift in London, then the open mic comedy circuit is as good as place as any to capture and project his despair.
Shot without a script following an intense period of improvisation,The Comedian embraces a Dogme-like manifesto. The rules that first-time feature director Tom Shkolnik set up include the characters sharing their actors' names, filming at real locations and everything shot in one take. Rough and ready, the result is lyrically dreamlike.
By day, Ed (Edward Hogg) works in a call centre selling cancer insurance, struggling to meet his targets, coming under increasing pressure from his boss. Yet at night, he performs stand-up with a distinctive, barked delivery. The first, brief snatch we see of his material, he's funny and receives a warm response.
Sharing a flat with an Eastern European singer, Elisa (Elisa Lasowski), whom he's trying to set up with his diffident co-worker Steven (Steven Robertson), the pair are close but their relationship is ambiguous and uncertain, even as both dream of a better life.
The next gig in which Ed's set flops leaves him disconsolate until he meets Nathan (Nathan Stewart-Jarett), an artist who was in the audience, on the night bus home. The pair begin a sexual relationship but this causes friction with Elisa, as each grapples to define themselves in relation to the others. The film's most memorable sequence is a charged confrontation in which the usually petulant Ed tries to keep his head down, even as Nathan and Elisa row with a homophobic gang of girls on the bus.
Immature and uncomfortable with confrontation, Ed appears ill-equipped for London life, let alone performing stand-up. Returning to his parents in Sheffield offers no respite and a conversation with a Zimbabwean taxi driver on his return suggests no Resolutions either.
Predominantly shot with the available light or lack thereof – harsh florescence in a kebab shop and on the bus; virtually none in the comedy club and Nathan's studio – Shkolnik's film is gloomy and unfocused, with scarcely any narrative drive, at least until Nathan arrives. The three main characters are all but incapable of expressing themselves. But that's kind of the point. These are confused, young-ish artists who figured life would have worked itself out by now. There's authenticity in the mumbled dialogue. And the final taxi sequence is desperately sad.
Both Shkolnik and Hogg attended an Amused Moose stand-up course to prepare for the film, with Hogg performing up to 20 gigs before the shoot and four during the course of it. Even without Brett Goldstein popping up as a compere and comics Mike Belgrave and Barnaby Slater, this is one of the most realistic depictions of stand-up so far committed to film.
Hogg's intense on-stage delivery perhaps reflects his acting training (and nerves) as much as his inexperience. And it clearly helps that Ed is a mediocre comic. But the backstage twitchiness and self-recrimination after; the strained smiles of faces fleetingly seen in the crowd, even the vague hint that he's actually funny but can't quite figure out his persona or voice, it all feels right.
The Comedian is an intriguing debut from Shkolnik, even if the formal rigour, complete lack of resolution and bleakness will restrict it to arthouse cinemas. At the same time, it's a pretty sobering portrayal of the open mic circuit.
Tweet
Follow @chortle
Published: 28 May 2013