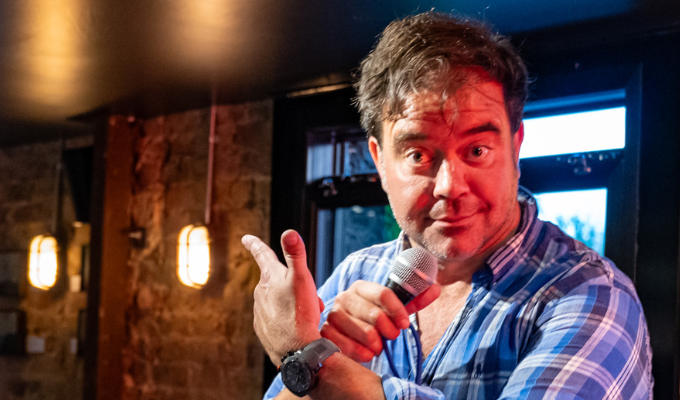 Why comics shouldn't fear putting their material online
When I started in comedy 11 years ago there were lots of negative ideas about posting content online. Comics told me that punters would look at posters, google the acts, watch what they have online and then not laugh when they hear the jokes repeated.
Due to starting a family I now find hacking round the country and all that entails less appealing, so I mainly MC, book and promote shows for my company Smirk Experience. Being on the other side of the fence from a straight-up performer has given me a different insight into the above advice.
When we started at our main venue in South London, I'd flyer tables on busy nights. I'd politely interrupt a conversation, show the group a flyer and someone would often say 'Oh yeah - I went to that the other day, it was funny.' I'd immediately go into a pitch about how the next show featured totally different but equally brilliant acts and they'd decline, repeating 'No, I saw one the other day'. In other words, they'd got their fix that would seemingly last them a few months.
In short. I've found the majority of punters don't care as much about comedy as the majority of performers. This makes perfect sense; to get really good at something involves dedication. Lots of comics can repeat quite large bits of their comedy heroes verbatim. If, however, you stopped 100 average Joes on the street in the UK and told them you'll give them a fiver for every comedian they can name in a minute I reckon you'd have change out of 30 quid in most cases.
As a promoter, your primary role is getting bums on seats. Part of what I do is to look online for what material comedians have shared already and share it with Smirk punters on social media and mailing groups to plug upcoming shows. I've seen acts do bits that I've shared on these channels and it goes down just as well as unshared material.
Want an example? No probs. I shared this brilliant bit by Ben Clover prior to a Smirk gig he did and it went down really well- as it should, because it's really funny.
I'd suggest this is because the majority of people at the shows we run are brought by someone else in their group. Furthermore, I think that lots of people who see clips like the one Ben shared would actually be more inclined to see a show if he's on a poster or listed at a festival.
Because of this, we've began filming shows to promote future ones. Each act gets a full recording of their set that they can clip up and share online. The room has recently been done up and looks pretty cool I think.
When we ask acts if we can share short clips of their work while tagging them in, lots still push back – presumably for the reasons outlined above. This I think is detrimental for the acts' development and also makes the job of promoting shows harder, which increases the chances of nights folding, so there's a smaller pie for everyone to get a piece of.
Before setting up Smirk I was an online sales controller for ITV, so the digital landscape is something I have some experience in. There are a few things acts considering sharing content online should bear in mind.
Not everyone will see it. Your Followers follow other people and they also presumably also have things like jobs and families to distract them from hanging on your every post. I've seen studies that predict around 20 per cent of followers will ever see a post - which is why you should post the same clip a few months later (if you want a free marketing tip.)
No one knows how much new stuff you're sharing. Let's say you have 20 miutess of new jokes that you cut up into 15 clips. You might know they represent all of the new jokes you've written for a year, but you don't include a disclaimer to that effect in the post. The people who see it just (hopefully) find it funny and share it with their mates.
You're followed by comedy clubs and promoters. I can tell you for a fact from a promoter POV it definitely helps when choosing acts if you see them post something new and funny online. The London comedy circuit is a crowded place, with brilliant new acts popping up every five minutes. Acts who do it tell me posting funny stuff regularly keeps them front of mind with bookers and gig invites coming in.
What have you got to lose? If you post a clip that gets 34 views then you're exactly where you were before and have lost nothing. If the clip gets 2 million views then you're the act who got 2 million views. Acts like Jeff Innocent have bypassed TV altogether and are now doing national tours based entirely on social media presence (and decades of hard work in Jeff's case, of course.)
That's my take on the changing landscape of comedy and social media. For me it goes back to the old showbiz saying; 'There's no such thing as a good secret.'
• Acts wishing to perform at Smirk Experience should send a short, unedited video to enquiries@smirkexperience.com
Published: 10 Oct 2023