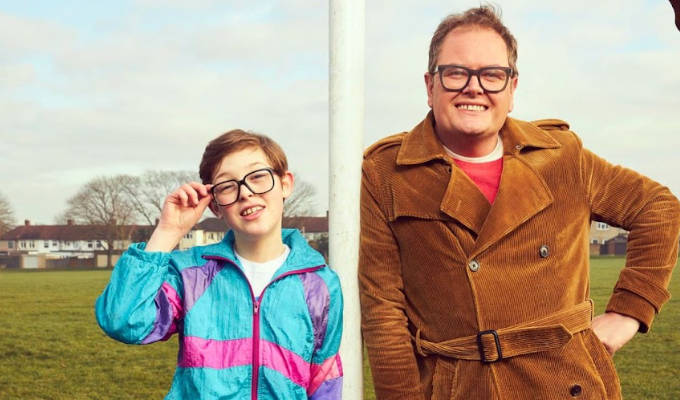 Is comedy back in the ITV building?
ITV has a tricky relationship with sitcoms, doesn't it? 
For every Benidorm or Plebs, there's far more of the likes of Shane, Sam's Game and Bad Move littering the channel's archives. 
Is it the commercial influence that forces them to play their commissions too safe? The public service broadcasting requirements of the BBC and Channel 4 in contrast somehow rendering their commissions instantly hilarious? 
Yes, these channels are afforded more risks, but they've had just as much success with safe bets like Not Going Out and Friday Night Dinner, as they've had with arguably more uncertain picks like This Country and Stath Lets Flats. Whereas ITV couldn't even make Vicious a hit, despite having the broad appeal of Ian McKellen and Derek Jacobi as leads, and Emmy-award winning writer Gary Janetti from Family Guy and Will And Grace at the helm. 
There is undoubtedly a sense that comedy just isn't really the broadcaster's thing, in the way that putting DCI before a randomly generated name and then casting any vaguely recognisable British actor as this character and giving them murder to solve - most definitely is.
So, with this in mind, I was intrigued by the recent advertisements for streaming service ITVX claiming that 'comedy is back in the building', even if this led me to briefly question when exactly it left it in the first place. Presumably around the cancellation of On the Buses?
But regardless of whether or not comedy is 'back' at ITV, the real question is: is it, in fact, present at all? 
Ruby Speaking
First up, Jayde Adams' debut sitcom - inspired by her experiences of working in a call centre in her home city of Bristol. The characters here are fairly well-drawn, introduced in typical sitcom fashion by having them immediately demonstrate all of their key characteristics within the first few seconds of their airtime - Cameron (Jamal Franklin) is sassy and '#relatable' as he waters his desk-plants at the expense of his caller's concerns, while Tom (Joe Simms) dons a football shirt and explains to his caller that she's not the first woman to tell him he 'helped her find it' (What a lad etc.).
But while this is undoubtedly effective in establishing the warm and watchable relationships that follow, most of their dialogue is unlikely to lead to much more than a polite smirk. I'm not sure if it's over-confidence or self-satisfaction but this genuinely feels like what the writing is aiming for. Most of the quips seem to have been included with all the will of a 'that'll do'. 
There are standout performances from Katherine Kelly and Amy-Leigh Hickman who strike a more heightened and energetic tone that this kind of show needs to succeed, but both are funnier than the scripts they've been given ask them to be.
This is a real shame because the storytelling is solid. The show understands how to draw empathy from its audience - you warm to Ruby as she treats her callers as people rather than merely customers to exploit - and the choice to end episodes on a bittersweet note shows glimpses of the impact this show could make if only the preceding jokes were just a little tighter. 
Significant Other
Ironically, it's the show that has a more drama-heavy premise that has a better hold over its humour and a looser grip on its storytelling. It's an unconventional love story with Youssef Kerkour starring as Sam, a man suffering from depression, whose suicide attempt is interrupted by Anna (Katherine Parkinson) having a heart attack.
The jokes are few, but strong - moments like Anna trying to hide her stool sample, whilst being told without irony by Sam that she's lucky she isn't an attractive woman like his ex-wife - bring much needed levity to the bleak depiction of these two leading characters' lives. Their relationship is both sweet and simple and it's compelling how their affection for each other grows out of a general lack of interest - a complete abandonment of vanity, or desire to impress one another, just simply to be. 
But the show commits the cardinal sin of following an engaging pilot with an underwhelming second episode which slows down their story, setting the pace for the rest of the series which fails to match the speed of its intriguing set-up.
The trouble is, the answer to the 'Will they?/ Won't they?' is: obviously, they will. The reason this trope works elsewhere is because it is usually an added ingredient in a show which is fundamentally about something else - The Office was about more than Tim and Dawn, Cheers was about more than Sam and Diane, ditto for Ross/Rachel, Niles/Daphne.
By stretching a knowing audience's patience by having the whole story consist of this pair being pushed together and pulled apart, viewers are left without much of a compelling reason to revisit these characters once the credits have rolled.
Count Abdulla
In another case of 'almost', ITVX is the home to Count Abdulla - a horror-tinged comedy by Kaamil Shah, starring Arian Nik as a junior doctor struggling with the demands of his job and the expectations from his family and community, whilst incidentally adjusting to his new life as a vampire. 
There's a lot to like here with some sharp subversive comedy, such as when Abdulla finds himself being criticised for offensively stereotyping vampire culture on Halloween immediately after having berated someone at a party for their colonialist-inspired fancy dress.
But at times the dialogue is a little iffy – Abdulla and Amrita's (Manpreet Bambra) exchange about the Bride of Frankenstein being a male construct and how she'd be better off coming to the party as 'a sexy Handmaid's Tale' is just one of many sets of dialogue that plays out like a Twitter thread - admittedly, a witty one - but such exchanges occasionally sit uncomfortably in some of the character's mouths.
That's not to say there aren't zingers - 'What's it with you and the police bruv? You know pigs ain't halal…'  is a personal favourite - but some lines feel inauthentic, as if some cast members are being picked at random purely to deliver the punchline, regardless of whether or not this is true to the scene or character. 
That said, like Ruby Speaking, Count Abdulla improves as the series progresses. There are also some really creative sequences - a blood vomiting scene in episode two is perfectly choreographed and an accompanying exorcism is both hilarious and serves to move the plot in a surprisingly swift new direction. There are also regular scenes which provide an insight into Abdulla's blood-thirst-induced daydreams - clearly produced on a tight budget but are all the better for it - the use of lighting and practical effects here makes for a visual feast.
But then there's nothing like a show that hits a home run on first batting…
Changing Ends
Perhaps the biggest surprise of all, Alan Carr's take on the Everybody Hate Chris/ Young Rock format is an instant hit.
Maybe this shouldn't be a surprise – it's easy to forget just how strong Alan's Stand-up can be, particularly when his post-Chatty Man career seems to have been preoccupied by forgettable gameshows that even Stephen Mulhern would turn his nose up at.
In this 1980s-set story a young Alan faces various trials and tribulations brought about by his assumed sexuality, even though this is something that is actually yet to occur to Alan himself.
It is such an interesting take to have 'Young Alan' in the dark about why people are starting to treat him differently. As far as he is concerned, he's simply a proud Angela Lansbury-loving ball of energy keen to remain a child a little longer, all the while the kids at school and his homophobic neighbours grow ever suspicious about his behaviour.
Everything about Changing Ends is effortless. Not one member of its impressive cast misjudges the mood of their scenes and elevate Carr and co-writer Simon Carlyle's witty scripts by never overselling their punchlines.
Sean Dooley is as watchable as ever, who, with Nancy Sullivan, make up Alan's concerned and occasionally embarrassed parents - who nonetheless staunchly defend their eccentric child at every opportunity.
Young Alan (Oliver Savell) is a hell of a find. There are so many ways the character could grate through forced impersonation, but he manages to match Carr's recognisable mannerisms while bringing his own unique take on his persona. Even interjecting narration from modern-day Alan - so easy to overuse - is pitched just right, never outstaying its welcome. 
---
So, where Ruby Speaking, Significant Other and Count Abdulla consistently flirt with becoming stronger sitcoms than they are, Changing Ends sets the standard with ease. Is this sum total enough for ITV to say comedy is truly 'back in the building'? 
I think the answer to that is - not yet. Perhaps comedy needs a little more time to properly move in. The question should be: will modern audiences stick with shows that don't immediately hit the ground running? In a time of overwhelming choice, does the 'potential' of these sitcoms really count for much?
There are of course countless examples of mammoth sitcoms that had early teething troubles – Blackadder, Only Fools, Seinfeld – but was it the lack of alternatives at that time that permitted these shows their second chance, rather than genuine audience perseverance? Maybe the time for the maturing sitcom has come and gone.
Here's hoping ITV thinks differently and continue to make room between the reality and cop shows to give comedy some proper digs - even if, in the end, it will be the audience who decide whether or not it will become a permanent resident.
• Ruby Speaking, Significant Other, Count Abdulla and Changing Ends are all available to stream via ITVX.
Published: 25 Sep 2023