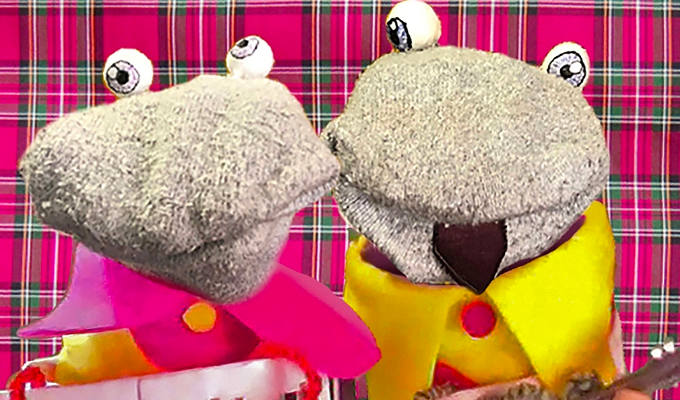 What happened to our Britain's Got Talent appearance?
This was going to be our big TV moment, the reason this year's Edinburgh show would be our biggest sell-out yet. A career-changing appearance on Britain's Got Talent for the Scottish Falsetto Sock Puppets, my daft act that very much does what it says.

I'd told friends, family, and fans to watch – and expressly mentioned it in our Fringe programme listing. Yet in eight weeks of televised heats, we were nowhere to be seen. What happened to our moment in the spotlight?

Rewind to the end of 2021, when I got a call from researchers who wanted the Socks to appear on Britain's Got Talent. We said yes, and were lined up to do an audition on stage at the London Palladium, in January All very exciting, this sort of thing can really boost an act's career, so we're told.

I suggested lots of material we could do in our three-minute slot, from our 'sawing a sock in half' magic routine, to our rendition of Star Wars. I'd definitely aim for the Socks to do some of their best short gags to engage the audience, and some of their most visual stuff to make the most of that short slot.

The production team at Thames, though, had their heart set on a routine they'd found us doing online: the Post Codes routine, from BBC Three's Comedy Shuffle way back in 2008. It's not my favourite routine, and we've not had it in the show for more than ten years, but they were dead set on it. So I figured, if we front-load the set with good gags and interaction, we can get into this routine which, to use the common comedy euphemism, you 'wouldn't open with'.

So we did an audition video, showing exactly, to the word, what we were going to perform. We opened with a bar of I'm A Sock as we'd done on Comedy Shuffle, cutting ourselves short after the word 'cock'.

Obviously, this wasn't going to work on a primetime family show (neither would the line 'shit, he's got a guitar'). They wouldn't even allow us to stop a beat earlier with 'you wear me on your foot, not on your…' because even the rhyming suggestion of cock is unacceptable on ITV.

So we opened with two lines that weren't as funny without words in that make you laugh, then we were to go into the Postcodes routine, which opens with 'I have to do this now, I have a disorder: Obsessive Compulsive Postal Order'). No. That had to go, you can't allude to disorders on primetime ITV.

Instead, we were to go straight into the routine, effectively opening with material you'd never open with. But this was what they wanted and I figured the Socks could carry it off. We usually get laughs as soon as our sock heads pop up on the screen, after all.

So we went to London for the big day. At the hotel where all the acts hang out, I sat behind my Socks set, the Socks popping out to do interviews, two-handers with other acts, and pieces to camera. Every single one of which we nailed. I know I would say this, but we were on form. We were getting laughs from the crew, which is always a good sign. I was confident that, however our time on stage went, those bits would look good in the edit.

After many long hours, I was driven to the London Palladium and we set up ready to perform. The techs were really efficient, particularly the sound tech who had my music cue all ready, so that as soon as we started speaking, she knew the exact line we'd say and she'd play in our I'm A Sock music and off we'd go.

Come showtime, the Socks set was carried to the stage, the curtain lowered, and I get into position behind it ready to perform. Just then a floor manager says to me: 'So, when the curtain goes up you'll chat to the judges?' and I say that, no, we've haven't prepared for that as the sound tech is going to play my music in as soon as I speak.

And suddenly we're on.

The curtain rises and the Socks begin. And as we start I'm already kicking myself because we should have spoken to the judges. Ad-libbing is what we do, that would have been a good and funny thing. It's what we'd been doing successfully to camera all day. But we'd realised too late that there was chance for that.

So the Socks begin their routine, with the two lines that have had their funny words removed, and the song that doesn't really serve any point, and into the routine which, coming into it cold, is a bit hard to understand. But we start to get some laughs, not many, but a few.

Then a buzzer goes. So the Socks stop.

If you're a viewer of Britain's Got Talent, you'll know that a buzzer sounding means that one judge has buzzed you off, but not necessarily the other three. If, however, you're a comedian hidden behind a sock puppet set, who can't see what lights have lit up, you could easily mistakenly assume that meant you'd just been buzzed off entirely. Which is what I thought. So the Socks stopped, and at this point the judges started discussing us.

They sounded quite positive, Simon Cowell stood up for us, said: 'I like them, they're a very funny act' - which I was looking forward to putting on the posters. While David Walliams, who had buzzed us, played Devil's Advocate and slagged us off. We got a little bit of backchat in, but really the spotlight wasn't on us and we were eventually buzzed off by the others.

We then got the best laugh of our time on stage when I picked up the set to waddle off with it… and missed the exit, so had to waddle back on and off again. This went down very well and would, I figured, look good in the edit.

But we hadn't got through to the semi finals - a fact that I was forbidden by my Non Disclosure Agreement from telling anyone. However, we'd done such good stuff in the interviews and ad-lib stuff beforehand, that I knew we'd edit down into a good bit of telly.

I then got on with my life – until the TV listings magazines came out announcing Britain's Got Talent was starting soon. And, to my delight, both the TV Times and another listings mag featured a photo of us and mentioned our name. We looked like we were being promoted as the stars of the show, quite possibly in the first episode.

So we, and all our friends, braced ourselves for that first appearance. We recorded it, to fast-forward over the adverts, obviously . And, with 90 minutes blissfully shortened to about 15 minutes of fast-scrolling, no Socks were to be seen in the first episode.

After we didn't appear in the second episode I gave up watching the show, settling for checking Twitter occasionally to see if we'd been mentioned.

The final round of auditions came and went, and no Scottish Falsetto Socks had appeared. I'd contacted Thames to ask when we'd be on, but it would seem the various runners and producers I'd been dealing with had already moved on to other shows, and no one was able to answer me.

So, the Socks hit the cutting room floor, and someone somewhere has the video files of us being drop-dead hilarious in a whole load of interviews and pieces to camera, as well as an awkward couple of minutes on the stage of the London Palladium.

But, unless we get very famous pretty soon and someone sees the virtue of digging the footage out for It'll Be Alright On The Night, or Before They Were Famous, it'll never be seen.

Apologies to all of my friends, family, and Socks fans who I forced to watch endless hours of Britain's Got Talent waiting to see our big moment. I can only imagine your pain.

Hopefully we'll see you all at Edinburgh. And the good news is, there won't be hundreds of Britain's Got Talent viewers cluttering up the place, desperate to see the end of the postcodes routine. 'What IS the postcode for Ormskirk?' they must still be wondering.
• Scottish Falsetto Socks are on at the Gilded Balloon Teviot at 4.30pm until August 13.
Published: 4 Aug 2022
What do you think?