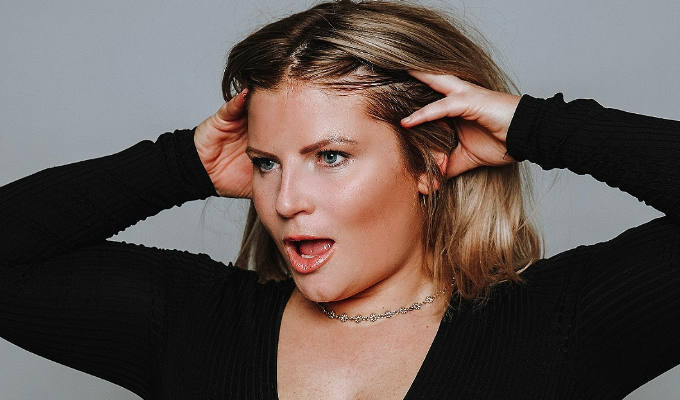 Stop telling female comedians what to wear!
Reading comedy reviews is unenjoyable to say the least. Even when they're really great it's still a weird and dystopian feeling having to hear someone's opinion of you, that you didn't ask for who has probably never done stand-up in their life.
For women and fem people there is a whole additional layer to reviews that make them all the more insufferable – and that's the constant influx of commentary about our appearance.
One of the first reviews I ever got was full of praise about my stand-up, however the entire opening paragraph was literally just a description of how I looked and what I was wearing. This wasn't an article from a weird comedy-fashion-fusion publication either. It was just a regular print press review, but the reviewer felt compelled to start the article with a comment on my 'floating pink top' and how it had a 'low plunging neckline.' Eventually just spelling out with the words 'cleavage fully on display.'
I remember they even commented on my freckles and that sent a shudder down my spine. Why the fuck was this the opening paragraph? It had nothing to do with anything I talked about. It had nothing to do with stand-up comedy and everything to do with blatant fem objectification. End of.
I scrolled through the rest of the website looking to see if the author did this to everyone. I found five other reviews about male comedians. No surprises, their appearances were not mentioned once. I was the only woman they'd bothered to review and they'd decided to waste half the word count talking about my tits. That was the first and last review I ever read. (It's since been taken down, DM me for the goss.)
Am I showing off my boobs on stage? Or am I just a comedian who has boobs? The answer is absolutely the latter. Unfortunately it's not just reviewers that do this.
There are plenty of fellow industry people just busting at the seams to give us unsolicited 'notes' on our appearance. My favourite recurring comments are, 'I could never wear tight trousers like that on stage, all anyone looks at is your camel toe.' When someone says this to me my follow up is always 'Why are you so obsessed with my vulva? Also did you mention this to the 20 male comedians in the industry who literally run around on stage wearing nothing but a gimp suit? Or did that not cross your mind?'
Another absolute banger is, 'wow, you're so brave going on stage with your boobs out like that. Don't you think it distracts the audience?' To this I simply say, 'they certainly distracted your dad last night,' and then walk off.
But the most frequent one is when a comedian who dresses like they've just rolled out of the lost property box from an abandoned state school, tells a fem comedian they think they 'should reconsider what they're wearing because they're not being taken seriously.' My answer for that is simply 'which part of her receiving a lot more laughs than you, did you understand as not being taken seriously?' ( I went to one of the shittest state schools in New Zealand, I'm allowed to make that lost property reference.)
For my debut photos, I didn't hold back. My press shots and posters are literally professional thirst traps even though that has nothing to do with my show. Boobs out? Yes. Thighs out? Absolutely. Rolling on the floor in knee high boots? You bet. It's a hair flip fuck you to any one in the industry still living with a dark ages mindset about how fem comedians should dress on stage.
I am absolute proof that you can have tight jeans and a fat ass on stage and still sell out and be taken seriously. You can have a low neckline (on purpose or not) and still absolutely tear the house down, and you can have an Edinburgh poster wearing nothing but a plunging bodysuit and still be nominated for the best newcomer award* (TBC).
If you take one thing away from reading this, please let it be my advice to simply stfu next time you want to comment on how a fem comedian is dressed.
XOXO Gossip Girl.
• Alice Brine: Brinestorm is at Gilded Balloon Turret at 4.20pm during the Fringe.
Published: 1 Aug 2022
What do you think?