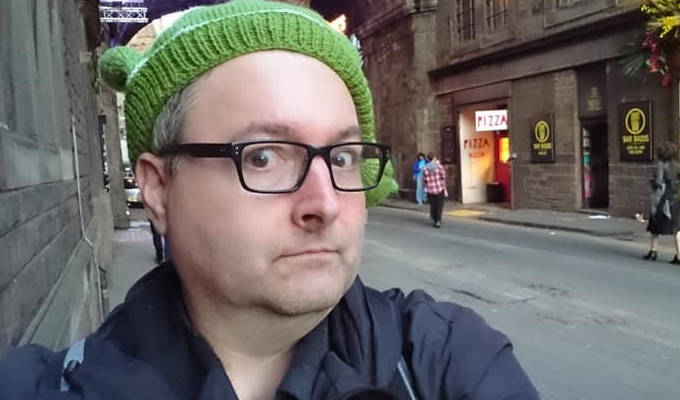 My life in Edinburgh Fringe digs
Someone the other day called me an Edinburgh Fringe veteran, and that was very nice of them, unless they meant that I'm old. But even so, it was kind of a pleasure to hear,
As, yes, I've spent most of the last decade traipsing up to the Scottish capital each August.
Indeed, I've probably had a breakdown in every part of the city. It's the only place where I've had homophobic abuse yelled at me from a passing car. And it's the city where I've reached the dizzying heights of fame, thanks to a one-liner from my show being listed in a newspaper two days after losing my luggage at the airport, only to return back to the plunging depths of normality by the time I caught the train home.
It's the city where I've met the most wonderful people, the most creative types from all over the world, and it's the city where I've met my fair share of idiots, not least those youths who shouted 'Poofter!' at me outside the book festival. So yes, maybe I'm an Edinburgh fringe veteran after all.

One of the by-products of this is that I've had the experience of staying all over the city over the years, in accommodation of varying quality. And while each place has been different, they've all had the one thing in common: they've been eye-wateringly fist-clenchingly expensive. A friend of mine a couple of years ago stayed in a hostel inside metal cargo containers and she saved a lot of money in the process, and each year since I've wondered if I, too, should opt for the same. Or maybe there might be some enterprising farm out near the airport which lets out wooden barrels for comedy poets. But I like my home comforts, like a bed, and windows, and air, and running water, and walls, and a floor. Yes, I know, I'm a snob.
In my first year at the Edinburgh Fringe, I came with a load of friends just to watch different acts and get a feel for the place. To be honest, I say 'a load of friends', but I actually only knew one other person, and the rest of the group were her sister and her sister's husband and their grown-up son, the rather athletic Tom.
My friend's sister's husband was a retired marine geologist and I quickly gathered that I was there mainly as someone who could listen to his stories about life as a marine geologist while my friend, her sister and the rather ravishing Tom fled the room as quickly as possible. Once he started on the finer details of calcified sediment and underwater sea vents, nothing would shut him up. On the plus side, his son, as I may have mentioned, was rather good looking, so it's swings and roundabouts.

The flat was built inside an old school building next to the Water of Leith in an area of the city with its own distinct character, feeling more like an Alpine village community, all steep roofs and verandas, you expected someone to start yodelling at any moment. It was all tastefully appointed and everything was very new, with bare polished floors and expensive bathroom fittings and a working toaster. The bathroom even had a bidet in it, that's how posh it was.
The other residents of the building were all very polite and said things like 'Good morning', which always takes me by surprise, living as I do in a town where the best you can hope for is a bit of a grunt. And perhaps the exuberance of this place spoiled me when I started coming to Edinburgh as a performer, as everything would subsequently be judged against the old school house.
Oh, the evenings we spent. Myself and my friend, her sister, (who I think didn't like me very much and would start cleaning the kitchen within seconds of me making a cup of tea), her husband, who would lean back in his seat and say things like, 'It was a day like this when we discovered some interesting rock formations off the coast of the Isle of Wight', and their son who, obstinately in my belief, didn't once take off his T-shirt in my company.

One morning, everyone had gone out and I found myself alone in the flat. The layout of the place was oddly labyrinthine, the architects having squeezed several flats into the old school building using whatever space had been made available by the original floor plan. My bedroom was downstairs, while everyone else stayed upstairs in rooms coming off a long hallway, at the end of which was a door marked 'Private'. Maybe if it hadn't had a sign on it saying Private, I might not even have thought about going through it, but I was genuinely interested in the architectural history of the building, and I really did want to see as much of the Scottish capital as possible.
Behind the door was a staircase going down. This in itself was weird because I had just come up a staircase, and I wondered if I'd found some kind of short cut. The stairs went down to a landing, then round a corner, then down to another landing, and then bizarrely, down to a third and then a fourth, which was especially weird because it now meant that I was further down than the lower floor of the flat. And then it just kept going, down and down, until I turned a corner and… nothing. A wall. The stairs led right down to a dead end.

I didn't know it at the time, but this would be a metaphor for my subsequent Edinburgh Fringe career.

The next year we went back again. I'd had reservations about going, what with them all being so middle-class, he with his geology, her with her dishcloth, and their son with his biceps. But I'd loved the city and the whole fringe vibe and this time we had decided to rent a flat as close to the city centre as we could. We found the top floor flat of an old Georgian townhouse in the New Town area and looked forward to it being as well appointed as the flat the previous year. Oh, how disappointed they were. I say 'they', because I personally loved everything about the place. But they were hugely dissatisfied.

The flat was on the top floor of a tenement, the only means of entry was a stairwell seemingly hacked out of sheer granite, which went up for four storeys and had no other doors coming off it until it got to the top. The main door opened into a magnificent hallway with a staircase which hugged the walls, it really was the kind of staircase that one could make an entrance on. And we practised, like characters in an old black and white melodrama or some Tennessee Williams play.
The only one who didn't do any of this was Tom. I was secretly hoping that he would be all hot and bothered by the time he got to the top floor and would have to take off his shirt in order to cool down, but Tom was bloody fit and showed no such signs of doing so.

There were several things amiss with the flat. Firstly, that it was falling apart. Banisters came off in our hands, the windows jammed half open and half closed, and the floor was so uneven that wardrobes and even the fridge leaned in at jaunty angles as if they were eager to eavesdrop on our conversations. The whole place smelled ever so slightly of damp.
And the first night that we were there, something incredibly bizarre happened. The landlady came all the way across town just to show us her wedding dress. The fact that she was in her 60s and had got married some 4 years previously did not seem to deter her.
'I just thought I'd come and show you my wedding dress'.
'Oh… Okay'.
'It's lovely, isn't it?'
'Yes. Yes, it is. Erm, listen, there seems to be a problem with the microwave . .'.
'I do so like showing people my wedding dress'.
To this day I have no idea why she did this even though, yes, it was very nice. Even Tom remarked on it.
'And oh', she said, 'don't go into the room at the end of the landing'.

Well, we just had to, didn't we? The moment she was gone, myself, Tom and the marine geologist were straight up there. And oh, to this day, I wish that we hadn't. After a count of three, we opened the door to find another bedroom, just like the others, except . . .There was no roof. No ceiling, no roof. Just rafters, and the dull grey Edinburgh sky. And pigeons. And pigeon shit. And a dead pigeon. And damp, from where it had rained.
'I've never seen such a mess', said Tom, and I laughed and agreed with him and went to pat his arm in a kind of matey familiar manner, but he just moved and I flapped my hand in a very limp kind of way.
This was the last year that I went to Edinburgh with my friend and her family. For some reason I haven't seen or heard much of them since.

The next time I was at the Fringe, it was to put on a show. This was five years later and the fact that I was now a performer surprised me more than it did other people. Having got into comedy poetry more or less by accident, it was something of a joy to realise that I now had a product that I might take to the Edinburgh fringe. A friend suggested we should go together and put on a show. Oh, yes! How could I not leap at the chance! My memories of Edinburgh had been of quirky accommodation and the saintly Tom, blue skies, happy, smiling people, and potential worldwide acclaim. Fame would surely be just round the corner!

Alas, it was a cold and miserable, wet and windy August in Edinburgh, and worse still, my friend had decided to economise and had decreed that we would be camping. The idea filled me with an instant revulsion, yet I knew that I could not do this on my own, so I agreed. Now, I say friend, but he was more of an acquaintance, someone I barely knew, who I would perform with around Devon and the surrounding area. He was the rugged outdoors type ­– beard and new-age sensibilities, the sort of person who could speak knowingly about crampons without bursting into laughter. And while not exactly camp as Christmas, I was perhaps his polar opposite. He was also prone to worrying about the finer details, everything had to be just right.
So we lugged camping equipment all the way from Devon to Edinburgh, via London, having to negotiate the Tube system with our tents and sleeping bags, camping stove, and the ludicrous props that we had designed for our show. Once we had arrived in Edinburgh, we then had to get a taxi out to the camping site, during which he moaned about the price of the taxi, and by the time we got to our destination it was 11pm, rainy, windy, and we still had to put the tent up. This was done in complete darkness and took almost an hour, at the end of which we climbed inside and… I broke the tent zip.

I have no idea how it happened. I thought tents were meant to be durable, designed for the Antarctic and for camping on Everest. How a blundering gay bloke from Devon managed to break one is anyone's guess, but my natural instinct was to laugh, because it was funny that we had come all that way and, just at midnight, there had been a zip malfunction. But my colleague seemed wound up by the fact that I laughed more than I'd broken the zip, and he went off on one, describing in precise detail just how annoying he found my lack of seriousness. It did not bode well for the rest of the Fringe.

It was a supremely uncomfortable week. Our show was rubbish, we had no audience, we didn't get on, and each night was so incredibly cold and physically taxing that I'd wake each morning feeling even less rested than the night before. We cooked pasta on a camping stove sheltered from the wind and the only joy I got each morning was escaping to a bacon bap van where one could get breakfast, and sit eating it in the rain next to a field full of Highland cows. This became my Edinburgh pre-show ritual.
And it was cold. Bloody cold. I'd sleep under a layer of flyers for our show, a big wad of which I used as a pillow. I bought an Edinburgh Fringe hoodie just to wear at night because the cold was so cold it was waking me up. I'd catch the bus to the city and go to late-night shows just to keep warm,
By the time we packed up the tent we were no longer speaking to one another, which was a shame because we had a ten-hour train ride back to Devon. But just as we left, we did have a bit of impromptu fun, using the scenery that we had designed and brought with us as a makeshift sled, and sliding down one of the grassy hills near the campsite. It was all done without saying a word, more ceremonial than anything else, and I suppose it was his way of saying, hey, let's at last enjoy ourselves.
Since then, I've been staying in student accommodation in the city centre or the immediate outskirts. Ever the professional, I use my room just as a place to crash at the end of a long day flyering, or for rehearsal sessions when I've decided that the whole premise of my show needs last-minute tinkering.
Often the student flats are shared with four other complete strangers, yet the weirdest thing is that during all of this time, I've hardly ever seen anyone else that I've been sharing a flat with. Sometimes I might find shopping in the fridge, and once there was a floater in the communal toilet which I swear I didn't recognise, but everyone mostly stays, presumably, locked in their rooms, or out at shows. Once I came home to find someone in the living room watching TV and the shock was immense. In a weird sort of way, I felt that I had been violated.
Generally, though, I've enjoyed student accommodation. The last year I went to the Fringe, I stayed at a block of student flats which were inhabited mostly by other performers, and one morning, a visiting school orchestra decided to put on a spur-of-the-moment concert right in the middle of the car park, which was a beautiful and somewhat atmospheric piece ruined by the fact that the bin lorry couldn't get past.
And now, for the second year running, I won't be at the Fringe. Over the last nine years I've become almost painfully familiar with Edinburgh and its landmarks and back alleys, it's shortcuts and corner shops, its labyrinthine layout and road maps which look like they've been designed by MC Escher.
I've experienced its cold and its fog and its slippery cobblestones and I've navigated its tourist-thronged byways like a local while running late for a five-minute slot at a cabaret across town.
I've been rained on a lot while giving out limp flyers to disinterested Fringe-goers while some youth from a drama school bellows Byron through a bullhorn right next to me.
And you know what? In a funny sort of way, I've loved every moment.
• Find out more about Robert Garnham at his website, www.professorofwhimsy.com. He has an on-demand show called Yay! The Search For Happiness as part of the PBH Free Fringe, and is inviting donations.
Published: 9 Aug 2021
What do you think?