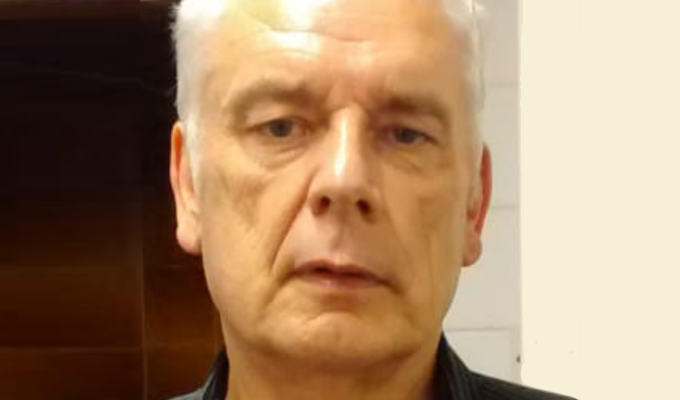 The Zoom tomb
As venues reopen, maybe now we'll finally be rid of the troublesome Zoom version of stand-up, the worst substitute since 1985's New Coke. Hopefully this is the last gasp of this time-mangled, laugh-strangled comedy medium.
Nothing here should be read as undermining resourceful attempts by the stand-up industry to survive financially and creatively in the face of Governmental indifference. Zoom has been pivotal in fundraising, building online communities among those stuck at home, and keeping the comedy flag flying. It doesn't mean however, like New Coke, its anywhere near the real thing.
The problem with the Zoom format is that lacks 'same time, same space' experience for audience and performer, which creates such a synergy in live comedy.
Zoom fails this essential, like Boris fails truth.
A shared space and time is an essential to the raw, comedy experience. The DNA of stand-up is its now-ness. With live comedy it is obvious, now moment by now moment, that you're in a collective shared present, with all its attendant risks and joys. In a communal live room, laughter or shock immediately zips back and forth in feedback loops informing audience members and comic how the funny is going. Zoomify it, and filters and shutters slam down on the directness of real-time communication.
Tech problems undermine immediacy. Zoom signals clatter down the seemingly cobblestoned Ethernet. Connections drop, sounds become thin, warped and metallic, capped by the never-ending dad dance of 'mute, please unmute'.
Jokes miss or score without the comic realising, as there is no guiding laughter. Under Zoom our reality construction suffers a distancing time lag. Everything about Zoom reminds you that you're a passive recipient of a beamed distant event. Your brain isn't fooled into in the sacred same time and space. Zoom takes to stand-up like a fish to a tree.
Anyone experiencing a black gospel church sees a breathtaking dynamic between congregation and performers. They are not interacting separate beings, but become a unit with a single intention. The best stand-up aspires to this sane state.
An insightful chauffeur in Bob Dylan's Rolling Thunder documentary is asked about his first Dylan concert, and says of the audience and the band: 'It was one battery charging the other', a momentary love affair.
We've all experienced this lightning in a bottle when live comedy unexpectedly morphs from being simple entertainment, into an event where punters and performer entwine, harmonising up to comedy heaven. This ecstasy, becomes all-consuming with laughter providing its own momentum. You leave the venue high – emerging into a greyer, lesser, more individualised world.
My lightning bottles included a student bar back room and a toilet ante-room in a sordid Edinburgh Fringe venue. Where were yours? Whatever, I'd guess it gave you the taste of pure-grade comedy crack. The memory of this euphoria powers you through future hack performances and forgives newbie comics in the hope they develop sufficiently to lead you back to the high.
In real-time stand-up, the room is actually a physical room. A room of shared breaths (sorry if you're not vaccinated) and rife with comic possibility. With an open view and canvas of the whole venue the comic can project with every sound and body trick to the audience who now have the stage, comic and fellow audience members as context to the humour. In Zoomland there may be a crowd, a 'fiction' of avatars, either unseen, or in little cyber boxes that are difficult to either warm up, or warm to.
In a real room there is no restricted, squeezed view where the world is shoehorned into a screen. On Zoom, performers generally only have their face to deploy, making it a golden age of facial mugging where most body language is hampered. The more physical the comedy, the more Zoom flounders.
To ensure consistency, a comic warms and works the 'room'. Whatever is the 'room' with Zoom? Are they all facing the comic? Why is that man reading a book and fondling his cat? Can a Zoom comic really gauge whether to pick on him?
There is an 'event status' to a live event: leaving the house, dressing up or down, getting bevvied or annoyed by those who are, sitting next to a heckler, being a heckler – or being the comic in 'control'. All integral to its enjoyment. Turning on a Zoom device, while wearing pants and vest, wandering around the house at whim, is decidedly not being part of an event, it lacks the social and psychological boost a real event does. The very effort of going out means punters are predisposed to enjoying themselves to gain a return on their investment.
The drug world impinges on stand-up. This is not a reference to dodgy powdery dealings in club toilets nor the waft of eau de spliff, no it's the big one – hormones. Apart from the odd miserable git, the audience and comic are, at each laugh, soaking themselves with endorphins, oxytocin, serotonin and some comedy hormone yet to be discovered. Anyone found a joyful drug like experience with Zoom?
I rest my case.
Zoom, you have been a lifesaver financially for some. But sod off now.
Published: 24 May 2021
What do you think?