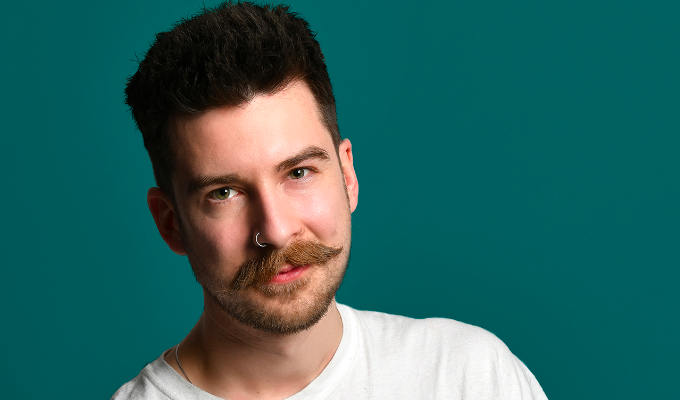 How being a bit disabled informs my comedy
I've been a comedian for nearly four years now but I've been making jokes about myself and my condition my whole life.
I have a condition called Poland Syndrome, nothing to do with Poland, it was named after the man who first discovered it. It's not very well known, unlike the other geographically named syndrome: Stockholm Syndrome. I often just tell people 'It's what Jeremy Beadle had' and all becomes clear.
It's a birth defect that affects between 1 in 20,000 and 1 in 100,000 births. The numbers are unclear because the symptoms land on a wide spectrum of severe, medium and mild… which sounds like the spice scale at a wings restaurant.
In fact, many people may go their whole lives not realising they have it and dismissing their symptoms as just quirky parts of their body. Even I had no real interest in finding out about it until I was in my late twenties, despite having had stacks of surgery in my childhood.
I find myself on the severe end of medium scale: my left hand is visibly malformed and smaller. In addition to this, I have a missing pectoral muscle which gives me a slightly lopsided stance which wound up many a teacher in drama school.
At the age of ten I underwent surgery to amputate two of my fingers and replace them with my toes. Seriously. So that's me, for the most part physically non-disabled but I look different but only if you look hard enough. I'm not really sure how to categorise myself, but for this piece let's go with the notion that I am disabled.
Mentally, I think this condition could have sent me two ways. I could have ended up very quiet and reserved, but the route I took was to be confident and direct. Instead of hoping people wouldn't notice, my tactic was to bring it up before anyone else could. This unconsciously started in primary school and hasn't left me. Which is why, when I decided to get on stage for the first time, I wasn't worried about the content being funny. As I said at the top of this piece, I've been joking about it my whole life.
The drive to write my own work came from a long frustrating stint in the acting industry, I may not be disabled in the real world but in a casting room I certainly was, the proof of this being that I to date have had more auditions for 'disability castings' than regular castings. I wasn't getting the creative outlet I wanted so I originally started writing my work as a one-man play but quickly I felt it lent itself to stand-up.
Looking back at my work, a lot of it seems to be talking about a search for identity. I exist in this strange area where I'm not quite disabled or able-bodied, I'm not quite invisibly or visibly disabled… I'm just a bit different and that's what a lot of my comedy contemplates.
There are certain expectations that come with being a comedian with a disability. I'm often asked if comedy is cathartic or if it's my way of dealing with my condition, the answer is no. Comedy for me isn't therapy, I have actual therapy for dealing with stuff. The same goes if I'm asked if my comedy has a message. My show does, but that's mostly because it's written with a narrative and something needs to tie it together. I'm not on a mission of any sort other than to make entertaining shows, if someone feels more confident about their physical insecurity after my show then great, but I haven't done my job if they didn't laugh in the process.
People often assume that my shows will be 'inspirational', but I'm sure I speak for most comedians in my position when I say I'm not a disabled comedian, I'm a comedian who happens to have a form of disability.
The counter to that would be 'then why let it define your comedy?' or 'when are you going to do material about something else?'
I've listened politely to these comments before and my response today is: I'm just writing about the world from my experience which in essence is what we all do. I can't write from the lens of someone that doesn't have my condition because I have my condition. We wouldn't think to question why a guy in his 30s writes about what it's like dating in his 30s… I do the same stuff but just with added weird hand stories.
However, it's not lost on me that the very nature of my material can be uncomfortable by commercial standards as even the mere mention of having a disability can raise the tension in a room. Perhaps this is why we are not seeing a proportionally acceptable amount of visibly disabled comedians on screen.
I sometimes get an audible 'aww' from a more concerned audience member when I mention I have a disability. This is because disability and disfigurement are still a big taboo, we are brought up not to look, not to mention and definitely not to laugh at these things.
If there's any message in my comedy, it's that the right kind of humour is brilliant for people in similar positions to me. It's the most effective tool we have to break the ice about awkward tense subjects, so to me it's there to be used by all of us.
We have a long way to go in terms of disability representation on screen but I see my role is to do the best comedy I can and continue to normalise in people's minds the right kind of humor around being a bit disabled.
• Richard Stott hosts a virtual comedy gig for Poland Syndrome charity PIP-UK this Sunday, with guests Jo Coffey, Jamie MacDonald and Variety D. The show starts at 7.30pm, and tickets, priced £6, are available here.
Published: 23 Feb 2021
What do you think?