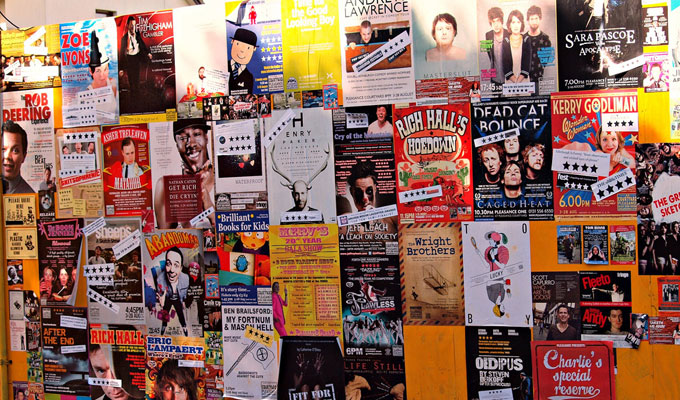 Will the Edinburgh Fringe go ahead in 2021?
Will the Edinburgh Fringe go ahead this year? That is literally the £1billion question based on some economic analysis of the festival's contribution to the Scottish economy.
Following the news that Glastonbury is to be cancelled for a second year, First Minister Nicola Sturgeon delivered another blow to the idea of 2021 Fringe on Friday when she said: 'If I was to stand here right now and be asked if I think large-scale events by the summer, with any certainty will go ahead, the honest answer to that would be no.'
'We have to be realistic and pragmatic. I think it is going to be a little while longer, and I'm saying that gently, before big scale events become possible.'
The Fringe Society which co-ordinates the programme, says with what seems like more surety: 'The Fringe will return from August 6 to 30' – but that comes with the hefty disclaimer: 'We're still working on *exactly* what it'll look like.'
The short answer is that, even if it does go ahead, it won't look quite like it has for several years.
There are, of course, so many major unknowns, primarily surrounding effective the vaccines will be in combatting both the spread and severity of Covid-19, especially as the virus mutates, and how fast the inoculations can be rolled out.
The UK government's target is to give the 15 million most vulnerable people at east one dose by mid-February, and last month, leading scientists warned that vaccinating the entire UK population is likely to take almost a year, and even after receiving the jab people need to build up their immunity.
When asked today when restrictions would be lifted, Health Secretary Matt Hancock told the BBC: 'We don't know the answer to that question' - echoing Boris Johnson's earlier assertion that it would be too early to say if lockdown would be lifted in the spring.
Opening the sort of Edinburgh venues where social distancing would be unviable involves even more unknowns, even though publicly bigwigs from all the city's festivals have expressed optimism about making a comeback this summer.
What it can be safe to predict is that even if restrictions relax enough for there to be a Fringe this year, there will be a lot fewer people there.
It's hard to envisage many overseas visitors planning a trip, certainly while quarantine is a very real risk, and many many others will surely be nervous about being in crowds and stay away.
The size of the programme, too, will be hit. There just won't be the time to run in as many shows as possible. Certainly theatre productions are likely to be severely depleted with less time for rehearsals, let alone getting sets, props and costumes together . But even stand-ups, who by this time of year might have expected to have working drafts of their shows, have nowhere to try them in front of audiences.
Sure, some scripts could be dusted down from cancelled 2020 shows, if they are still relevant after such a seismic year, although the problem of finding previews to get them festival-fit will still remain.
And all that's before considering the impact of months of near-zero income, which means fewer performers will have the money it takes to get a show up and running. The only minor financial upside is that there's likely to be so much less pressure on accommodation, so those costs could fall. But fewer punters means less income all round.
That will be weighing on the minds of the venue operators, particularly those such as Assembly and Underbelly, that build spaces from scratch. Planning for these sites would normally be under way, and it's hard to envisage Edinburgh City Council even handing out venue licences at the moment. Normally these need to be applied for at least three months in advance - so early May.
Committing any money to such a venture in these circumstances is a considerable gamble - especially as no commercial insurer will touch such a risk. An industry plea for the government to act as underwriter so planning can at least begin on large-scale festivals appears, so far, to have fallen on deaf ears.
Operators letting existing premises, such as Pleasance and Gilded Balloon, might, for once, have an advantage in this regard, given the buildings at least are in place, even if there's infrastructure to add. Both these companies are feeling the financial pinch, with the Pleasance having been unable to operate its London theatre and the Gilded Balloon having to lay off staff and give up on its year-round Edinburgh operation at the Rose Street Theatre.
Existing comedy venues such as Monkey Barrel and The Stand will be best placed of all, of course, to quickly react to any changes in restrictions and get shows up and running. As will the sort of pubs with back rooms – or, better yet, gardens – favoured by the free operators.
This, surely, is where comedy has an advantage. It is a very nimble art form. All you need is a stage, a mic, and some lights – and sometimes not even that, let's face it– and you can put on a stand-up show. Even the slightest opportunity can be seized on by maverick, innovative comic desperate for some stage time.
That, at least, is the theory. When relaxations were eased for the last week of August last year, no last-minute alternative festival sprang up from the collective will of comedians. Stand-up Nathan Cassidy travelled up to London to stage one show – and that was it.
As The Scotsman's critic, Kate Copstick, lamented in a recent podcast with comedy character President Obonjo, last summer could have been a 'massive opportunity' for Scottish comedians.
She said: 'I didn't understand why local comics, who are always mouthing off during Edinburgh about how they're sidelined and marginalised by all these bloody comics coming up from the south and from America and [moaning] ,"why does nobody ever talk about Scottish comics?"…
'Well they had a big chance. Nobody who didn't live in Edinburgh really would have had the cash to go, "I'm going to go up there and get a hotel for the weekend and do it".
'But none of the local comics lifted a finger. The only person who did anything was Nathan Cassidy who came up and did his show in the courtyard of the Three Sisters.'
Copstick also said she was disappointed that audiences stayed away, too, adding: 'I was appalled that so few people turned up. That was the Edinburgh Comedy Fringe.'
But hopefully grassroots performers, promoters and venue operators will be less shell-shocked by the Covid rollercoaster this time around, and able to mobilise into staging a programme. And not just an online one, which frankly would be a disappointment all-round.
An Edinburgh Fringe immediately post-Covid might then have more of that guerrilla spirit that many felt had been lost with its unending growth over the past decade or two.
Low-tech, ad-hoc shows springing up, with comics not looking solely towards the next career move, and audiences hungry to take a punt after months of being starved of live entertainment - and without the big names overwhelming the festival.
Now, that doesn't sound too bad, does it? Vaccines permitting of course…
• Steve Bennett is editor of Chortle.
Published: 24 Jan 2021