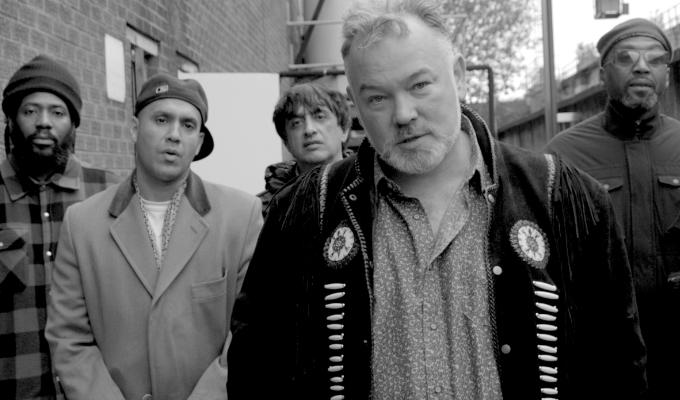 Let's show we don't all subscribe to the worst racist rhetoric of Brexit
Move over Miley Cyrus and tell Ed Sheeran the news. A bunch of protest-music electro-punks and a 52-year-old man who has let himself go are within snatching distance of your shiny pop crowns! And it's all for charity!! Do the decent thing and step aside!!!

As I write this on December 27, Comin' Over Here, by Asian Dub Foundation featuring Stewart Lee, is Number 1 in the Amazon charts, and number 2 in the iTunes charts. I don't even know how the other charts work, or how you calculate a hit single in these digital days. We used to buy music as reels of paper full of holes that you had to feed into a mangle with a ram's horn attached to it back in my day. And it were all just filthy noise back then, not auto-tuned dance-friendly melodies like today's rubbish. Eeee! I remember when this was all Fields of the Nephilim.
But I do know that with your help we could realise Asian Dub Foundation's dream of making Comin' Over Here the top of the charts on New Year's Day, as Brexit finally festers into reality. And we can generate a hefty wedge for the record's beneficiaries, Kent Refugee Action Network, whether it is Number 1 or not.
Without an Instacam or a Tweeter to my name I am hardly a media manipulator, and as people at Netflix will tell you, I am of limited parochial interest. And you are unlikely to see Seann Walsh cavorting to an Asian Dub Foundation track on Strictly Come Dancing any time soon. So how did this strange chart-bound convergence happen?
After their initial impact in a nostalgic Britpop era that was a poor fit for them, the ethno-futurists Asian Dub Foundation have enjoyed a cycle of touring successive acclaimed albums to a devoted following, and developing high-concept side-projects (soundtracking La Haine at Broadwater Farm and performing an opera about Colonel Gaddafi at the London Coliseum) almost beneath the radar.
It's the sort of musical career model I recognise, and one I have done my best to try and apply to the unwieldy world of stand-up. But as the former Teardrop Explodes frontman and Dinky mystic Julian Cope once told me, while standing in a Wiltshire stone circle: 'You have to get through being a has-been and then you can become a legend.'
I told this story to former Confessions Of A Window Cleaner star and Pier Paolo Pasolini protégé Robin Askwith when I worked with him in 2019, and he quoted me telling him it in a recent LBC radio obituary for Barbara Windsor. If something Julian Cope said can end up in Barbara Windsor's obituary via super-spreader Askwith in just three moves, let that be a warning about how easily Covid-19 can be transmitted, and wear your masks in Sainsbury's.
Anyway, Asian Dub Foundation contacted me early in 2020 to ask if they could sample an old routine of mine from eight years ago, about the historic waves of settlement in the British Isles, on their new album, and I was delighted to have it taken out of my hands. I lost control of the bit to Twitter years ago anyway, where it is posted many times a day back and forth in political debates, free of its moorings.
I had the idea for the routine in 2012 when I heard a mad interview on the radio with Paul Nuttalls, the Ukip leader soon to lose his job due to confusion as to whether or not he had been present at the Hillsborough disaster.
I went home, transcribed Nuttalls' words, and wrote a succession of increasingly exaggerated loops of his suspicion of various foreign objects, via modern Eastern European immigrants, through prehistoric settlers, and back as far as all matter and the abstract concept of reality itself. It was one of those rare extended riffs that took about as long to write as it does to say, as opposed to the routines that can take years to chisel out.
I don't even really feel responsible for it, as everything in it was implied by Nuttalls anyway, who seemed to stand at my shoulder in spectral form, guiding my hand. The bit just sort of fell out of my head like a weird egg, broke on the laptop in front of me, and fried itself.
Though I normally police the context of my work as rigorously as possible, I was fascinated to see what would happen to the bit in the hands of Asian Dub Foundation, who saw in the finished routine a comic response to the kind of anti-immigrant rhetoric some players in the Brexit referendum chose to amplify and weaponise, which spoke to their experiences.
I handed over the tapes and waited. And it was a great privilege for me, at 52, to find myself on a record like ADF's, which I think is both powerful and funny, largely for reasons that are little to do with me and everything to do with the group themselves. And I love that fact that they chose to pull out the section where I am quoting the 1,100 year old anonymous Anglo-Saxon poet of The Wanderer, his presence and mine on the record showing that you are never too old to have a hit.
If I had known I was going to be in a pop video I would have got in shape under lockdown and maybe worn a catsuit, like when Lulu performed with Take That. But the band were brilliant on the day of the shoot, between the two lockdowns, and jammed on John Coltrane's version of My Favourite Things between takes, which meant I got a private musical performance of one of my own favourite things in a year where I have rarely seen anything live.
On the EP's extra tracks, ADF's Steve Savale has fitted the spoken word samples of other bits of the routine to the group's rhythms and melodies so brilliantly, it makes me think of Messiaen transcribing birdsong, or the way Richard Thomas nailed American talk show guests' trash talk to classical forms in Jerry Springer The Opera. And when Savale said he wanted to give all the profits to Kent Refugee Action Network and was taking advice from the DJ, activist and chart placings guru Jon Morter on how to have a Brexit Day Number 1, I was delighted.
At the risk of sounding hysterical, I think Asian Dub Foundation are, on this record, true patriots, and great global ambassadors for Britain, who can show the world that we didn't all subscribe to the racist rhetorical excesses of the worst aspects of the Brexit campaign.
Writing in The Daily Mail on fucking Christmas Day, the lead Brexiteer Michael Gove's partner Sarah Vine said the fallings-out she had with Remainer friends means that 'few have paid such a heavy cost' as her for Brexit. This is, of course, to overlook the fact that an MP was murdered by a white supremacist during the campaign for defending immigration, a cost perhaps heavier than having an uncomfortable moment at a 50th birthday party.
You have until New Year's Eve, pop-pickers, to register your pop vote in the pop music pop Referendum of the pop year!
• Download Comin' Over Here, all proceeds to Kent Refugee Action Network, here by New Year's Eve. To help get the track as high in the singles chart as possible, buy the individual track or mix separately, not the whole album or EP, as they count towards the albums chart only.
Published: 28 Dec 2020
Recent Opinions
What do you think?