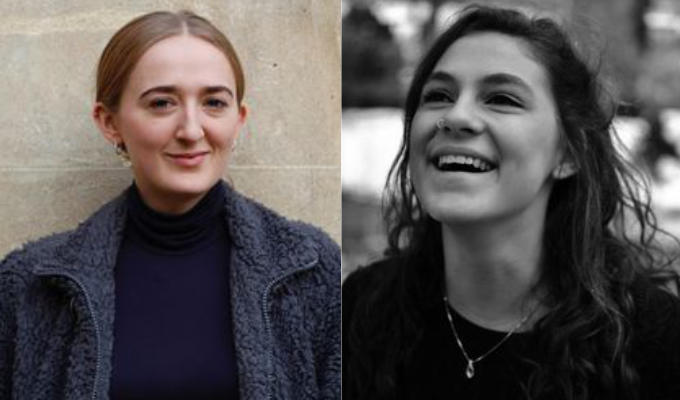 The punchline gap
It is a truth universally acknowledged that men get more laughs than women. According to one study, this means that men are funnier, but this conclusion has nothing to do with content and everything to do with sexism.
We know this only too well as two young women trying to gracefully elbow our way into a traditionally male-dominated industry. As we've both struggled to be taken seriously as comics both in, and out of the spotlight, we've got some suggestions to change things.
The first time I [Rosalie] attempted 'funny' onstage, it didn't go quite as planned. Before I had even had the chance to grace the audience with my ropey one-liners, I was approached by a bloke in the audience looking for the loo.
Explaining that I didn't work there, but, a little smug, was actually on the bill for the stand-up night, I suggested he try upstairs. Shocked that I was, in fact, a comedian, he sneered with what could only be described as the disdain of an 18th-Century lord and in a final deafening blow said: 'Well, you don't look very funny. Best get a drink when you're on.
Blinking back tears, I tried to mumble a half-hearted apology to the booker but it was too late, I was opening the night. Luckily, I got through it – barely – and spent most of my precious five minutes trying to stop my hands from shaking.
Before I had the chance to relegate the night to my mental file of "The Embarrassing Things I Think About When I'm Trying to Sleep Ten Years After They've Actually Happened', I thought about what he said again that night but I had a bleak epiphany; that just by virtue of my gender, I had started my set with minus points.'
This is just typical of the myriad microaggressions female comics face, from Twitter reply-guys to having our own punchlines mansplained back to us. ('Yes Dan, I know it's really funny, I wrote it.')
And this gendered disrespect isn't just levied at newcomers in the industry. Earlier this year, Katherine Ryan had to deal with harassment onstage as she hosted the NME awards. Although she accepted an apology and seemed unfazed, it's probably fair to say that not everyone would have been as unflappable in her shoes (though to be fair, they were a magnificent pair of patent leather boots).
We all laughed it off because she did, but what message does it send to nervous young comics if a woman at the top still has to contend with blatant sexism?
We can all agree that there is nothing more awkward than the excruciating silence after a punchline doesn't land: you're sweating, the audience is sweating, the technician is sweating (more than usual) – it's an artistic terror that no one should have to endure, not even James Corden.
Unfortunately, that feeling is all too familiar for women who, try as they might, have much more to compete with than just 'being' funny. We call this the Punchline Gap.
Punchline gap (noun): the unfortunate fact that men, on average, achieve more laughs than women because of factors beyond their control. Women, on the other hand, find themselves faking their own laughter to placate men. Unsurprisingly, these men will rarely reciprocate.
You might think us overdramatic, but the weight of the punchline gap isn't reserved for the stage. Have you ever made a joke and the people you're talking to either don't laugh, or – more existentially – don't acknowledge that you've spoken? Statistically speaking, it's generally men - characters you only peripherally know, such as 'new mate's school-friend' or 'unfortunate work acquaintance'.
Most of them don't mean any harm by it, they just will never find you funny and react with genuine confusion when you attempt to be so. Even if you tell the same jokes and deliver them in the same way as a (cis-het) man would, they have a sort of hardwired mental block on your humour and it doesn't land.
It's not that it crashes out either, it just sort of disappears off the radar completely, a lot like the plane in Lost. The world continues like nothing's wrong while you spend six lengthy seasons trying to work out what the hell just happened. And when you eventually do, much like with Lost, the apparent answers are not exactly satisfying.
Stacey Abrams, an absolute powerhouse of a politician and campaigner, said in her TED Talk that 'as women… we're too often told that our mistakes are ours alone'. We're so ready to blame ourselves when things don't go as planned and, in an industry that is literally built on measurable external validation, this makes for one toxic cocktail.
Maybe your material could use some work, or maybe it's gold and you just haven't found your audience yet, but the truth is that 'testing it out' isn't really a reliable way for women to assess their material when an audience is thinking more about their breasts than their jests.
So, things look bleak for us female comics. But there are specific measure everyone involved in a comedy night – bookers, audiences and performers of all genders – can take:
Bookers: Shake up the bill
It's not uncommon to rock up to a venue and discover you're the only woman on the bill, or worse still, one of two. When this happens, a silent but deadly clash of the titans will inevitably commence and the two comediennes will compete in an age-old patriarchal ritual for the position of the Miss Ultimate Supreme Funny Woman Lady.
There's only room for one, you see. We're condemned to fight for scraps in a bloody minor league, where we're encouraged to abandon our hard-won feminism in favour of shameless self-promotion and, abiding by a law of scarcity, we fall into the trap of tearing each other down on our way to the top.
Women of colour have it even harder; all-white line-ups may still be considered 'diverse' if they contain women to give a more equal gender balance, even when they do nothing to promote BIPOC [Black, Indigenous and people of colour] performers.
Every time we diversify our line-ups, comedy outlets or TV shows, we get one step closer to closing that Punchline Gap. Faced with fresh comedy faces, audiences are forced to confront their own prejudices and adapt for the better – so, bookers, shake up the bill! Don't just shoehorn one woman in because it makes you look more woke, get a variety of people in and, we promise, you'll have fewer 'Why My Girlfriend Left Me' monologues and penis punchlines.
Audience: Feedback
Unsolicited 'feedback' is something that audience members can be all-too-willing to give to comics, especially if they've had a few pints and fancy themselves the next Frankie Boyle.
But feedback can also be a force for good. Thought the compere said something really problematic? Overheard a performer verbally abusing another comic? Call it out!
While immediately rugby-tackling the person in question might not be the best idea, speaking to a manager of the venue or night and flagging anything uncomfortable is never a waste of time. As an audience member (especially as a paying one), not only can your opinion carry more weight than that of the other performers, but you also won't face the potential consequences of being seen as 'too difficult' and dropped from the night.
That is, unless you regularly spend the evening heckling everyone and only ordering tap water.
Switch it up
Close your eyes and picture your favourite comedians. What do they look like? You can see where we're going with this…If you're still watching reruns of Fawlty Towers and lamenting the cancellation of Little Britain, it might be time to check out what's new on Netflix.
Start checking your biases from the comfort of your own sofa, and bring that open-mind to the next open mic night you frequent.
Performers: Start your own night (or online collective)
If you can't beat 'em, join 'em. If the bookers aren't giving you those hot headline slots you're ready for, then maybe it's time to give them some incentive to change – because if they don't, you're gonna be stealing their customers!
When it's your night, you hold the power – and (finances depending) you can try to book all the acts you want to, and amplify the voices of a more diverse range of comedians in the process.
With the right advertising, it's likely that your audience will be like-minded and up for what your night has to offer. And even if they're not, it usually doesn't matter because, at the end of the day, you have a microphone and they don't.
Published: 7 Sep 2020
What do you think?