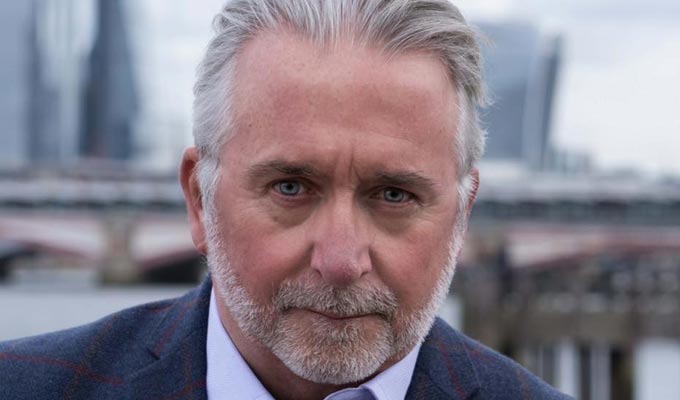 'This was big challenge: no old gags, just new material'
In the 1990s, Jeff Stevenson was a journeyman 'old school' comedian, performing on cruise ships, doing TV-warm-ups, panto, and the occasional bit of acting. But then – as he describes in this article – he dipped a toe into the 'alternative' circuit, and suddenly found himself reinvigorated…
---
In September 1999, in my late 30s, I was doing the warm-ups for Ready Steady Cook. Even though the show was nice to work on, every day seemed like Groundhog Day. We recorded three shows a day and I was just going through the motions.
This was the only time in my career that I felt like this. I did sign with a new acting agent who managed to get me the odd commercial and corporate film but not enough to enable me to give up the warm- ps.
At this time my wonderful wife Jane fell pregnant and so I was starting to think about the future. I didn't want to be an old warm-up comic that lived on memories.
One day at the Ready Steady Cook studios I was reading a magazine called Time Out. I always used to go through the comedy club listings as I liked to go and watch the 'alternative comics' and had done so for many years. Even though I was a traditional mainstream comic I did try to be more original and I would always write a lot of my own material.
But a lot of the gigs I performed at you had to tell 'joke-jokes' if you wanted to survive and get paid.
I noticed an ad for a stand-up comedy course being run at a club in Hammersmith called The Cosmic. The course would be run one night a week by a guy called Michael Knighton. I don't know what made me do this but I called the number and put my name down for the six-week course. My thinking was that I could learn to be an alternative comic and try to get on to that popular circuit.
So the following week I pitched up at The Cosmic and there in the room were my fellow students for the next six weeks. Michael asked me what I was doing there and what I wanted to achieve. I said I just wanted to have a go on the comedy club circuit and would love to write a new act.
He said all he could do was teach me to write and ditch material. So we all had to get up and introduce ourselves from the stage. This was in an empty club and I found this more nerve-wracking than a live TV show. When I said I was an old mainstream comic who's been around the block many times but now wanted to write more they seemed a little bit surprised
I was there. In the group was the bar manager Dave Russell, who I nicknamed Cosmic Dave, Steve Halford, Pam Ford, Inky Jones and a radio producer, later to be TV presenter, Mark Dolan. We would get up every week and perform a few minutes of the material we had worked on that week. This was a big challenge for me – no old gags, just new material.
I enjoyed writing again, only this time I started writing a lot more material that was just about me and my life. I embraced the challenge and within weeks I had ten minutes of brand new material.
Cosmic Dave asked me if I would be prepared to get up and do my material in the open spot night the following week. I agreed it would be a great way to try the material out in front of a crowd. On the night, I walked in and there was a board with all the names of the comics on. I asked why the names were up there and Dave told me it was a competition and the winner won £20.
I said I wasn't happy about having my name up there for a competition as it wouldn't look good. He suggested I use a false name, so I said 'Put me down as Harvey Oliver'.
I went on as Harvey that night and did five minutes of my new material and it was like I'd come back to life. I was nervous, I was full of adrenaline and I had to think. All the material got big laughs and I finished with a rant about all the docusoaps that were on TV at that time. I came off stage and went straight to the bar and enjoyed a large glass of wine as I felt I had earned it.
They started the voting at the end of the show and I heard my new name get a big cheer. I'd only won the twenty quid! In the following weeks I started going out to any comedy club that would have me and doing open spots. Every gig got better. I kept it quiet that I was an old mainstream act. I would sit in the club waiting to go on and some of the acts would ask me how long I'd been doing the open spots. I would just say that I'd been doing them for a few weeks.
Some of the comics were a little condescending towards me when they found out I was from the mainstream circuit. But most were a delight and when they realised I wasn't there to steal their material they made me very welcome.
I got in with a lot of the clubs: Downstairs At The Kings Head, The Bearcat, The Comedy Cellar, Up The Creek and then Jongleurs. The diary filled up with all these lovely gigs and I was working with other comedians and not warming-up a main course!
The bookers at Jongleurs, Julia and Donna, kept me busy almost every week doing their clubs up and down the country. In no time I progressed to being a headline act and I never regretted doing that comedy course one bit.
I worked with some great comics who went on to become big stars like Jimmy Carr, Mickie Flanagan, Sarah Mulligan and Kevin Bridges. I worked with a comic one night who died on his arse and then took the piss out of me being from the old cabaret circuit. I told him where to go and went on and stormed the room. It was John Oliver, now one of the biggest TV stars in the US. We have laughed about it since.
I worked the circuit for ten years and Harvey Oliver was good to me. Every now and then he would take a rest and Jeff would take over and do a few cruises and the odd corporate gig, but doing Harvey made me want to write more.
Sadly I had to retire Harvey Oliver as Jongleurs closed their clubs and I had to go to sea more often if I was going to pay the mortgage. I still go back to do the comedy clubs when I'm home, but I now work under my own name as I couldn't care less being known as an old-school comic.
The comedy club circuit seemed to fall apart overnight. Jongleurs closed most of their clubs and there wasn't enough work to make a decent living. The warm-up work was now almost non-existent as the younger producers wanted to book younger warm-up comics.
I was never one to sit around waiting for the phone to ring so I asked my cruise agent to get me as many cruises as possible. As a result of this, I have been one of the busiest cruise comedians for the last ten years. One year I had 46 weeks of cruises in the diary.
I am always saying 'I love my job'. I really mean this: I am so lucky that I get to perform in the most unbelievably nice theatres. I perform to audiences from all over the world – to hear big laughs from an international audience is music to my ears. I get to travel to parts of the world I would never be able to afford to visit. I have worked with so many brilliant and talented performers on the cruise ships and so when I hear Simon Cowell knocking the ships it makes me mad. Especially as most of the acts that win his shows end up working on the ships.
I'm 60 next year and so I am not sure what the future will be. I hope that the cruise work will always be there but I would also like to do more work at home so I can be with my family.
I love watching my old mates doing well on TV and in the West End. They made it but so did I as I love what I am doing and I'm still busy.
• This originally appeared as part of a series of 'memoirs', Jeff Stevenson has been posting on his Facebook page
Published: 14 Apr 2020
Recent Opinions
What do you think?