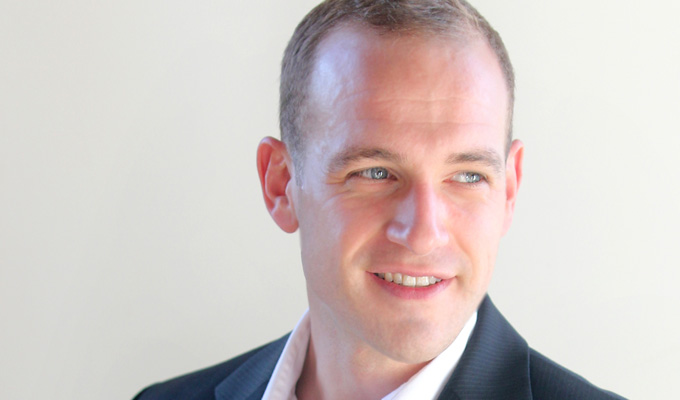 After my dad's suicide, comedy wasn't funny any more
The first laugh I ever got was at age three, and we were sitting around the campfire.
My father was a voracious reader, and I was jealous of the attention my sister could demand just by talking about Nancy Drew. I took a shot, and gave a voice to the silliness and sugar of the day.
'Spaceship, woodpecker!' I did an impression of a German scientist I saw in a Woody Woodpecker cartoon.
That was the first time I'd made my dad laugh. My sister was not amused; her story was cut short.
I had discovered a way to connect with my dad—and I would spend my formative years persistently trying to make him laugh.
I gravitated towards all things funny: movies, TV, joke books, etc. I made MAD magazine my subversive bible, and became the class clown and the mouthpiece on my sports teams. I landed in the principal's office many times, but it was worth it. For me, making people laugh was a higher calling than learning to spell.
When I found my dad's copy of Let's Get Small (Steve Martin) I discovered that what had been getting me into so much trouble in school, could actually be rewarding. Until that point, I had no idea that other adults actually enjoyed jokes.
As I approached legal drinking age, there was a general consensus among my friends that I was to try stand-up. On a couple of occasions, I was asked when I was going to do my first show—long before the thought of performing had even occurred to me.
Soon after my 19th birthday, I took a crudely constructed five-minute set to a local comedy club's open-mic night, and I performed on stage for the first time.
I was a bad student, athlete, employee, and boyfriend—but with comedy, my life suddenly made sense. Something inside of me had suddenly been turned on.
Needless to say, that set went very well...and I am still chasing that first rush.
I began performing as much as possible, and in my first three years would win the local Just For Laughs contest, sending me to Montreal—where my performance led to me signing with a Hollywood manager. I would star in a television comedy about snowboarding, and I made it to the finals of the Seattle International Comedy Competition, which led to a flight to LA and interest from a major network.
Over the next few years, I performed to rave reviews at the Just For Laughs gala, and had a big-time manager. At just 25 years of age, it seemed that my career in comedy was really going somewhere.
On a frigid Montreal morning, I received a phone call from my mother. Very calmly, she told me that my dad had done something stupid. On 27th of January 2004, she told me that my father had taken his own life.
I was numb. It didn't feel real...and the shock would last for a very, very long time.
My dad and I had always been close; even if we didn't speak for long stretches of time, we had a connection through the wickedness of our senses of humour. Although he wasn't much of a provider, I was able to have him in my life as a friend, rather than as a parent.
A few days after I heard the news, I received a check from my dad for a small claims action he'd filed on my behalf, against a club owner who had stiffed me on a couple of gigs. It was a good bit of money for a struggling artist; my dad had finally offered me some form of financial support.
A note in the accompanying letter said that it had been a hard year financially, and all I can do is assume that it was the money problems that led to the marriage problems, that led to him doing the unthinkable. I have to assume that, because his wife wouldn't share any info, much less a note or a phone call. She was probably too busy with the entirety of his life insurance payout. My father left nothing to me or either of my two sisters—which wasn't really a big deal, as he never really supported us before—to this day, I really couldn't care less.
Anyway, stiff upper lip and all that.
So your dad is dead… in the weirdest way possible, there's no time for moping around; you have shows to do.
But there was a problem—something was different. For a long time afterwards, I thought that it was normal to 'fake it' on stage, especially after such a traumatic event. But after a year...and then two...and then three...I was still faking it up there. Still performing and working, but faking it.
I guess the effort I put into trying to impress my dad went a lot deeper than I ever thought possible, because the part of my being that switched on the night of my very first stand-up show...had switched off when I heard that my dad had killed himself.
Whether I liked it or not, my ambition toward a career in comedy had been with the hopes of someday being able to lay the spoils at his feet. Suddenly, however, there was no need to even try. If you create yourself based on the wishes and esteem of someone who then proves themselves to be unfit mentally, you begin to question everything. What do you think about the ship, when you see the captain jumping overboard?
Nothing made sense. Was I going to meet the same fate? Following in your father's footsteps is often default option for a lot of people.
I suddenly became deathly afraid of having intimate relationships; like my father's, I assumed they might possibly end in death. It seems funny to think of love as fatal, but if your father is your biggest role model—well. I thought if he had that capacity...maybe I did, too.
Serious relationships were out. And then I started to see stand-up as a sickness. It had been my dad's favourite thing—and therefore, forever tarnished by his decision.
'Who else needs the validation of a room full of strangers to fill the hole in their soul, but the sick and the damaged?' I thought. I was a natural comedian; it wasn't just a job, so it was I who was sick. I wasn't a plumber who hated plumbing; I was a fish that hated the water, and everything in it.
I was still a comic, and I could still do the job, but I got by on being merely a joke technician. Write, test, perform, catalogue, but never connect with the crowd. Never have fun. Just fake it.
I didn't want to be there; I would scold the audience for being stupid if they didn't like me, and for being sycophants when they did.
The whole atmosphere of comedy began to irritate me. I began to see other comics as sick, like me. How was I to get better, surrounded by so much mental illness? Shows with other comics became holidays with the relatives- you drink to get through it.
Ask any performer or athlete about why they do something so intense and full of pressure, and the answer will invariably be for the love of the craft or the game. Love cuts through the nerves.
I had all of the nerves and none of the love. I would drink to get through the nerves and to cut the boredom. Throw in a heaping helping of competitive social misfits whom I resented, and you have the perfect storm of acting out, and generally being a perfect asshole.
I'm sorry I was miserable...but...I was miserable.
My greatest hits from that point would include showing up unprepared for a Just For Laughs show, dropping out after making the second round of an international comedy competition, getting drunk before the final show of a $20,000 contest—up to which point I was way ahead in the score. I was the Picasso of self-sabotage.
I didn't want to win, because if I succeeded in comedy, I would have to do more comedy in other places. No, thank you.
Even 12 years on I had still not properly dealt with my dad's death. A road pig comedian in a tiny market. But in 2016, something happened.
Several things may have triggered it. Perhaps it was realising that movie stars have to shoot in the desert and snow for insanely long hours, or that musicians have to keep time to songs they have long wanted to leave behind, or that most people do a job they are tired of or never even liked in the first place. I realised that being paid to hang out and tell jokes for an hour a night and getting paid to travel was actually a pretty sweet deal.
I saw the Don Rickles documentary Mr. Warmth and saw the way Don and Johnny Carson just had fun. I am in the same line of work; I shared the same dream and I used to have so much fun. A wave of realisation broke over me that regardless why I was, I was a comic, like it or not. And it isn't sick; it's really fucking cool.
I wasn't my father, and I had no intentions of following in his footsteps. Regardless of who I had built myself for, I had built myself the way I wanted.
And with those seemingly mundane realisations, it happened: that part of me that switched off in 2004 switched back on. I felt like my kid who had been missing for 12 years had suddenly turned up, alive and well. Twelve years older, but smiling and happy, as if he had never left.
So I am writing this to explain why I was so dark and stormy for those who never knew me as any different. I hope that I have begun to change my reputation from that of a drunk, bitter, self-sabotaging asshole, to something closer to who I really am: a drunken funny guy with asshole-ish tendencies.
Also, I hope that if you are ever entertaining the thoughts that you are all alone, or that the world will not miss you, or that you're becoming too weak to hang on any longer… you must get help.
The ripples that your life creates radiate farther and more powerfully than you will ever know. With some new perspectives and realisations, you could switch right back on.
Published: 12 Dec 2019
What do you think?