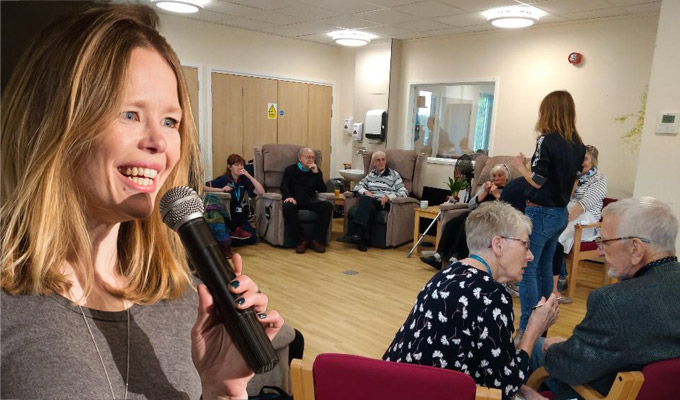 What's it like to perform comedy in a hospice?
When my friend Bel was in the final stages of cancer, her husband busted her out from hospital and took her to an end-of-life hospice – in doing so she spent her final days in a place of peace, not of beeping machines and overstretched staff.
My brother-in-law's wife Paula spent weeks in a similar place where I had the opportunity to sit and paint her nails and discuss how our daughters were lucky to have been born So Close together. Saying goodbye to these two women – both with children the same age as my own – was part of what inspired me to do stand-up.
So, when a local hospice asked me if I'd perform a one-hour set as part of their diversionary therapy, I didn't hesitate in saying 'yes'. And then I crapped my pants a bit. I was to be the entertainment to a group of people living with cancer and neurological conditions. In the middle of the day. In a well-lit room without a microphone or a stage.
My principal concern was whether I had enough of the 'right type' of material. The reliable piece about my dad's death was definitely out. I wanted to keep it light but at the same time not entirely neutralise my performance. Just because you've got cancer, doesn't mean you don't like your comedy with swearing in it. I was also especially conscious of 'taking care' of the audience – I don't go in for picking on audience members in general but in this instance, I put in extra effort to make people feel at ease.
The material I chose was tried-and-tested stuff that works well with mixed audiences (how to hide the number of empties in your recycling bin, why my dog is a bloody nightmare and the near-pornographic properties of cycling Lycra) so I walked in feeling confident until I saw that I was going to perform in the round – something I've not done before. And then I reminded myself that any fears I had about performing paled into insignificance compared to what the audience will have coped with or were facing.
The performance itself went really well – I got plenty of laughs and a bit of audience participation. It felt good to take stand-up to people who may struggle to access comedy due to treatment timings and side effects. Unlike some of my other gigs, I spent a fair amount of time chatting with the audience afterwards: one lady was keen to share her experiences of road cyclists while another wanted to talk to me about her treatment plan. And – for balance – there was one guy who said when he heard I did poetry in my act he thought it would be 'a bit more Wordsworth' – sorry about that…
I donated my time as a way of acknowledging the value of the service that hospices provide and in honour of Paula and Bel. That the hospice – the Sue Ryder Palliative Care Hub in Berkshire – was open enough to bring comedy through its doors showed me how committed they are to helping everyone feel like people, not patients.
Published: 25 Oct 2019
What do you think?