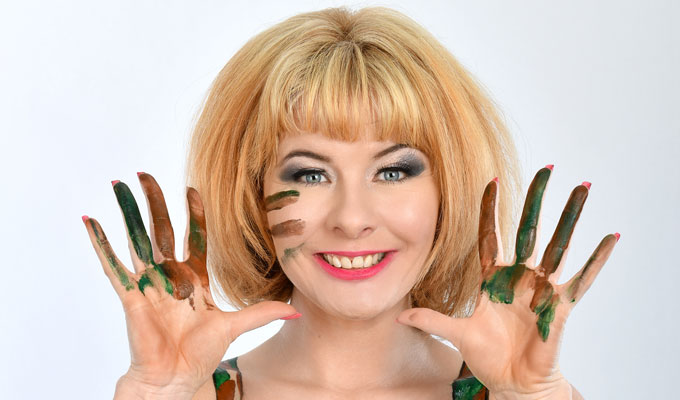 What comedians can do to improve mental health
⬛BY SAMANTHA PRESSDEE
Yesterday it was reported that Jeremy Kyle is set to make a TV comeback after his show was taken off air this year, following the suicide of participant Steve Dymond.
It angers me that it took a suicide to get this barbaric show shut down and it angers me more that Kyle seems to have skirted any consequences, refusing to appear before a parliamentary committee in June.
For years, vulnerable people have been lured into the clutches of producers with promises they will 'get help'. Few receive real support, it fact quite the opposite. When clips were uploaded onto YouTube, pain is exploited for the entertainment of the masses for years to come. This is schadenfreude culture.
Every year, one in four of us will experience a mental health problem. More help should be available for those struggling. We are encouraged to talk about our mental health to break stigma, while the actions of those exploiting vulnerable people, have until, recently been ignored.
MPs have now blasted the Jeremy Kyle Show, but instead of just pointing the finger at TV executive, they should be doing something to provide better care for the people who end up on shows like that out of desperation.
I chronicle my own fight with the welfare state in my new Edinburgh Fringe show Covered. Aware that I am not alone in my battle, I reached out to fellow comedians and wellbeing experts as part of my Pulling it Together project. Comedian Laura Lexx, whose performing her show Knee Jerk in Edinburgh, said 'I got so frustrated this year when for mental health awareness week Downing Street was lit green to show it was OK to talk about mental health. I just thought, yeah we're talking about it, but you cut all the funding from doctors and mental health professionals. I had to wait six months to see a therapist!'
My mental breakdown happened five years ago. I could feel myself spiralling following the death of my dad. There was no mental health support for me in my community, it was only when I went into psychosis that I was given treatment. It started with me being locked in a police cell for two days – 'a safe space until a bed becomes available on the NHS,' the police officer told me. I was treated like a criminal in my hour of need. It's no wonder some would rather turn to the likes of Kyle.
It's not just the state contributing to this culture of schadenfreude. We still face stigma from individuals and groups. Comedian Juliette Burton says: 'I got trolled really badly in 2015, due to expressing an opinion on the "beach body ready" advert.
'I was told that I was ugly, fat, useless and stupid and that I was a first-world feminist. Then when I went public about my mental health conditions the trolls were like, "Oh well if you're crazy how can anyone trust anything that you say?"'
With austerity and social stigma making it difficult for those of us in distress to get our needs met, it's important that we step up as individuals and organisations to support each other. Those of us appearing in the public forum, whether as a participant on a TV show or as an artist in the Edinburgh Fringe, need to take measures to protect our mental wellbeing. We are exposing ourselves to judgement and potential harassment.
I am happy to see that the Fringe Society has partnered with organisations such as Equity, NHS Lothian and British Psychological Society, making the mental health of its participants a priority this year. They are offering a variety of mental health and wellbeing events, including free massage sessions. Massage can be a godsend to someone who is feeling tense and isolated. Human touch is comforting and can create changes in the brain chemistry enabling us to feel more supported and relaxed.
As part of my own mental health recovery, I was eventually given a personal budget for social care from my local council. One of the services I could use it for was massage.
My budget recently got cut thanks to the austerity drive and the powers-that-be deciding massage was not something that was enabling me to stay well, but a luxury. I think I deserve that bit of luxury after the trauma of being locked in a police cell! My massage would cost £30 but if I were to be readmitted to hospital that would cost the NHS around £400 a night.
Mindful Mondays is another workshop on offer from the Fringe Society and Spotlight. Life coach and clinical hypnotherapist Andrea Bradley says: 'One of the most important things is mindfulness practice. That can sound quite daunting, but all that really means is being present in the moment.
'Anxiety tends to arise from worrying about things that have not yet happened, so recognise the fact that you're in a moment where that hasn't happened maybe by stamping your feet or having a glass of water or just doing something simple that you enjoy doing.
'Have an ice cream, ring a friend, watch a movie. Something that makes you feel better, but then recognise the moment that you're in when that's happening.'
Comedian Dave Chawner recommends putting an "out of office" response on emails. He says: 'Being accessible all day, every day, makes me anxious I'm missing out.
'I'm constantly on my phone, worry about what I should be doing rather than what I am doing. Putting my "out of office" on helps relieve that anxiety and helps me to be in the moment. Sometimes taking a break from the electronic attachment at the end of your arm can actually help put things into perspective.'
Lexx is also mindful when it comes to screen time. 'I take regular breaks from social media. I'm moving away from Twitter, because Twitter is the one that makes me sad. If it wasn't for being a comedian and feeling like I ought to have it. I'd have cancelled my account a long time ago.'
With mental health services overstretched, it's good that communities are coming together to look after one another.
The Edinburgh Fringe is a highly pressured environment. It can be a drain on anyone, especially those who have pre-existing mental health issues.
Nutritionist Michelle Aucutt suggests: 'Drink water, keep yourself hydrated. Make sure you're taking the right vitamins and minerals. I encourage batch-cooking if you have a busy life and eating the rainbow – anything fresh, green, yellow, red. Fresh is fantastic.'
Sometimes laughter is the best medicine and that is something we will have in abundance at the Fringe. As Burton said on my podcast: 'Humour and comedy has restorative powers. It has the power to break down barriers and increase understanding; it's a way of tension relief.
'In its purest form, a laugh is a way to relive a moment of tension. Mental health and other disabilities create tension in society because we're still not comfortable with it.'
In austerity Britain with support services cut and disability benefits difficult to access, it's nothing short of a tragedy that some people feel like their only hope of getting health and social needs met is to enter a bear pit, like the Jeremy Kyle Show.
More than ever we need to pull together to create a more compassionate and supportive culture. Let's take note from the Fringe Society and work to make these activities available to communities and workplaces nationwide.
• Samantha Pressdee's show Covered is on at PQA Venues @ Riddle's Court at 4pm daily. Quotes for this piece have been taken from podcasts and blogs for www.pullingittogether.org.uk
Published: 12 Aug 2019
What do you think?