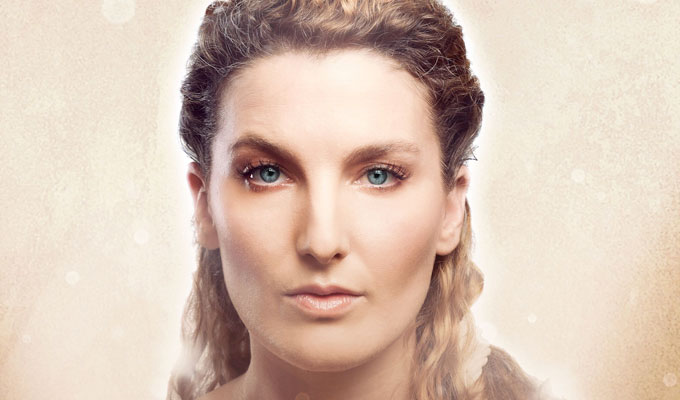 What are you wearing?
If you see a lot of live comedy you'll know that when you think of a stand-up comedian's clothes, what comes to mind is a dude wearing, either a T-shirt and jeans, slacks and a button-up shirt or (if it's television) a shiny suit.
Traditionally, and still statistically, your average stand-up comedian is a man, and it seems like an odd thing to talk about what 'average man' is wearing. We're used to men's clothing choices being fairly invisible; not in an emperor's-clothes-visible-penis kind of way, more in a nobody-pays-attention kind of way.
But if you've ever done a gig without proper lighting or sound, you'll realise that a lot of the things that seem invisible in a comedy gig are vital to the sense an audience has of what's going on (ideally, comedy). The difference between a maniac shouting in a corner, and a professional comedian can be nothing more than a microphone, a lighting rig, and that button-up shirt.
I remember having a conversation with the Australian comedian Adam Richards, about his mission to tell young open-mic comics going on stage that they needed to wear 'respectable' clothes on stage.
His motto was "everything you wear on stage is a costume, everything you bring on stage is a prop", and he wanted them to realise that their sloppy tee-shirts and jeans were sending a message to the audience.
He suggested that the slacks-and-button-up were a sort of 'polite neutral' code. They tell the audience on a subliminal level that you're in control of your life, and that you've made some effort. If you're going with the T-shirt, it should be a choice.
I asked Adam what he thought 'polite neutral' was for women. His answer was that women's bodies are so loaded with artistic and theatrical history that there's no such thing as a universal neutral for women. That women's bodies are read by an audience as having an inherent meaning, and the closest you can get to having control over that is by being aware of what your body is saying to people, and either lean into that message or dress against it.
This is true. Three men wearing the same business suit look very much like the same message, whether they're fat, thin, or muscular. Put three women in a pencil skirt and button up white top, and you get three very different cryptograms.
Any woman with a big bra cup size will know the frustration of being called provocative or treated as though she's being sexually aggressive for the offence of wearing a normal shirt while simultaneously having massive knockers. As though your tits were a hat you've chosen for the day.
Likewise, women who are fat will know what it's like to be told what you're wearing looks 'sloppy', no matter what it happens to be. Women are treated like they've chosen to wear their bodies in order to be either aggressively arousing or a deliberate boner-killer to men who are into or not into their body type.
Then of course, there are character acts, both male and female, who are very aware of the language of clothing, playing out exaggerated costumes, chosen to disrupt those neutral norms, signal weirdness and unpredictability, mess with gender norms or caricature a type.
What you wear on stage speaks volumes, and I was intrigued by how consciously people deploy that language. I spoke to some of my colleagues about what they wear on stage and why.
So how do you dress when your body's already a costume? An Australian comedian friend said: 'When I first started, someone said they dress down on stage because sometimes women in the audience become threatened if they're there with their boyfriend. I found this to be true. Then promised I would wear high heels every night as a challenge to be funnier than I was well dressed/feminine. As a result, I can do anything in heels now."
JJ Whitehead said 'currently I'm wearing clothes that are travel friendly, I'm just comfortable'. He thinks what you wear on stage can affect how an audience sees you but he thinks it's more of a psychosomatic impact: 'I'm a little bit superstitious sometimes, I'm conscious if I'm wearing new clothes, but I think it's all in your head.'
I asked him if he thought it was different for women, and he said, 'I think that women, it's harder because you can be [seen as] too fancy. A man can't be too fancy. If a man comes out in a bow tie, he can get a laugh out of it."
Wendy Wason said: 'I dress up for gigs. It used to be because I felt like I was on a night out without the kids, but now it's to feel like I'm "at work". I like heels. It makes me feel like a boss.'
Samantha Baines said, "I used to do jeans, baggy top and heeled boots as a staple. Now I dress up a bit as I feel more confident but I can't seem to have a good gig in a dress.'
James Nokise says he tends to change up what he wears depending on the theme of his show. 'Choosing what I'm going to wear for a show helps me get into the mindset of that show… when I was touring Australia for three months, I came up with a costume that was essentially a sports uniform."'
The theme of the conversations I had, was mainly that women were very conscious of their bodies were received by the audience while they were on stage, and whatever clothes they chose were alert to a set of expectations, whether they leaned into those expectations or defied them. Men tended to be aware of what they wore on stage, and for the most part (with the notable exception of queer acts, absurdist acts and clowns) articulated their clothes choices as a matter of ritual, comfort or habit.
What does all that say about what the things we wear say about us? Maybe the politics of the clothes we wear and the bodies we bring onto the stage are no more than a magnifying mirror of the politics of the outside world.
In the end, I found the conversations I had with my colleagues about what they chose to wear on stage opened out into broad and deep insights into the ways they negotiate their own identities, and frame up the transition from performing their real lives off stage, to their live performances on stage.
• Alice Fraser's new stand-up show Mythos will be at the Gilded Balloon Billiard Room at 20:45 during the Edinburgh Fringe. Details.
Published: 14 Jun 2019
What do you think?