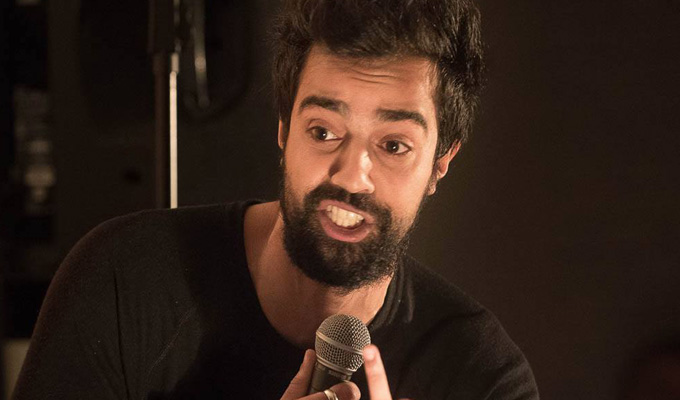 Why I'm going to enjoy every moment of this Fringe
August 24, 2014. The last day of my second ever fringe: I'd been waiting for this day for so long. Not because it was the final day, and I could soon relax, but because finally, the one review I'd had this festival was coming out: The reason I was here.
I had spent so many wasted minutes clicking refresh on that page, and finally it was here, and I remembered that show. The audience were laughing, and clapping lots! It had to be a good one. Loading… Loading… Loading… 2*.
I was distraught. I was heartbroken. I came up here, and invested so much time and effort and energy into getting some press recognition, and this is what they recognised me as: 'Walking into the show, everything seemed exciting. Rahul was at the door cajoling passers by with charm and verve. It seemed like we were in for the perfect show: yes, nuanced, well crafted powerful comedy. That was what I was expecting. What came, was something very different. Not comedy, more toilet humour and polemic dressed up comedy. After all, what is funny about child abuse and terrorism?'
This review went o… I say review, I mean polemic and toilet journalism dressed up as a review for about 600 words, and essentially went on to say I'm the most offensive, unfunny, piece of shit comedian that's ever comedied. Now I've dealt with worse in my life, but when you've invested so much into something you believed in and be told not only it, but you as a human being are worthless: that does hurt.
Eight days ago I was driving up to Perth, for a road trip, I hit a puddle on the M90 going around 55mph, now I don't know exactly how it happened, but the next thing I know I was spinning, then I was going backwards up the M90, then I remember thinking 'OK we'll hit the barrier, and there'll be damage to the right hand side of the car, but nothing it can't handle.'
But there was no barrier. So we went up a bank, and as the car rolled over the first time, I remember thinking two things: 1) 'How the fuck did this happen!??!' And 2) 'Well you had a good innings mate, we all get bowled out at some point'.
What then happened was the roof of my car cracked into my skull, so I didn't remember rolling the next three times that witnesses have described. I just remember next being on the side of a road, out of my car, rain pelting down on me, and a woman holding up my neck saying: 'I'm a nurse, I know you're delirious right now, but you have to listen to me. It's vitally important you hold up your neck to avoid any long-term spinal injuries.'
The ambulance came, put me in a neck brace, put me in a stretcher, then Dundee A&E. The policeman who reported the incident said I was incredibly lucky to walk away alive. The chances of me walking away without any long-term injuries seemed as likely as me being nominated for best show this Fringe. But I did... walk away relatively unscathed that is.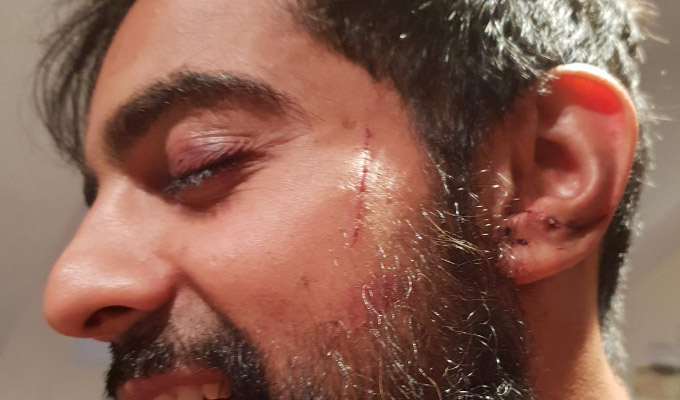 To be honest, it still doesn't feel real. I go over so much of that day in my head thinking what if anything could have been done to change things that day? Could I've gone slower? Should I not have applied the brakes? Did I apply the brakes? Who the fuck even goes to Perth for a night out? Where was the barrier? Why did it have to rain?
But it's done now, I can't change it: it was just on the cosmos/God/fates/whatever you call it's agenda that day. That ten minute gap in consciousness makes me feel like none of this is real, but insurance premiums aside, it's given me a new lease on life.
I still would like the press recognition for my comedy. I've chased it every Fringe, but I've come to accept it's probably never coming. But fuck it man: I'm here, and I'm lucky to be so. Not just because of the accident, but I'm at the world's biggest arts festival, doing three shows a day to crowds of actual laughing people, and every night I get to perform, mingle and drink with old friends and new.
We're all immensely privileged just to even be here, and it's hard to realise that when there's a 2* review, an empty room or a full yet silent room staring at your face.
Now if not one reviewer comes, if not one audience member turns up, if every joke I perform in front of a crowd dies the way I was meant to… well fuck it at least I got to drink a pint in the loft, watch Newcastle with Masai Graham in the Three Sisters and flyer all those slow-as-fuck, annoying, arrogant fucking tourists on the Royal Mile, as they tried to deny I exist. Who gives a fuck if they look at me like I'm a ghost? I'm not a fucking ghost
If you're a performer reading this, I hope you can see it from that perspective too, and if at any point you're down in the dumps, and on the cusp, well just try and nearly kill yourself. Don't do the full shebang, but just come really close: pick a fight with Martin Mor, sing 'It's Coming Home' in Leith, or just you know go out, and enjoy every moment: the flyering, the performing, the drinking and the rain because you never know when the journey may end: comedy or life.
And remember the most important thing: none of this is fucking real, I promise you that. Your jokes are lies, the person pretending to be engaged in your conversation is looking over your shoulder for someone more important, and that bartender who rejected you doesn't even have a boyfriend.
But then that's easy for me to say: I've had a great poster quote since 2014 anyway: 'the perfect show: yes, nuanced, well crafted powerful comedy' – Horatio, 22, feminist, vegan, theatre critic.
And while you're enjoying yourself, you should come and see both my shows:
All My Heroes Are Dead, In Jail Or Touched Up Your Nan at the Stand 4, 9.25pm. And the eerily titled Newcastle Brown Tales Part II, Death Around the Corner at the Hanover Tap, 6.25pm
Note: it's very easy for me to enjoy the fringe because while I survived that road accident, I survive the Fringe through making money here. Of course, I make money at the Fringe: my dad runs a corner shop, and my best friend flips drugs: I know how to do free enterprise.
The venues I work with, the way I navigate the festivals, and other factors allow me to earn a living while doing this festival. That cannot be said for many if not the majority of acts at this festival. But that's a different article for a different time.
Published: 6 Aug 2018
Recent Opinions
What do you think?