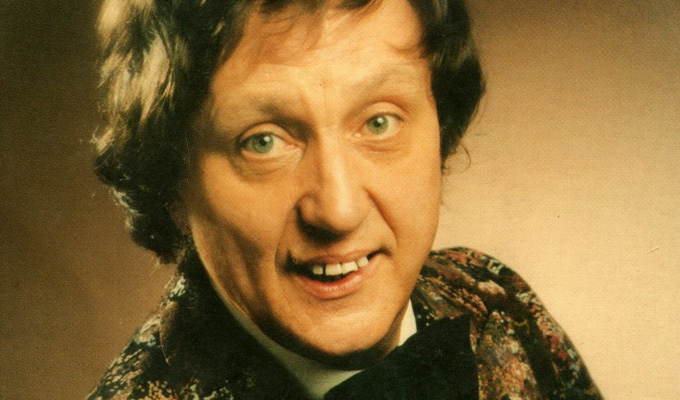 'Comedy for him was never a weapon; it was always a tonic'
Today was the first time in my life that Ken Dodd made me cry instead of smile. No one else came close to his mastery of the art of making another human being laugh.
'My act is very educational,' he liked to say. 'I heard a man leaving the other night, saying: "Well, that taught me a lesson!"' In fact, his act was educational. It taught us how pure and powerful, how honest and positive, the business of entertaining people could be.
There was nothing divisive about the comedy of Sir Ken Dodd. It was meant for the entire nation, not for any particular niche. It didn't matter to him what sex, race, age or class you were – all that he cared about was coaxing another laugh from out of the hole in your face ('anywhere else and you're in dead trouble!').
There was also nothing cruel about his humour. Comedy for him was never a weapon, it was always a tonic. Regardless of our many differences, he knew that, in spite of them all, what we still had in common was our ability, and need, to laugh, and Ken Dodd dedicated his life to flexing and strengthening our collective 'chuckle muscle'.
In a sense, he was born into the wrong era for him, but the right one for us. His love of the intimate immediacy of live theatre left him looking, increasingly, like some strange and exotic throwback to a time before radio, television and online videos, a time when comedy was a genuinely communal event, but that is precisely what made him so special, so precious, for us.
Ken Dodd was not made for close-ups and commercial breaks, let alone panel shows or Internet events. He was made to tour the country, again and again, standing in front of a new audience each night, doing his best to make their day.
He was an extraordinary student of humour. He read widely on the subject, and could quote and evaluate everyone from Aristotle to Freud, from Francis Hutcheson to Henri Bergson, on how and why we laugh, but, even more impressively, he studied audiences, too.
Everywhere he went, for many decades, he had someone in the wings, noting down anything that might help him to shape and sharpen his act: what the weather was like, the temperature inside the theatre, what was in that night's national and local news and how it affected the mood, what gags worked best (and worst) in particular towns and regions – it all went into the book. This knowledge was used not to accentuate the differences between audiences, but rather to cultivate their connections. Ken Dodd always wanted to engage and amuse the broadest possible community.
He had some help in achieving this during the early years of his career in the form of the writer Eddie Braben. Braben might now be associated most closely with Morecambe and Wise, but, in terms of the closest fit in his comedy career, it was arguably his earlier partnership with Dodd that worked best.
They met in the mid-1950s, and, both having been born and brought up in Liverpool, and nourished in northern humour, there was a natural bond between them. Forging a professional relationship that would last for fourteen years, the two men served as the ideal stimulus for each other's nascent talents.
Dodd, with his insatiable appetite for original material, pushed Braben to new heights of productivity, demanding a ratio of seven jokes per minute in shows that lasted several hours. Braben, being perfectly attuned to the range and rhythms of Dodd as a performer, helped clarify his character, providing precision to his prolixity while furnishing him with the drolly distinctive vocabulary that best conveyed his wit.
The success they shared was remarkable. There were numerous television and radio series, regular stage shows, and, in 1965, a record-breaking 42-week residency at the London Palladium.
When Braben left, in 1969, to work with Morecambe and Wise, everything about Dodd's on-stage persona was perfectly polished and honed. Although he would sometimes use other writers, he was now more or less self-sufficient, as adept at inventing jokes as interpreting them.
A natural Lord of Misrule with his excited hair, bright orbital eyes and protruding triangular teeth, he would wave his tickling stick ('Some people think that it's a sex symbol, but that's just a phallusy'); tell jokes ('I've seen a topless lady ventriloquist. No one has ever seen her lips move'); make observations ('Men's legs have a terribly lonely life – standing in the dark in your trousers all day'); ask questions ('How many men does it take to change a toilet roll? Nobody knows – it's never been done before'); think up silly words ('Tattifilarious! Discumknockerated!'); sing songs ('Don't count money, count happiness!'); make threats ('If you don't laugh at the jokes, I'll follow you home and shout through the letterbox!'); and generally do anything and everything until he had made people laugh themselves into submission: 'Do you give in?'
On and on he went through the decades, oblivious to fleeting fashions as he worked to share his wit. He visited just about every venue in Britain, defying his chronic asthma to perform shows that lasted four or more hours with an incredible bounce and brio that was beyond the strength and stamina of most men half his age.
I felt I had known him all my life and, in a way, I had. My Liverpool-born grandmother had worked as a home help to his parents in Knotty Ash, and the stories about him and his family filled up my early years. When I got to meet him for the first time there was no surprise that he was as nice and kind as I had always expected, a decent person as well as a great performer.
The last time I saw him was in 2014, when, on a typically cold, wet and blustery day in Blackpool, he unveiled the huge stretch of marbled text – the so-called Comedy Carpet – whose words I had helped to choose. I did my best to shelter him from the rain with my umbrella as he walked around and looked at his own comic lines and catchphrases, and those associated with so many other entertainers, the master of all he surveyed. What a privilege it was to spend some time with him, and see the pride shine in his eyes.
After getting his long over-due knighthood in 2017, he said he wanted to 'give something back'. The truth was that he had been 'giving something back' for the best part of seventy years.
No performer was more generous to his audience, dedicating his entire life to making them laugh. Some might scoff or sneer about the job of being a comedian, but for one person to have cheered up a nation so frequently, so freely and so well - what a wonderful, positive and life-affirming achievement that is.
• Graham McCann is the author of several books on comedy, comedians and entertainment.
Published: 12 Mar 2018
What do you think?