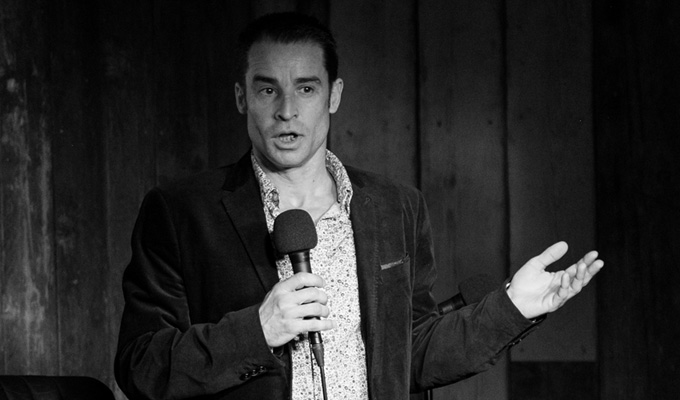 Comedians should tackle feminist radicals
Just before Christmas I had the pleasure to go and see one of my all-time favourite performers, Mark Thomas. Not for the first time did he impress me with his smarts, heart, commitment and simple decency. The show was brilliant, yet I felt saddened.
As an open mic promoter who has staged more than 15,000 spots over the years, I am in a special position to spot emerging comedy trends – and stale tropes. And it is clear to me that there are few emerging acts taking on the political stuff with the talent or gusto of veterans such as Mark Thomas, Mark Steel, Jeremy Hardy or an 1980s peak Ben Elton.
In a world of Trump, the national self-immolation we call Brexit, imminent ecological catastrophe, and an endless supply of (anti)social media attacks, vitriol and shaming I find it remarkable that so much writing and stage time from the new generations is spent on, well, fluff and nonsense. Where is the anger? The ideas? Where are the skewed takes and informed take-downs?
Comedy is a free speech arena and I have personally made sacrifices to ensure that stays the case in my rooms. So why is so much stage time being wasted on matters lacking relevance or weight?
With the limited authority and influence that I have as the person who runs the We Are Funny Project I am looking to steer some of what we offer – and therefore some of the acts and their talents – towards more political and socially conscious waters.
Some of our shows will be specifically directed to requiring such topicality, and as ever, encouraging the creation of new material to keep the grassroots scene as fresh and relevant as possible.
The first true step in this direction is inspired by my concerns with the #MeToo moment and the feminist movement. Yeah, I said it!
Thank God I am not on Twitter because my guess is that I'm going to take a hammering there, because, you know, a man said 'feminist' online, and that's a trigger that can easily get someone attacked.
I happen to be on side with rather a lot of 'feminist' issues. However, as a wise man (it was a man, sorry) once said to me, 'Radical anything always seems to be bad' and it seems that some loud radical voices seem to be co-opting a very important time, the #MeToo moment. Some ignorant and melodramatic voices are swinging the pendulum so far that I fear legitimate and more moderate 'feminist' points are being lost, and that sympathetic, evolving people are starting to roll their eyes.
Trump's former 'brain' Steve Bannon was the one ideologue with a knowledge of history and current social media power, within the current administration (OK, the Russians too). Bannon openly invited liberals to 'keep playing identity politics… because the more you stay the same the faster America will become great again.'
While far from being a decent human being, Bannon is not stupid. Bannon has a point. It's 'divide and conquer' strategy folk, clear and simple. While the liberal section of the population tend to be the ones who want to do right, change things for the better and be inclusive there is a pernicious trend of attacking one another for micro-matters in radical fashion.
There are over 50 gender suggestive pronouns on Facebook. Really? Pur-lease… are we going to waste anti-Trump energy (fill in your own choice of truly pressing real world issue) bickering over that?
Various recent news stories alarmed me, including:
Exhibit A: Aziz Ansari, shamed in the media after a bad date. Phew.
Exhibit B: Minnie Driver's heavily publicised and barely criticised response to Matt Damon, who stuck his neck out to offer a reasoned opinion that there was a 'spectrum' of male sexual misconduct. She tried to chop his head off.
Exhibit C: The shrill attacks on Germaine Greer's recent comments dismissing aspects of the #MeToo movement as 'whingeing'. Whatever she might say, Greer has certainly earned the right to comment more than most, and the demands for her to 'shut up and go away' by people who are ignorant of the fact that they owe her a debt, is genuinely alarming.
Exhibit D: Cathy Newman's aggressive, and deaf, Channel 4 News interview with Jordan Peterson, a Canadian psychologist who defends his right to be politically incorrect.
Stories like these inspired me to set a We Are Funny Challenge for acts appearing at our gig on February 28, in which I'd invite comedians to address feminist talking points. I hope that a show like this can bring people together while they think apart.
I'll provide the stage, work hard to book a diverse bill of acts delivering five minutes of themed bespoke material, and MC the show.
I can only hope that the acts will deliver their unique and individual take on any feminist talking points they choose, and share ideas, perspectives and the funny. These shows will have so much more space for ideas than feelings… I believe that comedy should rarely legislate for feelings.
I hope that we can create a fresh and funny show that has a point. I hope that it will be the first of many. Come together, have a say, make your point, make 'em laugh.
Oh, and I intend to put my directing hat back on and film and edit the live show and share the best results with the world.
Wish me luck, I have just stuck my neck out…
• We Are Funny's Feminist Talking Points show will be at Farr's School Of Dancing on Wednesday February 28.
Published: 6 Feb 2018