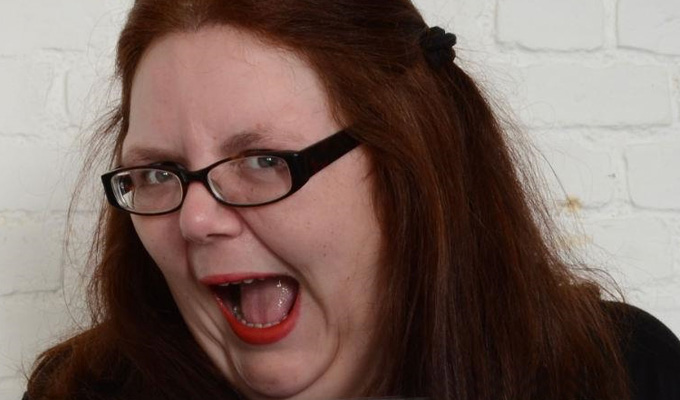 Are intersex stand-ups 'too dark' for comedy?
This was the initial knee-jerk reaction from one comedy buddy when I first announced my intention to 'come out' as an intersex person during my set at a gig last month. 'Why do you feel you have to be so dark and edgy?' were the words Comedy Buddy said, with an embarrassed frown.
I can do dark and edgy, so I understand why he might assume that. However, I didn't feel this was an appropriate response given the subject matter and the matter-of-fact way in which I had presented it.
His expression immediately changed to one of almost horror when I politely replied with my own question back: 'Would you say that to a trans person, or a gay person, or a Muslim, or anyone else who wanted to express who they are as an individual on stage? What is so dark and edgy about being intersex? That is who I am!'
I quickly excused him from the embarrassment I had thrust on to him by explaining that this was the whole purpose of my new material: to remove the stigmas associated with intersex people.
A recent poll I put to a Facebook group of more than 15,000 comedians revealed that only two of us were able to tick the 'Yes, I am intersex' box. Seven Graham, a British comic based in Los Angeles, was the only other intersex comedian who responded
The poll had been left open for people to add their own options of self-identification, prompting one joker to add a 'WTF' option. What I took from this is that the circuit does not have enough intersex comedians alongside all the trans/gay/straight/atheist/religious acts, to have a loud enough voice to be heard in comedy.
We need to break down barriers by talking about something that people don't understand, or who hold opinions on intersex based on inaccurate, outdated, mainstream stereotypes. My comedian friend's initial response was therefore somewhat expected, but that doesn't mean it was acceptable. This is part of the reason why it is time for intersex people to have their voices heard.
I was hoping that this one opinion didn't represent a general consensus among my other comedian pals; I still had high hopes that people were open-minded enough to listen to what intersex meant to be me. Yet, sure enough, I found a similar response when I chatted with another funny guy about my intentions for the gig, and he said: 'Why do you feel like you have to shock the audience?".
Perhaps this wasn't the best time to drop this information on my comedy colleagues, not all of whom might have read the intersex status on my Twitter profile. Perhaps I was being too inconsiderate when judging their initial reactions, which could have been based on my previous comedy style, rather than on my intentions now.
Bu I had decided to take on this role both to show my true voice as a comedian, but to express solidarity with other intersex people who are trying to raise awareness of who we are.
Some are even doing vitally more important work than stand-up comedy, fighting to protect the rights, choices and bodily autonomy of intersex children and others as well as supporting their families. All of us are battling to promote greater social and professional understanding of fundamental intersex human rights, which affect 1.7 per cent of our population.
So I bravely stepped up to the mic to announce that I am a confident female comedian who is really into sex...
To my surprise (and relief) the pun when repeated correctly initiated a great response and I continued through my act, thoroughly enjoying the feeling of scoring my first ever applause breaks in my hometown of Hull.
This was me revealing myself as an intersex person (verbally) not just to a room full of strangers, but to my comedy colleagues too. It all felt so right!
It might have been clumsily wrapped in cottonwool – and I had to flinch when I uttered a pronoun which sadly would have made my Aunt Reba shudder like I'd said the 'C' word – but my jokes broke down walls I'd barely just built and the audience related to it.
By making light of something a lot of them had long feared to even talk about, I was showing the audience that intersex people are just normal people. We are all human beings and must no longer be simply stigmatised as, shudder word, 'hermaphrodites'.
After my act I approached my comedy friends from earlier: 'Not so dark or edgy huh?' I asked. They laughed, we laughed. It felt like I had broken some of the stigmas from earlier and they knew there was nothing to fear or be shocked about.
Other comedians congratulated me on a great set, some of them even wanted to know more about the genetic condition I have which painted me with this intersex flag in the first place. I felt accepted by them, and that felt bloody brilliant!
I've done my act twice more since then and the material was received well by the audience on both occasions, but I'm still learning the best ways to help spread awareness. And that's something I plan on doing as I take intersexuality around the UK circuit. I've also decided to start the process of changing my name publicly from Anna Jackson-King to Amazon Jackson - a non-binary name to further promote the idea of intersex awareness, and to truly help people see the wood from the trees...
We are a rare people, once shamed from society. But now I stand with my American-based cousin as the two intersex voices in comedy.
Too dark for some people or not, we each have a cause to be heard.
What is intersex?
Intersex is used for a number of conditions in which someone is born with a reproductive or sexual anatomy that doesn't seem to fit the typical definitions of female or male. Some traits are visible at birth, others not until puberty and some variations in chromosomes may not be physically apparent at all.
Worldwide, up to 1.7 per cent of people have intersex traits, according to some researchers. Follow @intersexUK on Twitter for updates and information on the subject
Published: 9 Jan 2018
What do you think?